Tento rok nás svojím albumom potešili aj hlohoveckí rockeri Oldrockers. Album Krysí život je ich tretím počinom a je plný energickej hard n heavy. V textoch prevažne oslavujú rockový život, ale nevyhýbajú sa aj iným veciam. Napriek tomu, že sa jedná skôr o kapelu lokálneho významu, mohli ste sa s nimi napríklad stretnúť v magazíne Šrotowisko (bohužiaľ už neexistujúcom).  Viac už gitarista "Ľubochlast Leopoldov".
Čauko Ľubo… Začiatkom februára ste uverejnili na svojom bandzone profile album Krysí život (pod pôvodným názvom III. tisícročie). Kedy vyjde aj oficiálne na fyzickom nosiči?
Ľubochlast Leopoldov: Ahoj. Pracujeme na obale a booklete. Máme pripravené návrhy. Dúfam, že do mesiaca to dáme von a potom spravíme krst.
Na úvod k nemu by som povedal, že ma trochu prekvapila jeho lyrika… Očakával som vážnejšie zamerané texty, no prevažne tu nájdeme vtipne ladené texty oslavujúce život a podobne… Bolo vaším cieľom spraviť taký pomerne uvoľnený album?
Ľubochlast Leopoldov: Na tomto albume sa prezentujú až štyria textári. Spevák Dušán, basák Ivan, ja a Rasťo Rasťo Pivarčí (ex. Chronická únava). Rasťo nám napísal skladbu Biela, modrá, červená. Ja píšem viac politické texty a Dušan s Ivanom o živote.  A keďže hráme pivné festivaly, motorkárske zrazy a krčmové zábavy, tak nám uvoľnené skladby treba 😉
Ďalej by ma zaujímalo či sú piesne ako Barmanka, Krysa o skutočných osobách.
Ľubochlast Leopoldov:  🙂 Nie sú. Barmanka je osoba, bez ktorej by bola v krčme nuda a keď túto skladbe v krčme hráme vždy ju aktuálne pracujúcej barmanke venujeme. Krysí život je o človeku bez chrbtovej kosti, ktorý si hlavne myslí, že je nesmrteľný. Koľko takých už pošlo.
Je v pláne aj nejaká väčšia koncertná propagácia daného albumu? Ak áno prezraď prosím najbližšie podujatia, kde budete vystupovať.
Ľubochlast Leopoldov: Turné nebude. Nemáme na to potrebný tím ľudí, ktorý by takéto veci pripravil na úrovni. Vieme si spraviť komplet ozvučenie pódia, osvetlenie pódia, dymové efekty. Budeme vystupovať po krčmách, v ktorých máme podporu ako je Pod smrekom v Hlohovci a Pod malým toboganom na seneckých jazerách, 7. 5. vystúpime v kempingu v Seredi a na 9. 7. pripravuje náš bubeník festival rockových kapiel Mafijafest v Behynciach. Aby som nezabudol 15.7. hráme na Beerfeste v Peterskej bašte v Hlohovci.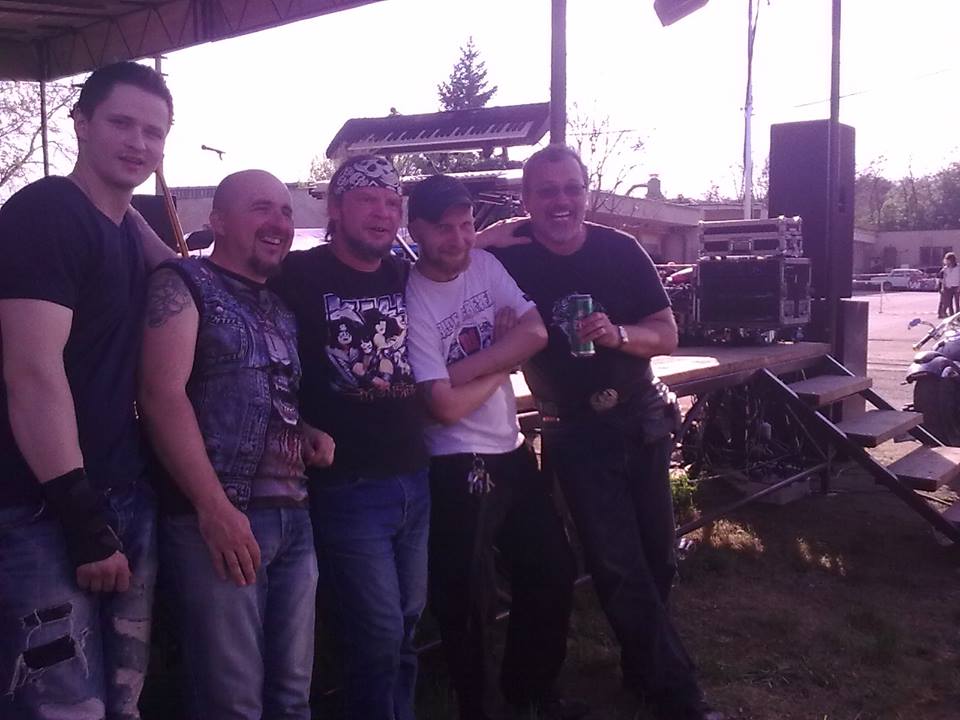 Porozprávaj niečo o civilnom-mimohudobnom živote členov Oldrockers (záľuby, záujmy, povolania).
Ľubochlast Leopoldov: Pivo, motorky, baby a pivo 🙂 Sme taká veselá kapela. A povolania? Ja som vojak a čo robia ostatní nenapíšem, aby som to neskomolil 🙂
Ako si spokojný s vašou hlohoveckou scénou. Fanúšikovia, miestne kapely, možnosti koncertovania atď…
Ľubochlast Leopoldov: V Hlohovci sa ľudia radi bavia a my pre nich radi hráme. Najviac tu hráme v pivárni Pod smrekom. S koncertovaním nie je problém. Dalo by sa hrať každý víkend, ale obiehať tak malý priestor s rovnakou show, by nebolo dobré. Z miestnych kapiel by som vyzdvihol hlavne Nekultúru. Natočili nový album a keď splnia to, čo sľúbili tak usporiadame spoločný krst dvoch albumov. Dokonca som si na tom albume zatlieskal, ale len do chvíle kým sa zistilo, že ska rytmus tlieskať neviem. Ale bola sranda.
Ty si bol jeden čas aktívny aj v kapele Slina. Ako to tam vyzerá (nejak o vás nepočuť)?
Ľubochlast Leopoldov: Slina pokračuje ďalej, pripravujú nové skladby a majú nového bubeníka. Viac teraz neviem. Od februára minulého roku tam už nepôsobím – posunuli sa smerom, ktorý mi veľmi nesadol.
Mohol by si porozprávať niečo o svojej hudobnej minulosti – hudobné začiatky – až po Oldrockers.
Ľubochlast Leopoldov: Od roku 1992 hrám v kapelách lokálneho významu. Zo začiatku som spieval a hral na gitaru, robil texty a hudbu. Neuvediem všetky, lebo to by bol dlhý zoznam 🙂 Ale Sacredsade, Baileys a Bojkot musím. V roku 2007 som hosťoval v nitrianskej kapele Hura crepitans. Potom sme rozbehli Oldrockers a oživili Slinu.
OK, to už bola posledná otázka. Nesmierne ďakujem za rozhovor a poprosím na záver nejaký ten odkaz pre čitateľov
Ľubochlast Leopoldov: Vďaka. Odkaz pre čitateľov? Neseďte doma a choďte sa zabaviť na koncerty v okolí. Kapelám tým veľmi pomôžete. Rock on!!!
Youtube ukážka:

Linky:
https://www.facebook.com/Oldrockers-134875119932827/?fref=ts
http://bandzone.cz/oldrockers