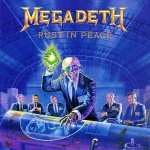 Štvrtá štúdiovka sa nahrávala medzi rokmi 1989 a 1990. Album  oficiálne vychádza 24. septembra a prvýkrát sa na ňom objevuje nový sólový gitarista Marty Friedman a s Davom Mustainom na ňom vytvorili zásadnú gitarovú dvojicu.
Úvodná skladba Holy Wars ktorej text pojednáva o témach Blízkého východu, je známa svojimi riffmi, Friedmanovým orientálnym sólom a na koniec Mustainovým sólovým vyvrcholením. Druhá skladba Hangar 18 v ktorej sa vyskytuje sedemnásť gitarových sól a dve sloky spevu pojednáva o tajnej mimozemskej základni v Nevadskej púšťi kam sú deportované mimozemské bytosti. Album ponúka ešte ďalšie skladby ako protivojnovú Také No Prisoners, najnáročnejší song Five Magics predstavujúci protipól k skladbe Poison Was The Cure, najhitovejšie Lucretia a Tornado Of Souls.  Mustainov hlas za doprovodu osamotenej rytmickej sekcie v  Dawn Patrol o nebezpečnom globálnom otepľovaní našej zeme a na záver Rust in Peace… Polaris pojednávajúci o hrozbách jadrového konfliktu na ktorom stojí celý album.
Album sa považuje za jedno z najlepších diel thrash metalu a tým pádom v ich kariére za najkompaktnejší a vrcholný.
Lineup:
Dave Mustaine- sólový spev, sólová a rytmická gitara
Marty Friedman- sólová a rytmická gitara
David Ellefson- basová gitara, doprovodný spev
Nick Menza- bicie nástroje, perkusie, doprovodný spev
Tracklist:
Holy Wars… The Punishment Due
Hangar 18
Take No Prisoners
Five Magics
Poison Was the Cure
Lucretia
Tornado of Souls
Dawn Patrol
Rust In Peace… Polaris
Hodnotenie: 6