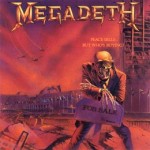 Druhý študiový album sa nahráva medzi rokmi 1985 a 1986. Konečná podoba vychádza 19. septembra. Album má oproti debutu lepší zvuk a zaradil sa medzi thrashovú klasiku osemdesiatich rokov a tak isto patrí medzi 1001 albumov ktoré by ste mali počuť než zomriete.
Album ponúka skladby ako úvodnú Wake Up Dead z pomalším tempom a skvelými sólami, extrémnu The Conjuring, jeden z najväčších metalových hitov Peace Sells, brutálnu jazdu Devil's Island, najdlhší kúsok Good Mourning/Black Friday, Bad Omen, coververziu od Willieho Dixona I Ain't Superstitious a poslednú skladbu My Last Words pojednávajúcu o ruskej rulete.
Takže kto má rád brutálny zvuk, extrém, ostré rezavé riffy, bublajúcu basu a do toho jedinečné bicie a neuveritelné dvojkopáky, tak vrelo odporúčam tento album ktorý po vypočutí zanechá za sebou smršť, chaos a totálnu devastáciu.
Lineup:
Dave Mustaine- sólový spev, sólová a rytmická gitara
Chris Poland- sólová a rytmická gitara
David Ellefson- basová gitara, doprovodný spev
Gar Samuelson- bicie nástroje, perkusie
Tracklist:
Wake Up Dead
The Conjuring
Peace Sells
Devil's Island
Good Mourning/Black Friday
Bad Omen
I Ain't Superstitious
My Last Words
Hodnotenie: 6
Páčil sa ti tento článok?