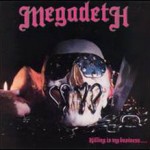 Debutový album amerických thrasherov vychádza v roku 1985. Album bol nahrávaný od decembra 1984 až do januára 1985. Album vychádza v júni 85. Produkcie nahrávania skladieb sa ujali Dave Mustaine a Karat Fay. Zaujímavé je že skupina vtedy dostala od spoločnosti Combat Records 8000 dolárov čo sa im zdalo málo na produkciu albumu a tak dostali ďalších 4000 dolárov. Namiesto toho väčšinu peňazí utratili za alkohol, jedlo a omamné látky.Tak musela skupina prepustiť pôvodného producenta a album si produkovať sama. Na albume sa nachádza osem skladieb a taktiež jedna coververzia od Nancy Sinatrovej.
Album otvára skladba Last Rites/Loved To Deth ktorá začína introm Toccata and Fugue inD minor, BWV 565 od Johanna Sebastiana Bacha a následne prejde do ultra surového thrashu sprevádzaného Mustainovým výkrikom. Nasledujúcimi skladbami sú klasické thrashovky ako Killing Is My Business… and Business Is Good!, The Skull Beneath the Skin, Rattlehead, Chosen Ones, pomalšia jazda Looking Down the Cross, skladba Mechanix je vlastne pôvodná verzia piesne The Four Horsemen od Metallicy a nakoniec nasleduje spomínaná coververzia These Boots, ktorú Dave Mustaine celkom šikovne prearanžoval do speed metalu.
Tento album na ktorom sa ešte miešajú elementy speed a thrash metalu má trocha rozpačitý a slabší zvuk, ale však bol celkom dobre prijatý verejnosťou.
Lineup:
Dave Mustaine- sólový spev, sólová a rytmická gitara, piáno
Chris Poland- rytmická a sólová gitara
David Ellefson- basová gitara, doprovodný spev
Gar Samuelson- bicie nástroje, perkusie, tympany
Tracklist:
Last Rites/Loved to Deth
Killing Is My Business… and Business Is Good!
The Skull Beneath the Skin
Rattlehead
Chosen Ones
Looking Down the Cross
Mechanix
These Boots
Hodnotenie: 4