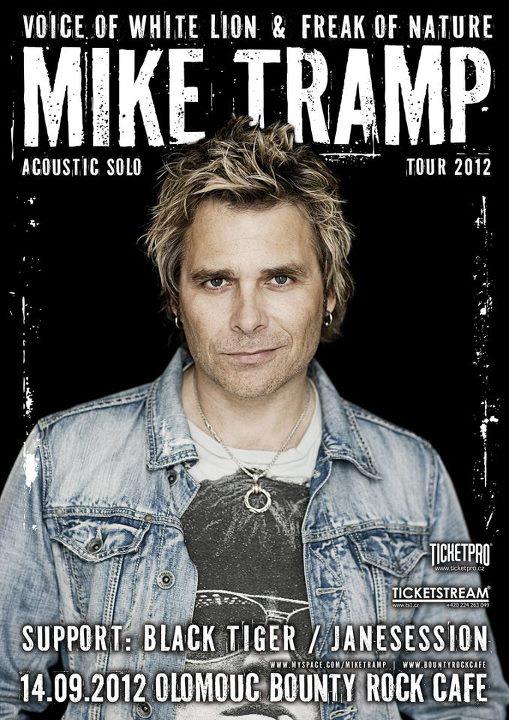 Ako dlhoročná fanynka White Lion som mala mravnú a občianskú povinnosť navštíviť akustickú show ich speváka Mikea Trampa. Vyraziť na turné len sám s gitarou, niečo ako Bob Dylan v svojich začiatkoch to chce obrovské ego. A Mikeovi to zjavne vychádza. Ale nepredbiehajme!
Vo vypredanom klube o 20 00 bola nachystaná česká heavy A.O.R. kapela Black Tiger. Táto pätica predviedla skvelý koncert s výborným zvukom a pesničkami. Nechýbali klasické postupy ich žánru obohatené slovanskou melodikou. Hlasný a kvalitný začiatok celého večera.
Po prestavbe pódia sa vo svojom unplugged programe objavili Slováci Janesession. Bála som sa aby nedošlo ku kópii Kiss unplugged, ale to sa nestalo. Okrem toho že im zobrali elektrické nástroje a bubeníkovi doslova zobrali skoro všetko, to bola dokonale rovnaká divočina ako vždy. Tento krát, ale v niekedy až latino, alebo country rock n´rolle.
Keď sa scéna vyprázdnila, tak na pódium vyšiel Mike Tramp. Hviezda hair metalu osmdesiatych rokov a hard rocku deväťdesiatych rokov. Charizmatický fešák, ktorý okrem toho, že hral s prehľadom na gitaru, krásne spieval aj veľmi vtipne konferoval. Mike vyzerá fantasticky a prítomné dámy to ocenili. Nezabudol snáď na žiaden zásadný hit jeho kariéry. Zazneli piesne od White lion, Freak of nature, Rock n´roll circuz z jeho sólových platní, ale aj dve úplné novinky. Hymny ako napríklad Broken heart, Wait, Rescue me, When the children cry, Better of, Little fighter, Cry for freedom boli v niektorých momentoch až nespoznateľné, ale emócie ktoré Mike rozohrával padli na úrodnú pôdu a česko slovensko rakúske publikum aplaudovalo a spievalo s hviezdou. Medzi skladbami stihol porozprávať pár historiek, vyjadriť svoje znechutenie nad MTV a zavspomínať na jeho priateľa Kurta Cobaina z Nirvana.
Celý ten večer bol naozaj exkluzívnym muzikantským zážitkom. Kto nebol môže ľutovať.