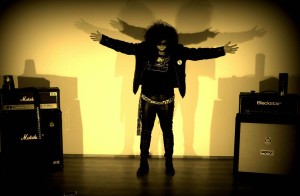 Dôkazom bohatosti bratislavskej rockovej scény, je aj mladá kapela Friday Whiskey hrajúca glam rockový štýl. Tento rok prišlo na svet aj ich prvé demo. Villy Zemeš, gitarista a spevák doprovodných vokálov:
Zdravím Villy. Tak ako hodnotíš tohtoročné leto?
Villy: Ahoj! Toto leto bolo pre našu kapelu veľmi prínosné. Odohrali sme niekoľko skvelých koncertov a nakoľko sme sa v skúšobni skoro celé leto nevideli, a mali sme dokopy asi 3 skúšky, dopadli všetky nad očakávania.
Druhá otázka bude smerovať na vaše prvé demo. Čo by si k nemu mohol s odstupom času povedať?
Villy: Je veľmi ťažké hodnotiť vlastné demo, preto sa spoliehame najmä na názory iných a zväčša sú zatiaľ všetky pozitívne.
To je dobré  Je na ňom aj niečo, čo by si teraz radšej spravil ináč?
Villy: Určite veľa vecí, hlavne čo sa týka timingu, frázovania atď. Vzhľadom na to, ako rýchlo sme všetko nahrali, si myslím, že môžeme byť spokojní.
Jedna reakcia, čo som na bandzone čítal sa týkala speváka či nemohol ísť s hlasom trocha vyššie. Nedalo by sa s tým do budúcnosti niečo spraviť?
Villy: Toto je otázka skôr na speváka, ale komunikujeme o tom a chce na tom zapracovať. On však vraví, že má hlas skôr na tenor, ale nevylučuje ani túto možnosť.
Ako vznikali skladby a na aké témy sú zamerané?
Villy: Tak skladby väčšinou vznikali tak, že som priniesol nejaké riffy a potom sme spolu aj za pomoci "destilovaných nápojov" (nie však vždy! 😀 ) na tom pracovali. Niektoré zase vznikli pri obyčajnom jamovani, čisto z dobrej nálady.
U anglicky spievajúcich kapiel od nás a z Čiech je móda tvoriť piesne aj v rodnej reči. Vy zatiaľ máte len jednu – Vred. Bude ich do budúcnosti viac?
Villy: Tak máme ich viac, ale nenahrali sme všetky ani ich moc nehrávame, pretože by sme chceli zaujať aj nejaké to bližšie zahraničie. Ale chceme aj slovenské a do budúcna to plánujeme, nakoľko spevák je rodený Angličan, tak mu to tak aj viac vyhovuje.
No tak to máte výhodu  Aká bola tohtoročná koncertná sezóna ?
Villy: Nakoľko toto bola naša prvá sezóna, bola mimoriadne úspešná + už máme dohodnuté koncerty napríklad so Zónou A, Zoči Voči, ideme do Čiech alebo sme boli pozvaní kamarátmi zo Signature aj na Halloween night v Randali, čo považujeme za veľký úspech. Na budúci rok plánujeme aj festival Budzogáň.
Klasická otázka, čomu sa venujú členovia Friday Whiskey v civilnom živote (záľuby a záujmy)?
Villy: Tak sme všetci študenti, okrem basáka. Ten už je pracujúci človek a inak každý máme radi pohodové večery pri pivku alebo aj kofolke.
Ako hodnotíš vašu bratislavskú rockovú scénu z tvojho pohľadu? (Kapely, koncerty, fans a podobne…)
Villy: Myslím si, že ľudia by mali viac chodiť na koncerty, dať šancu aj neznámym kapelám a podporiť ich. Rocková hudba asi predsa len zažila svoje najväčšie obdobie slávy v 80-90 rokoch, ale napriek tomu je pozitívne, že sa tu stále nájdu ľudia, ktorí rockovú hudbu nielen počúvajú, ale aj tvoria. Sme presvedčení, že Rock will never die  a tomu by sme radi aj dopomohli 🙂
Čo ťa primälo k tomu, aby si sa stal muzikantom? (song, kapela poprípade nejaká iná udalosť)
Villy: Určite keď som videl kamarátov ako jamovali. To bol pre mňa zážitok a povedal som si, že toto je to, čo chcem robiť.  Čo sa kapiel týka, milujem Guns n Roses a Slasha, to je môj najväčší idol a chcem raz hrať ako on .
No ok, tak ďakujem za rozhovor, prajem všetko dobré a ako tradične poprosím o nejaký ten odkaz pre mojich čitateľov
Villy: Rocková a metalová hudba si za roky svojej existencie prešla veľmi dlhým vývojom a je pozitívne, že ten vývoj ešte neskončil a stále napreduje. Hudba má byť hraná od srdca a preto veríme, že časy najväčšej slávy rocku ešte len prídu. Tak počúvajte srdcom a budete pri tom 🙂
Video ukážka (www.youtube.com):
Linky:
Bandzone: http://bandzone.cz/fridaywhiskey
Facebook: https://www.facebook.com/pages/Friday-Whiskey/520794661272276