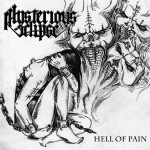 Zo sveta sa na nás valí neuveriteľná lavína nových nahrávok, čo aj zbehlému človeku začína prerastať cez hlavu. Slovensko síce nepredstavuje taký nápor, no aj tu sa človek musí často obzerať okolo seba, aby mu niečo neprekĺzlo cez prsty. Nové Mesto nad Váhom nám vypľulo zbehlú kapelu MYSTERIOUS ECLIPSE, ktorá by vám svojou nahrávkou Hell of Pain mohla poriadne zašpiniť prsty, pretože ich death/black so šarmantnou frontwomankou Petrou je poriadna dávka špinavosti pre vaše uši.
Nahrávku otvorí atmosférické intro ako vystrihnuté z dielne DEAD CAN DANCE, podobne aj na začiatku piesne "Soulkeeper", na čo hneď nadviaže blackový riff, ktorý by ste mohli nájsť v továrňach rôznych death/black kapiel ako BELPHEGOR, či starších BEHEMOTH. Aj v ostatných skladbách by sme mohli naraziť na podobné prvky, druhá melodická "Hell of Pain" pripomenie AMON AMARTH, posledná "Ruža" vám môže pripomenúť slovenskú LUNATIC GODS, v čom vidím tiež slepú uličku, a tak by sme mohli hľadať donekonečna. Tým chcem poukázať, že nahrávka prevára a vyvára postupy a riffy už zabehaných veličín, čím stráca na jedinečnosti.
Na druhej strane nechcem tým povedať, že by ich tvorba bola celá len ako cez kopírku, nájdeme aj tu zaujímavé nápady, napr. zvonkohru, alebo tajomné klávesy nakombinované s blackovým podkladom v skladbe "Back in Black", ktoré vytvárajú pocit magičnosti a podnecujú fantáziu k vytvoreniu obrazu niečoho tajomného. Nesmieme zabudnúť ani na pekne skonštruované a zaujímavo melodické sóla, hlavne pri posledných dvoch skladbách albumu, ktoré tvoria neodmysliteľnú súčasť nahrávky.
Veľké pozitívum tiež vidím vo vokálnej stránke. Petra, áno je to dievča, čo vydáva tieto pekelné zvuky, zvláda hravo uškriekané blackové pasáže, alebo zájde aj do hĺbok growlu. Jediné, na čo by si mala dávať pozor, sú melodické doprovodné spevy, ktoré v piesni "Parallel Universe" pôsobia dosť kŕčovito a rušivo, čo skladbe a vôbec celkovej tvorbe kapely vôbec nepristanú.
Keď si to zhrniem dokopy, tak chalani a slečna z Nového Mesta nad Váhom neprinášajú nič nové, no so zabehanými postupmi sa vedia vyhrať a priniesť do toho aj kus svojej nápaditosti. Na záver ešte pochválim minimalisticky ladený artwork albumu, ktorý vďaka nenútenému a jednoduchému dizajnu skvelo zapadá do konceptu albumu.
Lineup:
Peťa Kity Siažiková – Spev
Martin Bradáč – Gitary
Jozef Malina – Gitary
Lukáš Glos – Basgitara
Jozef Kramárik – Bicie
Tracklist:
Gate
Hell of Pain
Power of the Storm
Dark Side of Humanity
Parallel Universe
Back in Black
Soulkeeper
Ruza
Rok vydania: 2013
Vydavateľstvo: Vlastné vydanie
Video ukážka (www.youtube.com):

Hodnotenie: 3,5
Tento článok pôvodne vyšiel na: http://www.metalexpress.sk/2013/11/recenzia-mysterious-eclipse-hell-of-pain/