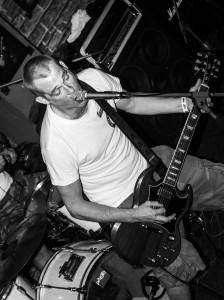 V druhej polovici septembra slovenskú scénu obohatili novým albumom aj Košičania Lunokhod. Aj keď je v oficiálnych zdrojoch táto kapela označovaná ako hardcore-metal alebo alternative hard core/metal, dovolím si povedať, že táto škatuľka je pre nich veľmi úzka. O tom svedčí aj album Watch Out … Season Of Discontent, kde jasne ukázali veľkú chuť experimentovať. Viac vám povie gitarista a spevák Peter Malinovsky:
Zdravím Peťo. Pred niekoľkými týždňami ste vydali album Watch Out … Season Of Discontent, plný skutočne originálnej a dovolím si povedať, ťažko zaraditeľnej muziky. Mohol by si ho opísať svojimi slovami? Čo na ňom nájde človek, čo sa ku vám dostane po prvýkrát?
Peter Malinovsky: Ahoj, ďakujem 🙂
Dali sme dokopy 9 piesní, pri ktorých sme mali pocit, že správne charakterizujú Lunokhod. Čiže sú tam rýchle veci, ale aj oddychovejšie. Snažili sme sa spraviť album tak, aby dával zmysel od začiatku do konca.
Trochu metalu, trochu HC, je tam aj jedna progresívna 7 minútová vec (Space), experimenty, ale aj 2 songy, ktoré sú viac priamočiare a také rockovejšie dokopy… Je to ale rýchly a nadupaný album, aspoň sme to tak chceli 😀
Nadviažem na tvoju odpoveď. Čím to je, že sa dá na ňom nájsť toľko rôznych vplyvov? Rôzne hudobné vplyvy jednotlivých členov?
Peter Malinovsky: Myslím, že áno… Jednak rôzne vplyvy hudby, všetci traja počúvame hudbu veľmi otvorene – od tvrdej hudby cez rock až po jazz (to je Feriho (bass) prípad). Všetko, čo nás zaujme. A jednak to, že ako hudobníkom sa nám nechce hrať niečo stále dookola, radi skúšame iné pohľady. A nechceli sme spraviť jednoliaty album, ale taký, ktorý má aj údolia a kopce. Trochu vytvoriť takú cestu od začiatku po koniec.
Predstavíš trochu jeho textovú zložku?
Peter Malinovsky: V podstate by sa to dalo zhrnúť do: Aj keď sa dejú zvláštne a možno nepríjemné veci, netreba sa vzdávať, ale pozrieť sa na veci trochu s nadhľadom. A mať pri sebe ľudí, ktorých má človek rád a cíti sa s nimi dobre.
Pozrieť sa na veci kriticky a robiť si svoje. A prestať sa dívať na svet tak, že "čo povedia oni". Pretože veľakrát práve tí "oni" nemajú ani najmenšiu predstavu, čo robiť. Veriť si. 🙂
Pekná myšlienka 🙂 Môžeš už teraz povedať, ktoré pecky budú znieť na vašich akciách?
Peter Malinovsky: No, na posledných 2 koncertoch sme hrali 8 z 9 vecí, čo sú na platni, ale z toho sa to asi trochu zredukuje… Určite budeme hrať Watch Out, Blind Leading The Blind, Freedom, Space a asi Decontrol. A potom to striedať podľa nálady nás a ľudí 😉
A čo je dôvodom plánovanej redukcie?
Peter Malinovsky: Iba to, že určite budeme hrať aj veci z dvoch EP, tak aby sa to časovo zmestilo… Keď hráme 50 minút, tak je to nejakých 11 – 12 vecí. Na prvých 2 EP sú songy – napr. Lunokhod, Night Of Arson, Black Flame Burning, ktoré asi budeme hrať ešte dlho a radi.
Tak ako predchádzajúce dve aj tento albáč bol vydaný vo vydavateľstve Bee Production. Mohol by si dané vydavateľstvo bližšie predstaviť?
Peter Malinovsky: Bee Production robí rôzne aktivity, skôr produkčné a sem – tam nájde alebo vydá nejakú kapelu alebo projekt. V tomto prípade vydalo Lunokhod – skôr z tej umeleckej stránky, nie za vidinou veľkého predaja a tak.
Preto napr. distribúciu robíme cez seba, DIY systém, čo znamená, že úplne všetko je pod našou kontrolou. Myslím hudba, grafika a pod. 🙂
Váš posledný koncert bol na domácej pôde, v spoločnosti kapiel Lunokhod + God Defamer + Holotropic. Chystáte ešte nejaké ďalšie akcie tento rok?
Peter Malinovsky: Posledný bol potom v Brezne… A jasné, chystáme koncerty, veľmi radi hráme naživo. Neviem presne kedy a kde teraz, ale určite ešte ďalšie teraz na jeseň a v zime.
Teraz, keďže CD je von – môžme v kľude hrať a hrať a užívať si to, čo najviac.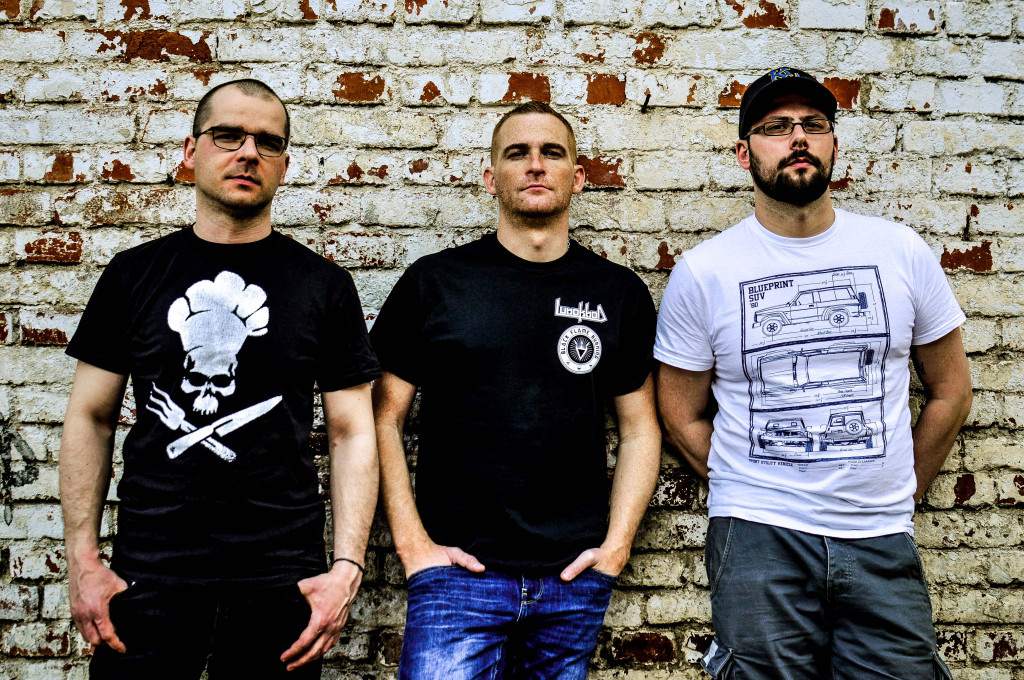 Ako vyzerá nehudobný život členov kapely (záľuby, záujmy, povolania)?
Peter Malinovsky: My na mesiaci máme iba hudobný život 🙂 Chodíme do práce a voľný čas venujeme kapele, v podstate.
Mohol by si rozpovedať svoj hudobný príbeh.Kedy začala tvoja muzikantská dráha, hudobné vplyvy a ako si sa dopracoval až k Lunokhodu.
Peter Malinovsky: Začal som hrať, keď som mal 14 rokov a prvý koncert v 16 – tich. Prvá kapela bola Sweet Sixteen, to bol taký rock/grunge trošku. Potom som hral v rôznych projektoch, napríklad Tupý Pluh bola sranda, Stuffboys (čo bol iba štúdiový projekt), robil som aj trochu hudby pre divadlo.
Od malička som počúval rôznu škálu hudby, ale moja srdcovka bol vždy metal. Len, keďže mi gitara asi vždy dosť išla, stretával som vždy veľmi talentovaných spevákov – a s nimi som hral vždy skôr rock, mäkší, tvrdší.
Napríklad posledná kapela pred Lunokhodom bola kapela Siempre, ktorú sme založili spolu Kamil a ja.
A Siempre bolo také, Red Hot Funky, napríklad… Spieval tam Lukáš Adamec (Superstarista). V každom prípade, s Kamilom sme túžili po serióznej, ale konečne tvrdej kapele, kde by sme si vybili všetky naše metalové a hardcorové energie.
Vaše domovské mesto Košice je známe pomerne silnou rock/metalovou scénou. Veľa kapiel, skvelé kluby a podobne. Čím si to vysvetľuješ?
Peter Malinovsky: Áááá, Košice vždy ŽILI metalom! 🙂 Fakt. Pokiaľ sa pamätám, vždy tu bola silná metalová a rocková scéna. Máme metal v krvi 🙂 Je to sranda, neviem čím to je. A sú tu ľudia, ktorí to berú vážne, to je totiž životný štýl, nielen hudba.
Vždy sme brali systém s nadhľadom. Ľudia otvorili metalové/rockové podniky, bary, organizujú úžasné koncerty, ľudia zakladajú kapely, fičia na hudbe.
A inak, aké kroky by sa mali podniknúť, aby celkovo slovenská scéna mala uspokojivú úroveň (ako vieme, nie je to všade tak dobré ako u vás v KE)
Peter Malinovsky: Najpodstatnejší krok: Spojiť sa, nie rozdeľovať. Kedysi si prišiel na koncert tvrdej kapely a mal si tam metalistov, hardcorákov, punkerov, rockerov, všetko. Neriešili nejaké ultra mini škatuľky a halucinácie. Proste tvrdá hudba.
Lebo potom máš 5 koncertov a na jednom sú 15 metalcoristi, na druhom 20 death metalisti, na treťom 10 HCčkári …. Ale ani na jednom nemáš všetkých 🙂 Bože, veď to je smiešne. Preto sme napríklad my radi, že na Lunokhod prídu rôzni ľudia, zo všetkého trošku a všetci sa cítia fajn. V dnešnej dobe je všetko tak rozdrobené, čo je škoda.
Ok, došli sme k záveru…. Tak nesmierne ďakujem za rozhovor a ako je u mňa zvykom, poprosím o nejaký ten odkaz pre čitateľov webu.
Peter Malinovsky: Ja ďakujem! Veľmi držím palce všetkým ľuďom, ktorí robia niečo pre tvrdú hudbu, stránky, weby, koncerty, rádiá, rozhovory. Takže Metalmania-Magazínu držím palce, nech tu je veľmi dlho a veľmi čítaný. Počúvajte metal, hard core, punk, dobrú hudbu.
Ak máte čas a chcete sa poriadne vyblázniť, a dať si párty s priateľmi, príďte na koncert Lunokhodu ! Checknite si CD na bandzone. Dúfam, že sa bude páčiť 🙂
Skladby z nového albumu si môžte vypočuť na priloženom bandzone linku
Linky:
https://www.facebook.com/lunokhodband
http://bandzone.cz/lunokhod