Lancer – prvý trailer k chystanému albumu
29.10.2016
Nedávno ste boli informovaní o prípravách nového albumu švédskych power/speed metalistov Lancer – Mastery, ktorý vyjde 13. januára 2017.
Krátko po vydaní prvého singlu – Iscariot tu máme aj prvý videotrailer, s vyjadreniami členov kapely.
Linky:
http://www.lancermetal.com/
https://www.facebook.com/lancermetal/?fref=ts
Zdroj: https://www.facebook.com/nuclearblasteurope/
Vyšiel album Back to Life – A Tribute to Goodbye to Gravity
28.10.2016
28. októbra vyšiel album Back to Life – A Tribute to Goodbye to Gravity. Obsahuje songy Goodbye to Gravity nahrané kapelami z celého sveta. Je to charitatívny projekt, výťažok z predaja poputuje členom kapely a rodinám obetí tragédie v bukureštskom klube, ktorá sa stala 30. októbra 2015 počas koncertu k albumu GTG – Mantras of War. Neočakávaný požiar od pyrotechniky vtedy spôsobil 64 obetí (vrátane 4 z piatich členov GTG) a stovky zranených.
Album si môžete vypočuť alebo stiahnuť na tomto linku: https://UMR.lnk.to/BackToLifePR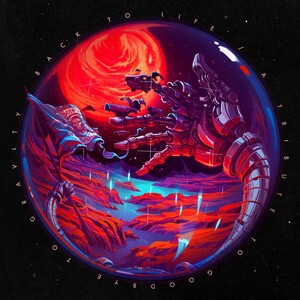 Tracklist:
Cruadalach (Česká Republika) – Waking Up
Outbreak (Rumunsko) – Unusual Suspects
Changing Skins (Rumunsko) – Vanishing Point
Nightshadows Lament (členovia My Dying Bride, Tristanie a Green Carnation) – Horizons
Stonelight feat. Toni Dijmarescu (Rumunsko) – I Won't Wait
Anna Murphy (ex-Eluveitie – Švajčiarsko) – Through It All
Bruma (Rumunsko) – Between the Tides
Bedårande Barn (Švédsko) – Back to Life (akusticky)
Days of Confusion & Vița de Vie (Rumunsko) – The Day We Die
News from Nowhere (Rumunsko) – Shadow Puppets
Wind Rose (Taliansko) – Atonement
Sequence (Srbsko) – Four Minutes of Rage
Matricide (Izrael) – Rise From the Fallen
L.O.S.T. (Rumunsko) – Heed the Call
Bucium (Rumunsko) – What If
Mindcage Escape (Rumunsko) – This Life Is Running Out
Spaceman (Goodbye To Gravity Version) – Babylon Zoo cover
Pri tejto príležitosti uzrelo svetlo sveta aj video k piesni The Day We Die, ktorú nahrali Days of Confusion a Vita de Vie: https://www.youtube.com/watch?v=fKE14uYnaRc
Days of Confusion hovoria: ,,Nevieme nájsť tie vhodné slová. Už rok uplynul od momentu, ktorý poznačil všetkých pozostalých. Najdôležitejšie je uchovanie živých spomienok, prostredníctvom našej hudby, čo bolo hlavným dôvodom vzniku tejto kompilácie i keď veľmi smutným. Sme poctení držať vo vetre tuto vlajku."
Spev: Cosmin Lupu
Gitary: Cezar Popescu
Gitary: Dan Ionescu
Basa: Andrei Zamfir
Bicie & perkusie: Alex Halmagean
Perkusie a atmosférické nástroje: Adrian Despot
Piano: Mihai Ardelean
Čelo: Adrian Ciuplea
Bicie & perkusie: Sorin Tanase
Mastering: Cristian Varga
Kontaktné údaje Days of Confusion & Vita de Vie:
www.facebook.com/DAYS.OF.CONFUSION.OFFICIAL.PAGE
www.facebook.com/vitadevie
Kontaktné údaje U Rock / Universal Music Rumunsko:
urock@umusic.ro
www.facebook.com/uRockmusicpage
www.facebook.com/umusicro
www.umusic.ro
Goodbye to Gravity:
Youtube: www.youtube.com/goodbyetogravity, www.youtube.com/GoodbyeToGravityVEVO
Facebook: www.facebook.com/goodbyetogravity
Web: www.umusic.ro/goodbyetogravity
Tlačová správa
High Fighter – nový videoklip
26.10.2016
Hamburská stoner rocková formácia High Fighter zverejnila videoklip k skladbe Darkest Days z debutového albumu Scars and Crosses.
Linky:
www.highfighter.de
www.facebook.com/highfighter
www.highfighter.bandcamp.com
www.svartrecords.com
Zdroj: Mona Miluski
Törr – koniec spolupráce s Radkom ,,Redym" Krocom
23.10.2016
Gitarista Radek ,,Reddy" Kroc, známy s poslednej zostavy Kreyson, nakoniec nebude členom českej black/thrash metalovej legendy Törr. Na svojom webe (http://www.torr.cz/novinky/) kapela uviedla:
,,Vzhledem k okolnostem, které v poslední době nastaly jsme se rozhodli ukončit spolupráci s Radkem "Reddy " Krocem a budeme nadále pokračovat v předchozí sestavě ve třech.
Přejeme Radkovi hodně muzikantských úspěchů."
Linky:
http://www.torr.cz/novinky/
http://bandzone.cz/torr
Foto: http://bandzone.cz/torr