Lancer – first videotrailer for upcoming album
29. October 2016
New album of Sweeden power/speed metal band Lancer – Mastery will be released on 13. Januarry 2017.
After the release of the first single, 'Iscariot', from their forthcoming album titled »Mastery« (Nuclear Blast), up-and-coming Swedish heavy metallers, LANCER, have launched their first album trailer over on YouTube
Links:
http://www.lancermetal.com/
https://www.facebook.com/lancermetal/?fref=ts
Source of Information: https://www.facebook.com/nuclearblasteurope/
The album "Back to Life – A Tribute to Goodbye to Gravity" was released
28. October 2016
On October 28th it was released the album Back to Life – A Tribute to Goodbye to Gravity, album that contains Goodbye to Gravity songs recorded by various international bands. This is a charitable project as all the profits will be donated to the GTG members and families and to the victims from the Colectiv Club tragedy from Bucharest, Romania, happened on October 30th 2015 during the release show of the "Mantras of War" album, when an unexpected fire from the pyrotechnics caused 64 victims (including 4 out of the 5 GTG members) and hundreds of injured ones.
The album can be streamed or downloaded at the below link: https://UMR.lnk.to/BackToLifePR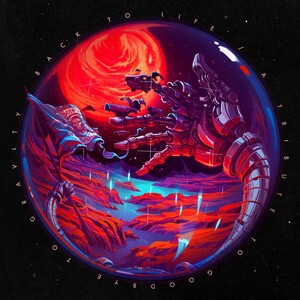 Tracklist:
Cruadalach (Czech Republic) – Waking Up
Outbreak (Romania) – Unusual Suspects
Changing Skins (Romania) – Vanishing Point
Nightshadows Lament (with members from My Dying Bride, Tristania and Green Carnation) – Horizons
Stonelight feat. Toni Dijmarescu (Romania) – I Won't Wait
Anna Murphy (ex-Eluveitie – Switzerland) – Through It All
Bruma (Romania) – Between the Tides
Bedårande Barn (Sweden) – Back to Life (acoustic)
Days of Confusion & Vița de Vie (Romania) – The Day We Die
News from Nowhere (Romania) – Shadow Puppets
Wind Rose (Italy) – Atonement
Sequence (Serbia) – Four Minutes of Rage
Matricide (Israel) – Rise From the Fallen
L.O.S.T. (Romania) – Heed the Call
Bucium (Romania) – What If
Mindcage Escape (Romania) – This Life Is Running Out
Spaceman (Goodbye To Gravity Version) – Babylon Zoo cover
With this occasion it was released a video for the song "The Day We Die", re-recorded by Days of Confusion and Vita de Vie:
www.youtube.com/watch?v=fKE14uYnaRc
Days of Confusion declared: "Any word would only be in the way. A year has passed since that moment that marked everybody's life, regardless if they were in there or not. The most important thing tho, is to keep their memory alive through our music, even if the very reason for this compilation's existence is such a sad one. We are honored to hold this flag in the wind!"
Vocals: Cosmin Lupu
Guitars: Cezar Popescu
Guitars: Dan Ionescu
Bass guitar: Andrei Zamfir
Drums & percussion: Alex Halmagean
Percussion and atmospheric instruments: Adrian Despot
Piano: Mihai Ardelean
Cello: Adrian Ciuplea
Drums and percussion: Sorin Tanase
Mastering: Cristian Varga
Contact Days of Confusion & Vita de Vie:
www.facebook.com/DAYS.OF.CONFUSION.OFFICIAL.PAGE
www.facebook.com/vitadevie
Contact U Rock / Universal Music Romania:
urock@umusic.ro
www.facebook.com/uRockmusicpage
www.facebook.com/umusicro
www.umusic.ro
Goodbye to Gravity:
Youtube: www.youtube.com/goodbyetogravity, www.youtube.com/GoodbyeToGravityVEVO
Facebook: www.facebook.com/goodbyetogravity
Web: www.umusic.ro/goodbyetogravity
Press Release
DARKEST DAYS: HIGH FIGHTER RELEASE BRAND NEW VIDEO! –
26. October 2016
The Hamburg based 5-piece sludge and stoner metal band has just returned from a quick tour with Elder in October, a busy festival summer with live appearances at such as Summer Breeze Festival, Desertfest Berlin, Up in Smoke and alongside many more shows and tours around Europe in 2016, with their first and critically acclaimed debut album 'Scars & Crosses', which came out this summer on Svart Records, HIGH FIGHTER have just released a brand new video for the album track 'Darkest Days'!
In the typical High Fighter manner, this new video comes like the previous visual works of the band, in a 100% DIY-production. Fuzzy, dark, lots of headbanging and with a wild soundmix of bluesy stoner riffs, screams you will feel to your bone and some heavy sludge tunes, get on your next trip with High Fighter right HERE:

Mona Miluski, vocalist of the band, explains: "Since we're releasing this video today, exactly two years ago when we unveiled the band to public & released our first EP that day, so many great moments, shows, new friends and experiences followed for us, I see this new video for 'Darkest Days' as some cool and trippin summary. Of two more than amazing years of our short and young band history already. Our bassist Constantin again did such great job on the video! He edited it all by himself and it's again a pure do-it-yourself production. We used several live footage from our shows the past two years, and took some behind the scenes from tours & when we've been on the road…It's a very dark track and video but also visually weird, wild and psychedelic on the other hand. But that's what you get with High Fighter and on our album 'Scars & Crosses' in general: It's not an easy-listening record, it's more of a trip, and there's also a lot of pain and beauty happening to the same time. Chosing the track 'Darkest Days' for a new video of High Fighter has only been a matter of course, soundwise, we all dig that song, from the lyrics' perspective and its representation of our album vibe, but then this heavy contrast which comes with the visual footage of two awesome years with High Fighter. Seems we love contrasts!"
High Fighter have just formed in the Summer of 2014, but with their volatile cocktail of heavy as hell riffs, the blues and these deadly schizophrenic vocals, the band already offer something new to the sludge, blues, doom and stoner metal scene. After their ciritically acclaimed debut EP 'The Goat Ritual' (2014), followed by numerous shows all over Europe and the UK, including festivals, gigs and tours with bands such as Ahab, Mammoth Storm, Crowbar, Corrosion of Conformity, The Midnight Ghost Train, Earth Ship and many more, High Fighter have just released their first full length album 'Scars & Crosses' on June 10th 2016 on Svart Records.
For More Info Visit:
www.highfighter.de
www.facebook.com/highfighter
www.highfighter.bandcamp.com
www.svartrecords.com
Source of Information: Mona Miluski