Turné Helloweenu s Kiskem a Hansenom
14.11.2016
Dnešný deň budú oslavovať všetci milovníci klasickej zostavy nemeckej legendy Helloween. Na svojom fb profile oznámili, že počas turné PUMPKINS UNITED v rokoch 2017/2018 sa k ním pripoja dvaja bývalý členovia a to Michael Kiske a Kai Hansen. Z pódia budú znieť najväčšie hity z 30 ročnej histórie kapely. Nápad na takéto niečo dostali pri tvorení knihy Hellbook a tím si vyslúžili začal písať aj novú kapitolu k ďalšiemu výročiu.
,,Už keď sme s Unisonic hrali staré pecky od Helloween, tak to už bolo niečo, ale hrať to s originálnou zostavou a Andym, bude naozaj niečo výnimočné." – vraví Michael Kiske
Prvý megakoncert vypukne 28. októbra 2017 v brazílskom Sao Paule a turné bude ďalej pokračovať v Južnej Amerike, Európe, Ázii a USA.
Michael Kiske – Spev
Kai Hansen – Gitara
Michael Weikath – Gitara
Markus Grosskopf – Basa
Andi Deris – Spev
Sascha Gerstner – Gitara
Daniel Löble – Bicie
Linky:
http://pumpkins-united.helloween.org/en/pumpkins-united.html
https://www.facebook.com/helloweenofficial/?fref=ts
Zdroj: blabbermouth.net
Eternal Idol – nová skladba z chystaného albumu
11.11.2016
Taliani Eternal Idol (Fabio Lione, Giorgia Colleluori a ďalší…) predstavili už tretí singel k chystanému albumu The Unrevealed Secret. Jeho názov je A Song In The Wind.
www.youtube.com/watch?v=EpeNXiD2yAo
The Unrevealed Secret vyjde 2. decembra.
Linky:
https://www.facebook.com/eternalidolband/?fref=ts
Zdroj: Frontiers Records
Nové CD Motorbandu + film
8.11.2016
Česká legenda Motorband zverejnila na svojom fb podrobnosti z nahrávania nového CD so spevákom Luděkom Struhařom.
"Práce na přípravě CD finišují.
Ahoj všem fans.
V první fázi jsme s Motorbandem natočili 5 songů pro nové album. Po konzultacích s manažerským týmem a kapelou jsme se shodli, že CD bude obsahovat 12 novinek. Zásadní změnou bylo odložení nahrávání ve studiu. Důvodem byla shoda na tom, že chceme aby se na CD dostaly jen nejlepší songy!!! Proto je potřeba udělat více materiálu. Dostali jsme za úkol připravit min. 15-16 dalších nápadů, z kterých se těch 7 zbývajících pro nové album vybere.
V "šuplíku" jich mám asi 60 🙂 =) Nakonec jsme z klukama udělali 20 . Dvěma přispěl i kytarista Hans Jan Jiříček . V těchto dnech probíhá tajné hlasování, kdy každý člen Motorband týmu boduje každý nápad. Z této ankety vzejde 7 zbývajících skladeb, na kterých začneme od pátku 11.11. pracovat= aranžovat. Opět strávíme 2 dny na zkušebně ve Zlíně, a už se na to moc těšíme.
Věříme, že se těšíte na výsledek, stejně jako my. Bude to nejlepší album Motorbandu! Jedeme na 100% a na 100% se to ve výsledku projeví. Stay Heavy! Motorband."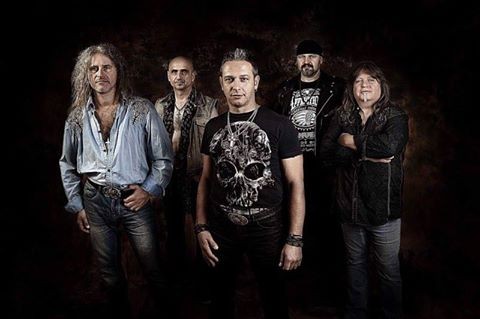 Čoskoro sa objaví v kinách aj dokumentárny film o českej metalovej scéne v 80tych rokoch MOTORBAND – Restart:

Linky:
http://www.motorband.cz/
https://www.facebook.com/officialmotorband/?fref=ts