Kreator – videoklip k skladbe z chystaného albumu
18.11.2016
Nemeckí thrasheri Kreator zverejnili videoklip k titulnej piesni z chystaného albumu Gods of Violence… Ten uzrie svetlo sveta 27. januára a bude obsahovať celkom 11 skladieb.
Linky:
http://www.kreator-terrorzone.de/
https://www.facebook.com/KreatorOfficial/?fref=ts
Zdroj: https://www.facebook.com/nuclearblasteurope/
Axe Crazy vydajú debut v No Remorse Records
16.11.2016
AXE CRAZ vyznikli v roku 2010 v Poľsku. Pomenovali sa podľa skladby NWoBHM klasikov Jaguar – Axe Crazy. Hrajú tradičný heavy metal, oplyvnený kapelami ako Iron Maiden, Judas Priest, Dio. V roku 2014 vydali MCD debut Angry Machines.
O dva roky neskôr bolo EP znovuvydané na vinyle vydavateľstvom Pure Steel Records. Teraz sa kapela pripojila k No Remorse Records. Chystaný full albumový debut sa bude volať Ride On The Night a CD bude mať Premiéru 16. decembra 2016 (vinyl verzia bude nasledovať).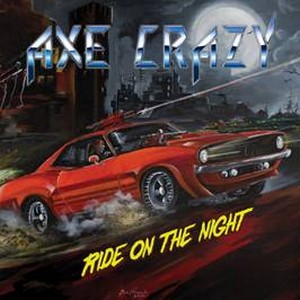 Ukážka:
Astral Tales Part 1 – youtu.be/Sfow47kTmGo
Bližšie info:
www.facebook.com/axecrazyband
www.facebook.com/noremorserecordsgreece
Zdroj: Bart Gabriel
Motorfingers – videoklip k skladbe The Day Of Dawn
15.11.2016
Talianski rockeri Motorfingers dnes zverejnili videoklip k skladbe The Day Of Dawn s albumu Goldfish Motel, ktorý vyšiel 27. septembra pod hlavičkou logic IL logic records. O realizáciu klipu sa postarali Art Distillery Studios https://www.facebook.com/artdistillerystudios.
Linky:
http://www.motorfingers.com/
http://www.facebook.com/MotorfingersBand/
http://www.logicillogic.net/
Zdroj: Atomic Stuff Promotion
Alike
http://bandzone.cz/alike
TISKOVÁ ZPRÁVA (15. 11. 2016)
Crossoveroví Alike mají svůj první klip! Desire je ochutnávkou z připravované řadovky
Desires, Hopes and Failures. Tak se bude jmenovat očekávaný debut velešínských Alike, kteří vznikli na troskách kapel A SweetWater Trick a X-Left To Die. Jak bude znít? Odpovědí by mohl být nový klip ke skladbě Desire – https://www.youtube.com/watch?v=t8onP9FWhYw.
"Snažili jsme se do našeho nového videa dostat příběh. Chtěli jsme, aby obraz citlivě doplnil text. Myslím, že se nám to povedlo," říká zpěvák Alike Karel Krejčí a dodává: "Na Desire jsme si dali opravdu záležet. Jsem na tu skladbu a samozřejmě i klip velmi pyšný! Snad fanouškům zkrátí čekání na dlouhohrající desku, kterou pečlivě připravujeme, aby mohla příští rok vyjít."
O čem Desire pojednává? Karel Krejčí vysvětluje: "Touha může být falešná, zboří dětské sny a nechá člověka ovládat lidmi, co neznají ten pocit, když je někdo opouští. Skladba je o tom, jak nám život protéká mezi prsty tím, jak nesmyslně ho žijeme. Žijeme ho tak, jak chtějí ostatní, a ne my sami. V klipu jsou kromě samotné kapely čtyři postavy – bilancující starý muž, mladá slečna žijící mimo realitu, kluk, který se věnuje práci, jež ho nebaví, a malá holčička, která je šťastná. Nic ji ještě nesemlelo."
Ačkoliv Alike vychází z kapely A SweetWater Trick, je třeba je brát jako zcela novou a hladovou smečku, která má jasnou vizi, za níž si hodlá jít. Materiál společně skládají Karel Krejčí a Roman Knop, který přišel z X-Left To Die. V Alike tak je cítit tvorba obou zmíněných souborů, zároveň se muzikanti snaží jít svou vlastní cestou.
"Alike je naše láska. Věnujeme jí velké množství energie, je to kapela, které opravdu věříme," uzavírá Karel Krejčí.
KONTAKTY A ODKAZY:
BZ Alike – http://bandzone.cz/alike
FB Alike – http://facebook.com/alikebandcz
Václav Votruba
Abyss
abyssaci@seznam.cz
TISKOVÁ ZPRÁVA (7. 11. 2016)
Deathoví Abyss chystají druhý demáč. Bude podstatně tvrdší než debut!
Západočeští Abyss jsou neúnavní. Pravidelně koncertují po celé republice a neustále skládají nové songy. Nyní se nachází ve Studiu Kdyně, kde pečlivě pracují na svém druhém demáči, který shrne jejich tvorbu za poslední dva roky.
"Koncertů máme opravdu hodně. Snažíme se hrát co nejvíce, protože díky živákům si k nám nachází cestu plno nových fanoušků. Tato mravenčí práce skutečně přináší výsledky. Mimochodem hráli jsme třeba s Debustrolem, Törrem či Ador Dorath," říká zpěvák Petr Faigl a jedním dechem dodává: "Studiová tvorba je pro nás ale neméně důležitá. Fanoušci se pořád ptají po novém CD, nechtěli jsme nic podcenit a songy si nejdříve vyzkoušet naživo. Reakce jsou skvělé, takže věřím, že jsme na dobré cestě."
Petr Faigl se ještě před několika měsíci věnoval i bubnování, ale kvůli zranění se musel uchýlit pouze ke zpěvu. Bicí obsluhuje mladičký Petr Šerlovský.
"Je to neskutečný talent, který nás žene dopředu. Má velkou dávku energie a každým koncertem roste. Je radost mít v kapele takového člověka," říká Petr Faigl.
Novinka bude podstatně tvrdší než debutový materiál. "Začínali jsme na atmosférickém doom/deathu. Nyní jsme se ale hodně posunuli do čistého deathu, to je naše cesta," dodává Petr Faigl.
Foto: archiv kapely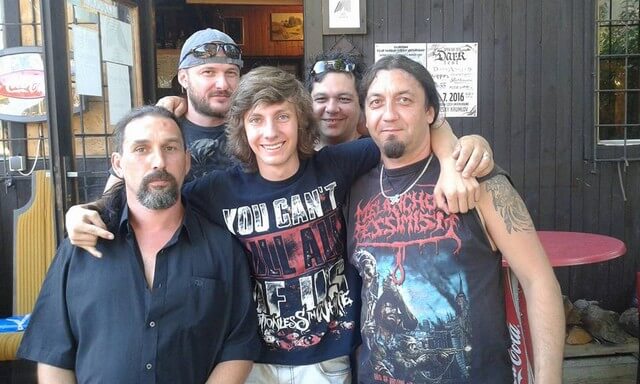 KONTAKTY A ODKAZY:
http://bandzone.cz/abysschodskalhota
abyssaci@seznam.cz
Václav Votruba