Švédsky muzikant Martin Persner tvrdí, že hral v kapele Ghost
2.3.2017
Švédsky muzikant Martin Persner zverejnil dvojminútové video so správou kde tvrdí, že hral v kapele Ghost pod pseudonymom Omega.
,,Ahoj, volám sa Martin a bol som súčasťou rockovej kapely GHOST po dobu siedmych rokov. Niektorí z Vás ma poznajú pod pseudonymom Omega či Quintessence alebo Nameless Ghoul…" – hovorí Martin vo videu, ktoré si môžete pozrieť tu. https://vimeo.com/203576933
Linky:
http://ghost-official.com/
https://www.facebook.com/thebandghost/?fref=ts
Zdroj: blabbermouth.net
Life Of Agony – videoklip k skladbe A Place Where There's No More Pain
2.3.2017
Brooklynská hard rocková legenda Life Of Agony dokončila prácu na albume A Place Where There's No More Pain – debute pod vydavateľstvom Napalm Records. Ten bude vydaný 28. apríla.
V tento deň zverejnili video k titulnej skladbe z neho:

Linky:
www.lifeofagony.com
www.facebook.com/lifeofagonyfamiglia
Zdroj: Napalm Records Promotion Team
Unleash the Archers – detaily chystaného albumu
2.3.2017
Kanadskí power/death metalisti Unleash The Archers vydajú 2. júna nový album Apex.
Tracklist:
Awakening
Shadow Guide
The Matriarch
Cleanse The Bloodlines
The Coward's Way
False Walls
Ten Thousand Against One
Earth And Ashes
Call Me Immortal
Apex
O artwork sa postaral Ken Sarafin.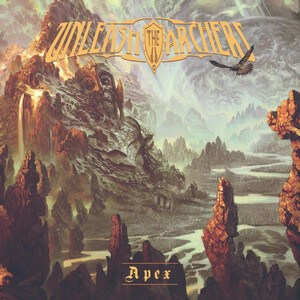 Lineup:
Brittney Slayes – spev
Grant Truesdell – Gitary, vokály
Andrew Kingsley – Gitary, vokály
Nikko Whitworth – Basa
Scott Buchanan – bicie
Linky:
www.facebook.com/UnleashTheArchers
www.unleashthearchers.com
Zdroj: Napalm Records Promotion Team
Selfmachine – lyric video k skladbe z chystaneho albumu
2.3.2017
Holandskí modern metalisti Selfmachine zverejnili lyric video k skladbe Normal People, ktorá sa objaví na ich chystanom albume Societal Arcade. Ten bude vydaný 17. marca pod Wormholedeath/The Orchard, Carlo Bellotti Publishing US, Aural Music.
www.youtube.com/watch?v=bw_pmxaDNlw
selfmachineofficial.wordpress.com
www.facebook.com/selfmachineofficial
soundcloud.com/selfmachine
www.youtube.com/user/Selfmachineofficial
Zdroj: WormHoledeath Press
Nový album BRUTE "Henchmen" vychádza u SMA !
3.3.2017
Známa domáca brutálna úderka BRUTE mala pôvodne svojim novým materiálom rozbíjať steny bytov svojich fanúšikov. Najviac sme zosmutneli pri správe, že na "Henchmen" si musíme počkať až do konca roku. To sa však nepáčilo ani nám v SMA a preto sa nám spolu so Stevem podarilo materiál z Indonézia prevziať späť a ponechať ho na domácom trhu! Nový album BRUTE "Henchmen" je už teda v lisovni a v polovici Marca ho môžete mať na stoloch aj vy doma. Už teraz môžete poslať svoju pred-objednávku aj s počtom kusov na : shop@slovakmetalarmy.sk . Steve a jeho parta nahrala album, ktorý je na scéne túžobne očakávaný a sám ho predstavuje týmito slovami : ""Henchmen" je zrejme zatiaľ vrchol našej tvorby. Je prepracovaný, tvrdý, pestrý, rýchly, brutálny a atmosféru dopĺňa aj občasná melodika. Každý song je iný. Album začal vznikať už pred vydaním "Pillory". Aj napriek tomu ho ja osobne počúvam každý deň a neviem sa ho nabažiť. Som veľmi spokojný. Každým posluchom ma baví viac a nachádzam stále niečo nové. Nenudí ma. Verím, že budete spokojní. Je v tom kus života, duša a hlavne srdce. Proste technický death metal s prvkami US brutal školy 90 tych rokov, zmiešaný európskym DM štýlom."
Nový album BRUTE vychádza na klasickom CD formáte a súbežne s ním aj triká a čapice. Steve po dlhej dobe do kapely získal aj nového bubeníka. "Aby bolo jasné. Nový album "Henchmen" a predošlý "Pillory" nám ochotne pomohol nahrať náš brácha z českých Heaving Earth – Jirka Zajíc. My sme mu veľmi vďační a nikdy mu nezabudneme, ako nám pomohol. No našťastie sme konečne našli stáleho bubeníka. Je ním Marek Baran z Michaloviec. Jednoducho sme hľadali, až sme ho našli. Prvý krát sme sa s ním stretli, keď sme predskakovali v Humennom legendám Debustrol a Hypnos. Podľa jeho slov, prišiel na Brute. Slovo dalo slovo. Marek má veľký rešpekt a je šťastný, že k nám môže patriť. Skromný, dobrosrdečný a pracovitý chalan, ktorého čakajú ešte štátnice. Radosť je obojstranná. Snáď ho nesklameme a dúfam, že sa večné problémy skončili."
Keďže čas beží neúprosne, na fyzické nosiče si počkáme už len pár dní. Aká je ale Steveho brušná nervozita? "Vydanie albumu bolo akoby zakliate. Mohlo vyjsť už minulý rok. Nevyšlo to v NTEY rec., potom som oslovil Roommate rec. z Indonézie. Po mesiaci nám oznámili, že to výjde, ale až v Decembri. Posledná kvapka. No našťastie sme už boli v kontakte s Ďurom zo SLOVAK METAL ARMY. Dohoda padla hneď. Osobne som Ďurovi veľmi zaviazaný. Sme veľmi šťastní, že to vyjde hneď. Najviac ma trápilo čakanie našich skvelých fans. Oni si nezaslúžili toľko čakať. Sme vzrušení a nadržaní. Veríme, že vás fanúšikov, aj label nesklameme. Sme nakoniec veľmi spokojní, že sme doma. Veríme, že nás čakajú svetlé časy. Milujeme muziku, je súčasťou našich životov a osobností. Za seba môžem povedať, som šťastný. Veľmi si vás vážime a radi sa podelíme o túto radosť. DEATH METAL TILL DEATH."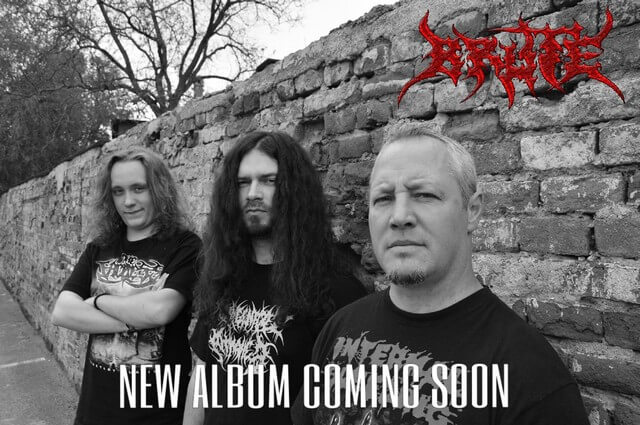 V súčasnosti už spolu s kapelou pracujeme na kompletnom novom webe BRUTE, Takže všetky informácie budú už čoskoro aj online na oficiálnom webe. Všetko sa včas dozviete na stránkach SMA.
CD BRUTE "Henchmen" objednávajte už teraz na: shop@slovakmetalarmy.sk
VYPOČUŤ ALBUM, ALEBO ZAKÚPIŤ SI JEHO DIGITÁLNU FORMU MôŽETE TU: https://brute-slovakmetalarmy.bandcamp.com/
BRUTE diskografia:
2000 Fetus of Evil demo
2008 Furious Pictures and Agony demo
2010 Inhuman Seed of Terror demo
2012 Sophisticated Atrocity album
2014 Pillory album
2017 Henchmen album
BRUTE lajnap:
Martin Calko / vox
Radoslav Michalko / bass
Stefan Tokar / guitars
Marek Baran / drums
BRUTE onlajn:
https://www.facebook.com/brute.esdm/
Tlačová správa