All-Female Four Piece Band EXIT EDEN Announces Debut Album "Rhapsodies in Black"!
16. June 2017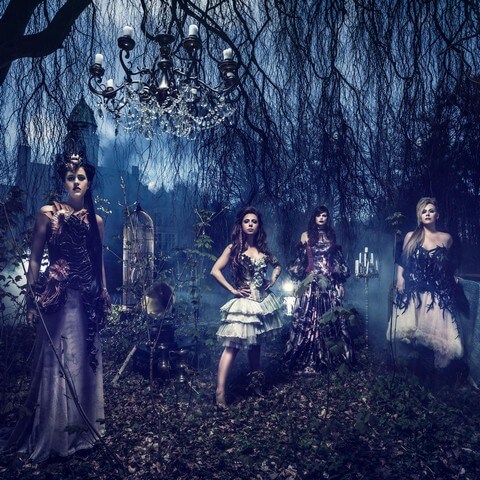 Photo: Christian Barz
Four musicians from four different countries with four entirely different biographies, yet all stemming from the world of Rock, now united in one band: EXIT EDEN!
The all-female four piece ensemble unites all attributes ascribed to the new millennium: cosmopolitan, self-confident-independent and ready to do their very own thing! Despite their diversity, the four singers Amanda Somerville, Clémentine Delauney, Marina La Torraca and Anna Brunner blend together personally as superbly as they do vocally with their very diverse vocal tones and techniques that go from opera style to raspy rock! This constellation created extraordinary and powerful ideas and finally became their unique plan to raise EXIT EDEN's very own edge: to show the world that almost every classic song can be transformed into a solid metal-rock song.
EXIT EDEN's debut "Rhapsodies in Black", which will be released on August 4 via Napalm Records (worldwide excluding Germany/Switzerland/Austria via Starwatch), is home to a colourful mix of international super hits from Rihanna to Madonna, from Depeche Mode to Adele, and many more! Still and all, it's miles away from being just a cover album. A first video will present a grand entrance very soon! Stay tuned for more updates on EXIT EDEN!
Who the musicians are:
Amanda Somerville:
Amanda is a rock-solid authority of the music scene: both as a solo artist and sharing success and the stage with bands like AVANTASIA, EPICA and KAMELOT. Though her US-American roots are based in Pop & Rock, she fell in love with the Metal scene and made it her home. She has toured with Alice Cooper, Ian Gillan and many more legends with her commanding voice and fronts the projects TRILLIUM and Kiske Somerville (with HELLOWEEN icon Michael Kiske). All of this, combined with her wide range of experience, grants her a unique edge and a permanent address in the Metal world.
Anna Brunner:
A natural talent, Anna began singing at a very young age. As a daughter of a German father and an American mother, she grew up bilingual and founded her first Rock band as a teenager. Due to a music study that lead her through different parts of the world, she garnered a multitude of experience and it became crystal clear to her: music has to rock – and vocals need to be emotional – just like a passionate scream.
Marina La Torraca:
Hailing from Brazil, Marina was born with rhythm in her blood. As the auspicious frontwoman of several Metal bands since the age of 15, her path led her to Europe, where she got to perform with AVANTASIA and to found her up-and-coming band, PHANTOM ELITE. Since having studied musical theater in New York, the versatile singer and actress can also be seen internationally in musical productions, including the upcoming German tour of the Broadway-Hit, RENT. For her, being close to the crowd is what counts – no problem for her and her natural convincing character.
Clémentine Delauney:
Clémentine was born near Paris 30 years ago. She has been a multi talent since her childhood days – no matter if she was dancing, playing the piano or singing – she enchanted her audience. At the age of 16, she joined her first Metal band, she is currently fronting Symphonic Metal outfit VISIONS OF ATLANTIS and also worked with SERENITY and MELTED SPACE. Another one of her career highlights is her participation on Kai Hansen's (HELLOWEEN, GAMMA RAY) first solo album, released in 2016. Thus, Clémentine has carved her way into being one of the great performers of the scene.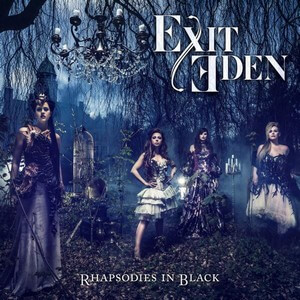 Tracklist:
Question Of Time
Unfaithful
Incomplete
Impossible
Frozen
Heaven
Firework
Skyfall
Total Eclipse
Paparazzi
Fade To Grey
Links:
http://www.exit-eden.com
https://www.facebook.com/ExitEdenMusic/
https://www.instagram.com/ExitEdenMusic/
https://www.youtube.com/channel/UC8qzZgb5WfmD5KRZgT9U08Q
http://www.napalmrecords.com
Source of Information: Napalm Records Promotion Team
Bay Area Metal Legends HEXX Reveal New Album Details
15. June 2017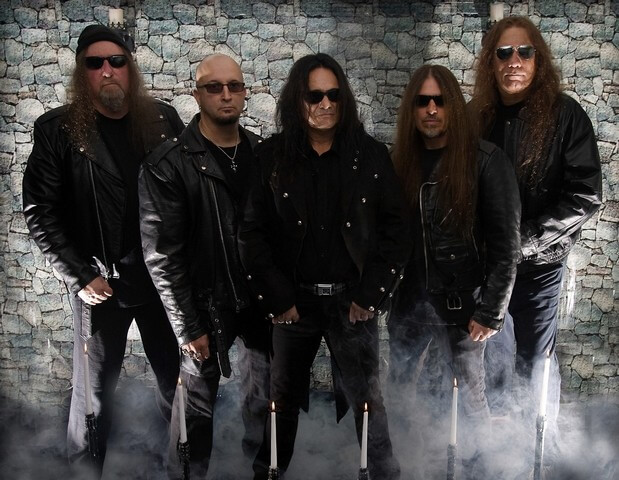 HEXX, the legendary Bay Area Power/Thrash Metal act, will release its comeback album entitled "Wrath Of The Reaper" on September 15, 2017, on High Roller Records. Cover artwork of the album was painted by Roberto Toderico, Italian artist known from cooperation with bands such as SINISTER, ASPHYX and TYGERS OF PAN TANG. The album has been produced by Bart Gabriel (CRYSTAL VIPER, BURNING STARR), recorded and mixed by Tim Narducci (FORBIDDEN, MILITIA), and mastered by Patrick W. Engel (DESTRUCTION, AGENT STEEL). "Wrath Of The Reaper" will be available as CD, vinyl LP and digital download.
"Wrath Of The Reaper" showcases band's return to their roots, and the style they are known for from their early classic albums, "Under The Spell" and "No Escape". HEXX, led by founding member and guitarist Dan Watson, features amazing new vocalist Eddy Vega and Bob Wright (BROCAS HELM) on second guitar. The lineup is completed by Mike Horn (who joined HEXX in 2013) on bass guitar, and John Shaffer (who played in HEXX between 1986 and 1995, and returned in 2014) on drums.
In 2016 HEXX released the "Tyrants Of Steel" split single (with RUTHLESS), and reissued their early albums "Under The Spell" and "No Escape" in the form of a 30th Anniversary 2CD/DVD box set via Metal Blade Records, and the 1991 technical epic "Morbid Reality" via Dark Symphonies Records.
Links:
http://www.facebook.com/officialhexx
http://www.hrrecords.de
http://www.gabrielmanagement.eu
Source of Information: Bart Gabriel
Gene Simmons want to register trademark on known metal symbol
14. June 2017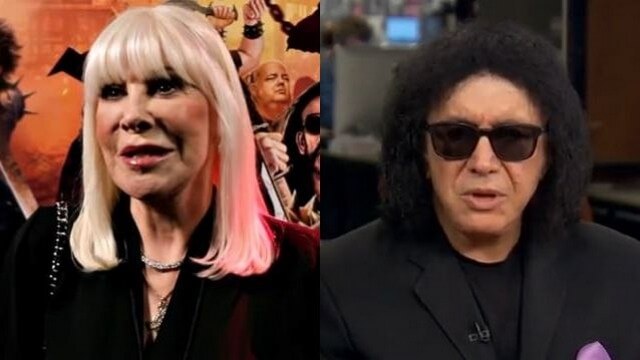 American magazine The Hollywood Reporter published news, that Genne Simmons want to register trademark on known metal symbol – ,, sign of the horns"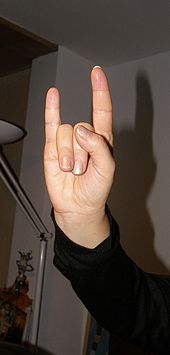 Ronnie James Dio's widow Wendy Dio said, that his intention is laughable and disgusting.
Photo: http://www.blabbermouth.net/, https://www.wikipedia.org/
Source of Information: http://www.hollywoodreporter.com/, http://www.blabbermouth.net/
EVIL INVADERS Premiere Music Video For First Track Off Upcoming Album!
13. June 2017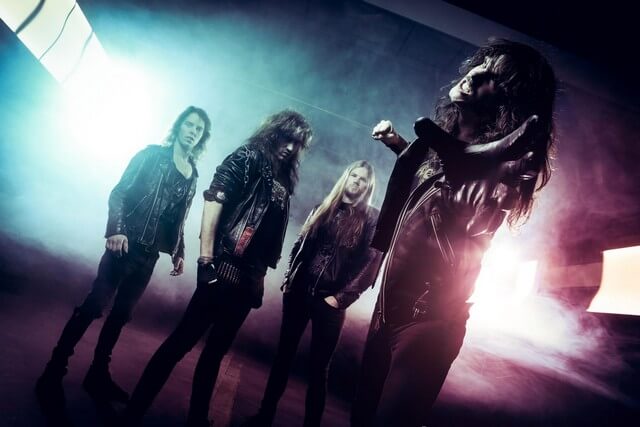 Belgium's Extreme Metallers EVIL INVADERS have recently released the details of their upcoming album entitled Feed Me Violence. This brutal attack of an album will be released worldwide on September 29th via Napalm Records and has so much to offer!
If you weren't excited already, the band has another special treat! Today EVIL INVADERS release their first video from Feed Me Violence for the song "Mental Penitentiary".
Enjoy the worldwide music video premiere for "Mental Penitentiary"
Joe commented on the first track:
"One of the faster songs on the record and definitely one of the coolest tracks we've written so far! Pretty intense lyrics, which are definitely worth checking out! The mid tempo part in the middle gives a nice contrast with the fast shit that's happening before and after. Making this video was compulsive endless lunacy! Fortunately only the camera guy got injured…"
Feed Me Violence will be available in aregular Jewel Case edition , 1LP Gatefold Edition and a digital edition. Stay tuned, as pre-orders will be available shortly!
Links:
https://www.facebook.com/evilinvaders
https://www.evilinvaders.be
Source of Information: Napalm Records Promotion Team