GOD IS AN ASTRONAUT UNVEIL FIRST & EXCITING ALBUM DETAILS 'Epitaph' To Be Released April 27th On Napalm Records!
25. January 2018
Photo: Stuart Wood
Ever since forming 16 years ago, Irish trio God Is An Astronaut has reigned as one of the premier instrumental groups. With their fusion of intense rock instrumentation, ethereal and emotional soundscapes, awe-inspiring dynamics and transfixing melodies, each of the band's prior releases has offered a breath taking sonic journey. Now God Is An Astronaut are finally back with their ninth emotive opus titled 'Epitaph', set to be released on April 27th 2018 with Napalm Records! God Is An Astronaut's hotly anticpated album – covered in pain, sadness and melancholic beauty – both sees a progression in their sound while still remaining true to their ethos that helped define the band.
The cover artwork was painted by French artist Fursy and fits the melancholic mood beautifully: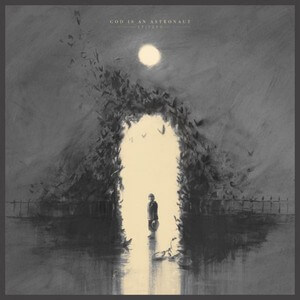 Tracklist:
Epitaph
Mortal Coil
Winter Dusk/Awakening
Komorebi
Medea
Oisín
Get your ears and eyes on a first and just released album teaser here:
Fans may expect a continuation of 2015's 'Helios | Erebus' but a change in direction was unavoidable when real-life tragedies occurred involving people close to the band.
Niels and Torsten Kinsella, twin brothers and co-founders of God Is An Astronaut, are joined again here by long-time drummer Lloyd Hanney. Amongst others, contributions also come from Jamie Dean on keys, Xenon Field on sound design, Jimmy Scanlon once again lends his talents on guitar and Brian Harris performs slide guitar on the song 'Mortal Coil'.
This album, with its stylish and rich musical textures has in its building blocks references to the past, as with a lot of the band's work. When present experiences are pulled in to the mix you get something that will last well into the future, armed with music like this you are strengthened for that journey.'Epitaph' is an album that will move you deeply and call out to you to be revisited many times!
Link to preorder: https://shop.napalmrecords.com/godisanastronaut
Next links:
https://www.facebook.com/godiaa
https://www.godisanastronaut.com
https://www.napalmrecords.com
Source of Information: Napalm Records Promotion Team
SKINDRED RELEASE BRAND NEW TEASER AND UNVEIL ALBUM DETAILS FOR 'BIG TINGS' COMING APRIL 27th 2018!
23. January 2018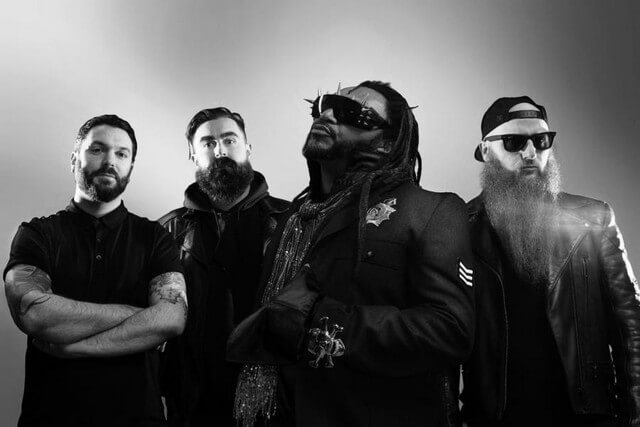 Photo: Dan Sturgess
Ragga rock legends Skindred are proud to announce a first teaser for the track 'Machine' ahead of their forthcoming UK 'Start the Machine Tour'. 'Machine' will be the first single from the band's upcoming album titled 'Big Tings' due out on April 27th 2018 on Napalm Records.
The band's first album appetizer 'Machine' has already been used as both the intro and outro theme to ACDCfrontman Brian Johnson's TV show 'Cars that Rock' Worldwide and features Reef frontman Gary Stringer lining up alongside the band's own Benji Webbe on co-vocals and if that is not enough the single also features Motorhead/Bastard Sons guitarist Phil Campbell taking the honours on the guitar solo too!
Meanwhile Skindred shot some exclusive behind the scenes Studio footage while recording their new album 'Big Tings' at Peter Gabriels Real World studio in the village of Box ,NR Bath.
View the band's brand new album teaser HERE!
Skindred along with Producer James Loughrey and Engineer Lee Slater are currently putting the finishing touches to what will be the bands seventh studio album and could not be more excited about it.
Says Skindred Guitarist Mikey Demus: "The name hopefully says it all, you can expect some seriously Big Tings from Skindred on our next record. We've thrown away the rulebook and pushed ourselves harder than ever to create the biggest, baddest, and most banging songs we could muster. We can't wait to start unleashing this new stuff on the world, so prepare yourselves for some Big Tings!"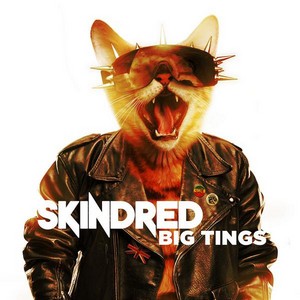 Roaring and pounding, the follow-up to 2015`s Volume is a magnificent beast churning out heavy, distortion-laden riff punches melting into vocalist Benji Webbe`s frenzied rapping. Explosive metal and punk material rubs shoulders with smooth melodies – and of course Skindred wouldn`t leave us on the dancefloor without a hefty helping of their trademark Godzilla-esquely huge choruses. Big songs, big sound, big tings!
Coming April 27th on Napalm Records, 'Big Tings' is now available to pre-order HERE!
Next links:
https://www.skindred.net
https://www.facebook.com/skindredofficial
https://www.napalmrecords.com
Source of Information: Napalm Records Promotion Team
BRITISH METALLERS ELIMINATOR TO RELEASE DEBUT ALBUM "LAST HORIZON" VIA DISSONANCE PRODUCTIONS
23. January 2018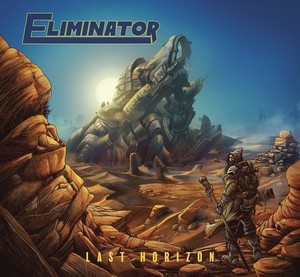 "A kick ass album from start to finish, best thing to come of the UK in a decade, this ROCKS!
Steve Grimmett – Grim Reaper
The long awaited debut from Eliminator hits the shelves March 23rd and it's been worth the wait. Eight tracks of pure British Heavy Metal, recorded at Skyhammer with Chris Fielding at the helm, to top it off it features stunning cover art from Simon PYE Parr of 2000AD and Realm Of The Damned fame! The art beautifully fits the album's science fiction themed title track, below Jack McMichael from the bands explains the concepts behind each song:
2019
2019 had existed as a demo for a couple of years and it's always been a favourite to play live. Lyrically, it's a homage to Blade Runner, probably one of the greatest works ever committed to celluloid, but you already knew that.
We often joked with each other that by the time the record was out, it would actually be 2019, but thanks to Dissonance, we're dodging that bullet by a year. Lyrical themes serve to pose the question 'what makes a human, human?'. We are all huge fans of science-fiction and subjects around artificial intelligence, advanced technology and dystopian futures are all drawn on for inspiration for not just this song, but others on this record too.
We've toyed with the idea of making a video for this song for quite some time and finally that ambition is being realised; at last we get to discover which member of the band is a replicant.
Last Horizon
The Last Horizon is the spaceship which you'll see in ruins on the front of our album sleeve. Read the short vignette on the back of the cover and you'll find out how this unfortunate situation came to be.
We thought about the naming of this song for some time, and as such, the title of the record. Two other candidates were 'Vanguard' and 'Architects & Navigators', but after coming up with the idea for the cover art, 'Last Horizon' seemed the most appropriate (and least rubbish).
This song is one of our group favourites from the record, and since completion has been played live at every opportunity. Usually, our lyrics are written by one or two persons, but this one was a three-way venture by Danny, Jack and Jamie. Being the flagship song, it was all minds on deck for this one.
Echoes
Echoes was featured on the vinyl release of our first EP, but we felt the rushed DIY recording really didn't do the song justice. It's been performed live at nearly every single gig since it was written and is ridiculously good fun to play.
The song is a continuation of a story that is explored on the songs Traitor and The Seer, which we released as a 7" single some years ago now. The concept was set out to be a trilogy (in four parts) that told the tale of a clairvoyant in the thrall of a tyrannical ruler who is overthrown by his own psychic servant. Echoes is the epilogue to this story and portrays the ethereal presence of these characters centuries after their deaths.
Although written just after the release of the 'We Rule the Night' EP, the songwriting was far more mature than anything we had done previously. Lyrically, it was our first real venture into the realm of writing a proper story, and was a seriously fun challenge. Many nights were spent rolling inspirational cigarettes for the whole saga – which is probably why it tooks years to get recorded properly.
Procession of Witches
Lancaster, our main base of operations in the North West of England, is home to the famous Lancaster Castle where five of the notorious Pendle Witches were tried. King James I imposed the death penalty "for making a covenant with an evil spirit, using a corpse for magic, hurting life or limb, procuring love, or injuring cattle by means of charms".
The lyrics and vocal melody for this song came before the music. The idea of the procession is to signify the solidarity of the 'sisterhood' that stereotypically would join together for ritualistic evil. The song serves as a dedication to those imprisoned, tortured, put on trial with no permitted defence counsel, and executed on the basis of speculation are hearsay.
Edge of a Dream
Shortly after Danny joined the band we were discussing his experiences with sleep paralysis and he described the sensation as being 'on the edge of a dream'. We had already liked the idea of writing a song about sleep paralysis but had struggled for suitable lyrics; everything fell into place after hearing about Danny having a terrible night's sleep.
Fall of the Seer
Remember the Seer mentioned in Echoes? Well, Fall of the Seer is another part of the same story. Maybe we should write a concept album.  
The lyrics revolve around the once-great Seer having ultimately lost his power. Instead of being able to see the future, can now only see the past and the horrible tragedy of his existence. The only way out from the torment – death.
Again, as part of the Seer story, this was written in a slightly different style to other songs, incorporating our first 'spoken word' segment, found in the middle of the song. It's always good to try new things.
Pride and Ruin
This song was in fact the inspiration for the concept of the cover art. Whilst the song Last Horizon deals with the construction of the eponymous ship, this song is about the discovery of its ruins many years after the catastrophe that destroyed the ship and ultimately human civilization.
The lyrics are about the arrogance and lack of foresight of the last era of humans who caused their own demise.
The music of Pride & Ruin is loosely based on a song Matt had written in 2005, before Eliminator even existed and the guitar harmony is largely intact from the first incarnation.
Spoils of an Empire
In 2013 the day after we'd played Live Evil Festival we decided to kill some time and hopefully cure our hangovers by wandering around the British Museum. Whilst there, Steeny remarked that it was ''the world's largest collection of stolen goods". Not only did this get a laugh, but he also sparked the idea for a song about a powerful and wide-reaching Empire taking artefacts from distant and exotic lands for the sake of glorifying their own might.
In the end, the lyrics have taken a more fantastical turn than Victorians nipping over to the Middle East to pinch some statues, but the concept is still largely the same.
We felt that such a topic required a suitably epic atmosphere, so we set out to make it a long one worthy of closing the album.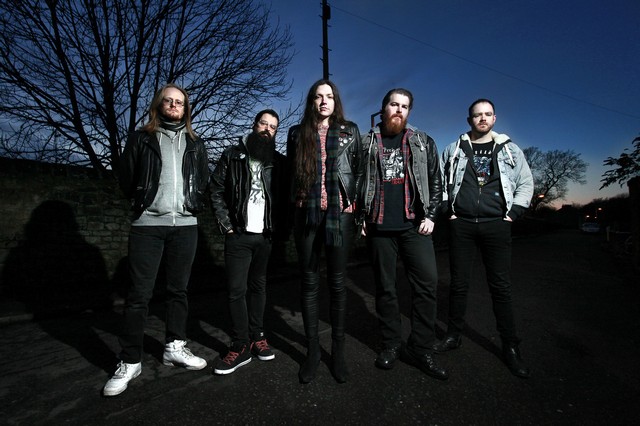 ELIMINATOR BIOGRAPHY
Born out of a desire to play live, Eliminator began when guitarists Jack and Matt met and Lancaster University and started jamming together. Motivated entirely towards the aim of live performances, the first incarnation of the band played their first gig in 2008. After a couple of years of gigging a stable lineup of strong musicians eventually came together. With Jamie on bass, Dave on drums and Tak fronting the band, Eliminator had garnered enough live experience and written enough original material to begin recording. Entering into a hastily constructed DIY studio in late 2010, the band recorded their first release, the We Rule the Night EP. The EP was released on CD and vinyl during 2011 and proved to be popular with heavy metal fans, earning Eliminator gigs and festival slots across the UK. 
Spurred on by the success of the EP, the band began working on new material and once again entered the studio in late 2011; although this time with a luxury of an experienced engineer and professional equipment. The result was two tracks which were released on The Seer 7″ single in 2012, which was received well by those who heard it but suffered from a lack of promotion by the label. In summer 2012 after a successful performance at Muskelrock, front man Tak left the band and Eliminator were in limbo without a singer until 2013 when a friend of the band and former Skyclad guitarist, Dave Pugh stepped up to fulfill vocal duties. With Dave on board, Eliminator played a number of gigs and festivals throughout Europe and released a demo in 2015, titled (confusingly, in hindsight) 2019. 
However, due to commitments with a reunited Skyclad Dave stepped down from Eliminator in 2015 and the band was once again left without a vocalist. A period of inactivity followed whilst the search for a suitable front-man went underway.  In late 2016 the band received a tip that Danny, a long-time friend and supporter of Eliminator was an excellent heavy metal singer looking for a band. After auditioning, Danny impressed the band with his ability and he was asked to join Eliminator. With Danny at the helm, live performances were resumed and after a gig in London during March of 2017, Eliminator caught the attention of Dissonance Productions. 
ELIMINATOR  "LAST HORIZON" VIA DISSONANCE MARCH 23RD 2018 – DISS0098CDD / VINYL VIA DISSONANCE / BACK ON BLACK – BOBV539LP
Links:
http://www.dissonanceproductions.co.uk/
https://www.facebook.com/DissonanceProductionsUK/
https://www.facebook.com/eliminatorheavymetal/
Press Release
Apparition Release "Break The Chains" Official Lyric Video!
22. January 2018
Uk melodic metal act Apparition are proud to unleash their new official lyric video for "Break The Chains", track taken from "The Awakening" album due for release on February the 2nd 2018 worldwide and on March the 28th in Japan via Wormholedeath / Aural / Disk Union Distribution.
"Break The Chains" Official Lyric Video
THE AWAKENING offers soaring riffs, energetic drums, passionate emotive vocals and orchestral undertones, as it takes the listener through a synergy of emotions set to 'awaken' the soul as it tells many stories of love and loss, passion and possibility, folklore and imagination. 
Links:
http://www.apparitionmusic.co.uk
https://www.facebook.com/apparitionband
Source of Information: WormHoledeath Press
Gloom without keyboardist
23. January 2018
Keyboardist Barbora Petrášová left Slovak melancholic rockers Gloom. Upcoming gigs band will play with session player. His name will be announced as soon.
Links:
www.gloom.sk/
https://www.facebook.com/gloomslovakia/
Source of Information: https://www.facebook.com/gloomslovakia/