GRAVE DIGGER – Unveil Cover Artwork And Tracklist For The Living Dead!

19. June 2018
German heavy metal legends GRAVE DIGGER recently announced the title and release date of their new studio album. Now the band reveals the cover artwork and track list of their upcoming record entitled The Living Dead which will be released on September 14th via Napalm Records.
Check out the cover artwork and tracklist of The Living Dead below.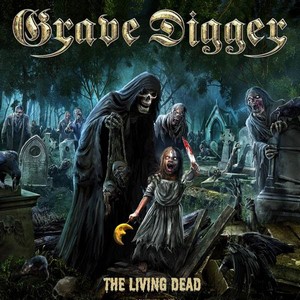 Fear Of The Living Dead
Blade Of The Immortal
When Death Passes By
Shadow Of The Warrior
The Power Of Metal
Hymn Of The Damned
What War Left Behind
Fist In Your Face
Insane Pain
Zombie Dance
Glory Or Grave (Bonus Track)
Since their founding back in 1980, GRAVE DIGGER have been leaders in the German heavy metal scene. They created their very own version of Teutonic heavy music – albums like Heavy Metal Breakdown, Witch Hunter or Tunes Of War became classics in the scene.
Links:
ww.facebook.com/gravediggerofficial
www.instagram.com/gravediggerband
www.twitter.com/GRAVEDIGGERclan
Source of Information: Napalm Records Promotion Team
KOBRA AND THE LOTUS – Release Official Music Video For "Velvet Roses"!
19. June 2018
KOBRA AND THE LOTUS kept their word and delivered the second part of their opus magnum one year after the successful release of rock juggernaut Prevail I! Prevail II is the proverbial yang to the ying and continues right where KOBRA AND THE LOTUS left off in 2017. Today, the band release a brand new music video for their new song "Velvet Roses".
Kobra about the song:
"High impact, pure rock adrenaline!! This vid is a fabulous trip. Free falling through the sky, whipping tight turns on a planet where everything that makes sense to you doesn't apply and the impossible doesn't exist. Join this tenacious driver and her motley crew as they take guitar solos literally to "new heights" and drive you through the hard rock, adventure of your life!!!"
Click on the screenshot below to watch the brand new music video for "Velvet Roses".
KOBRA AND THE LOTUS know perfectly well what it takes to cater for the needs of every metal, hard & classic rock fan. With Prevail II the Canadian five piece delivers the grande final to their emotional and musically diverse Prevail-series while showing all of the band's facettes at its best: This is Pure Rock adrenaline!
Links:
http://www.facebook.com/KobraAndTheLotus
http://www.kobraandthelotus.com
Source of Information: Napalm Records Promotion Team
Imperial Domain – The Deluge
18. June 2018
Swedish melodic death metal band IMPERIAL DOMAIN released a first single 'True Face of War' from their upcoming third album 'The Deluge'. The album is released August 10th 2018 by Finnish record label Inverse Records.
WATCH THE VIDEO:
Imperial Domain was formed in Uppsala, Sweden, back in 1994.
In June 1997 they recorded their debut album entitled "In The Ashes Of The Fallen" in Sunlight Studios. The second album entitled "The Ordeal" was recorded in October-November 2000 in Prime Studios.
Both albums received great reviews around the world and the band continued to play until 2005. From that time the band members continued to play in other constellations until they decided to start up the band again in 2014.
The hunger for making music was there again and they all were eager to create something new, this Imperial machine had more to offer. But unfortunately, tragedy struck the same year as the singer Tobias von Heideman passed away. This didn't stop the band however, they were determined to complete material for a new album, which they did in 2016. These boys have something really special in their hands. It's melodic yet incredibly heavy and noncompromising as their new singer Andreas Ömanproves to be a worthy replacement for Tobias.
"The Deluge" the brand new offering from IMPERIAL DOMAIN contains 8 well executed tracks of immaculate production values recorded in HSH-studio. With mixing and mastering of the highest quality at E.A.P. by Ronnie Björnström and artwork by Pete Alander at BANDMILL, you can be assured of a piece of work with uncompromising quality.
An album this strong can't be ignored!
Links:
http://www.imperialdomain.se
http://www.facebook.com/imperialdomain.se
https://twitter.com/DomainImperial
https://www.instagram.com/imperialdomain
https://spoti.fi/2M27v5Q
Source of Information: Inverse Records
None Dare Call It Conspiracy (Fin) Sign With Wormholedeath And Announce "Pawns And Kings" Album Release Date!

18. June 2018
We are proud to announce that finnish modern metallers None Dare Call It Conspiracy have signed a distribution deal with Wormholedeath for their album "Pawns And Kings"!
The album will be released on 29 June 2018 via Wormholedeath / The Orchard in all digital stores worldwide.
Band Statement:
"We are proud to finally be able to release the long coming second album Pawns and kings in collaboration with WormHoleDeath this year.
The making of the album was a long journey stacked with countless step backs but like we have done in the past we overcame all of it and here we finally are with an album that we can stand behind and label that will drive us forward to a new level as a band.
The future of None Dare Call It Conspiracy looks promising so stay tuned cause you'll be hearing from us"
Klipová ukážka:

Links:
https://www.facebook.com/NDCICBAND
Source of Information: WormHoledeath Press