DELAIN – Announce HUNTER'S MOON with brand new Tracks + Live Blu-Ray!
Hunter's Moon out on February 22nd 2019!
13. December 2018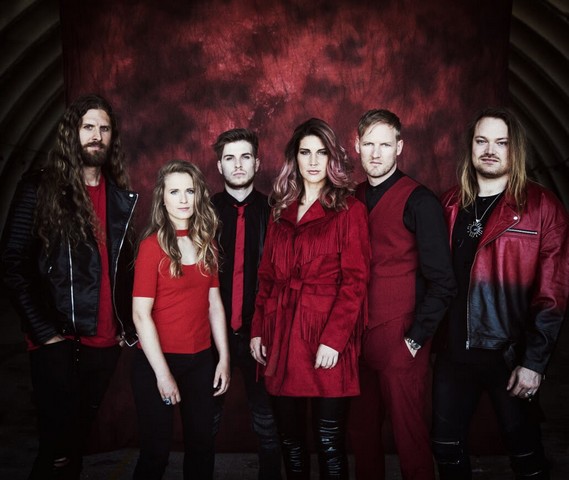 DELAIN will release HUNTER'S MOON 22nd FEB 2019 a stunning release, consisting exciting new studio tracks accompanied by a Live Blu-Ray from their SOLD OUT DANSE MACABRE tour across Europe in 2017.
HUNTER'S MOON is the final in the trilogy, and follows on from their EP Lunar Prelude and their full album release MOONBATHERS.
HUNTER'S MOON includes four brand new tracks, ten live songs, and a Blu-Ray shot at the infamous Utrecht Tivoli, featuring many special guests including Nightwish's Marco Hietala. The Blu-Ray truly encapsulates Delain's breathtaking stage performance and showcases their stunning stage production!
This day the Dutch six-piece unveils the album cover (art by Cam Rackam) and the tracklist: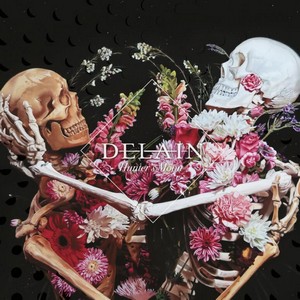 Brand New Studio Tracks::
Masters Of Destiny
Hunter's Moon
This Silence Is Mine
Art Kills
Live From Utrecht:
Hands Of Gold – Live (feat. George Oosthoek)
Danse Macabre – Live
Scarlet – Live
Your Body Is A Battleground – Live (feat. Marco Hietala)
Nothing Left – Live (feat. Marco Hietala)
Control The Storm – Live (feat. Marco Hietala)
Sing To Me – Live (feat. Marco Hietala)
Not Enough – Live
Scandal – Live (feat. Marco Hietala)
The Gathering – Live (feat. Marco Hietala)
DELAIN about the four new studio tracks:

"Along with the live Blu-Ray are four new studio tracks. Two of these offer a preview of what we are working on for our new full length studio album, which we expect to release in 2019. "Masters of Destiny" is a dramatic, cinematic track, that we're excited to shoot an equally dramatic video for this week. The title track "Hunter's Moon" has more of a catchy feel and will hopefully appeal to our fans featuring heavy riffs, orchestrations, a large chorus and as a novel feature, Timo's screams. Our guitarists stepped to the forefront on this release, in writing "This Silence is Mine" (Timo Somers) and "Art Kills" (Merel Bechtold). With fond live memories, classic and new sounds we're excited to present Hunter's Moon to the world!"
Marco Hietala (Nightwish) about the Danse Macabre Tour:

"I was really pleased to do the tour, because it gave me a chance to challenge myself in different surroundings and band dynamics. In the end it comes down to the same old but great thing. I love doing good shows with good people for good audiences. All for one and one for all!"
DELAIN about the live Blu-Ray:

"The Moonbathers tour has been a hell of a ride and the "Danse Macabre" shows were an absolute highlight. We are excited to share the footage of our show at Tivoli Vredenburg with you on this brand new Blu-Ray. It was great to finally perform all of our collaborations with Marco live, something our fans have been asking for for such a long time! Also gracing the stage were George Oosthoek who gave his signature sound to "Hands Of Gold", and Elianne Anemaat who adorned "Scarlet" with her beautiful cello tones. The Tivoli show had such an amazing atmosphere and was one of the highlights of our career. Plus a home match for some of us! We are thrilled to have this Blu-Ray as a physical souvenir of the night and we hope that our fans will enjoy it as much as we did."
Links:
https://www.facebook.com/delainmusic
https://www.delain.nl
Source of Information:Napalm Records Promotion Team, Photo: Sandra Ludwig
Michael Kratz: online the lyric video for new single "If This Is Christmas
13. December 2018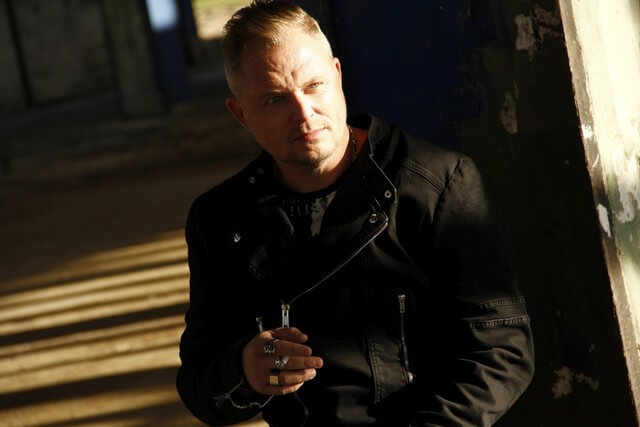 Art Of Melody Music & Burning Minds Music Group, in collaboration with Hypnotized Records, are glad to announce the digital release of "If This Is Christmas", second single taken from the special 3CD digipack combo titled "Live Your LIVE", new official release by Danish westcoast artist Michael Kratz. "If This Is Christmas" is one of the three exclusive bonus tracks included in the third disc of this special digipack combo, the reissue of rare Michael's debut album "Cross That Line". Lyric video thanks to Yellow Bang Studio.
Michael says:
"If This Is Christmas' is about a very young boy hoping for his father to come home for Christmas. He didn't come home for that Christmas and neither for the Christmases to come. That was very hard for this young boy to understand and it took him many years to realize that when parents doesn't live together anymore, dad might not be a part of Christmas".
The digital cover, designed appositely by Aeglos Art (Raintimes, Airbound, Room Experience, Firmo), reflects instead a classic Christmas image, offering to the listener an unexpected contrast between the typical Christmas portraits, and the story told by the refined but sad lyrics written by Michael.
The 3CD set "Live Your LIVE" is going to be a great experience for all the fans of classy AOR/Westcoast music, printed in a very limited collectors' edition of 500 copies worldwide, with introductive liner notes provided by Stefano Giacometti (Classix Metal, Hardsounds.it). Graphics have been provided by once again Aeglos Art, while a special personalized edition with handcrafted slipcase have been created appositely by Outward Styles in a very limited quantity of 25 copies. "Live Your LIVE" has been released on December 7, 2018 via Art Of Melody Music / Burning Minds Music Group,
Buy 3CD digipack / Stream now! http://www.burningmindsgroup.com/art-of-melody-music/buy/98
Links:

http://www.facebook.com/michaelkratz.net
https://www.burningmindsgroup.com/art-of-melody-music
http://www.facebook.com/artofmelodymusic
Source of Information: Atomic Stuff Promotion
RAVEN – Screaming Murder Death From Above: Live In Aalborg
11. December 2018
When the British/American metal trio Raven left the Skråen stage at the end of November 2017 after their acclaimed concert in Aalborg, Denmark, brothers John (bass, vocals) and Mark Gallagher (guitar) along with new member Mike Heller (drums) didn't foresee their show being recorded for posterity.
"We were surprised of course, since nobody had informed us of this beforehand", John Gallagher explains. "We had a flash drive with the recording delivered to us and when we checked it, we realized that – barring some small technical problems – we had a truly magical live recording on our hands. It was a near perfect concert thanks to the great atmosphere inside the hall and our out of control attitude – since, you know, we weren't aware the show was being recorded." On 18 January 2019 Screaming Murder Death From Above: Live In Aalborg will be released on CD, double LP and in digital format by Steamhammer/SPV. It's the unbridled show of a band who has been writing metal history for the last 45 years.
The live recording is truly exceptional", Gallagher confirms. "There were merely one or two small issues, which are bound to happen at a live show such as this: Some irregularities with one of the microphones, and I broke a bass string during the second song of the evening, during 'Hell Patrol' actually. Fortunately, both problems could be resolved and we're able to present a virtually perfect Raven concert to our fans."
This is all the more surprising, as Raven had to overcome a difficult situation in the spring of 2017: Shortly before the start of their US tour their long-standing drummer Joe Hasselvander suffered a heart attack, putting an end to his active music career. After a few temporary replacements, it was quickly decided that Mike Heller (Fear Factory, Malignancy) would be Raven's new drummer. "Mike rocks", Gallagher enthuses, "for our first performance, we could not rehearse with him because of the tight schedule. We just discussed the songs for 30 minutes and … boom! … he played the set practically without mistakes and he`s a such a breath of fresh air to the band. It's clear from the way he picks up the pace how much he enjoys being with Raven. In some of his former bands, he was limited in the way he played, with us, he's completely at liberty to improvise and go crazy!"
This delight in playing is reflected in every single note on Screaming Murder Death From Above: Live In Aalborg. Raven expertly combine their own classics with pieces from their newest album Extermination, for example 'Destroy All Monsters' (Gallagher: "An incredible live song, which we play, like, ten times as fast on stage as in a studio") or 'Tank Treads (The Blood Runs Red)' along with songs we haven't heard from Raven in many years: "I believe 'Hell Patrol' hasn't been in one of our set lists in 15 years. The same goes for 'Hung Drawn & Quartered" we haven't played that one in a very long time. It was a lot of fun to come back to those songs again."
As to the differences between the current Screaming Murder Death From Above: Live In Aalborg and earlier Raven live recordings?
"We have of course gotten better and better on a technical level over the years. Also, on Destroy All Monsters/Live in Japan (1996), you can clearly hear that I was wrestling with voice issues due to a bout of laryngitis. And if you compare Screaming Murder Death From Above: Live In Aalborg with Live In The Inferno from 1984, it almost seems as if we had taken sedatives back then", Gallagher says laughingly and concludes with: "The Aalborg recording matches the energy which Raven is exuding 100 percent. It's the best representation of us as a live band yet."
Tracklist:
Destroy All Monsters
Hell Patrol
All For One
Hung Drawn And Quartered
Rock Until You Drop
A.A.N.S.M.M.G.N.
Tank Treads (The Blood Runs Red)
Faster Than The Speed Of Light
On And On
Break The Chain
Crash Bang Wallop
Links:
http://www.ravenlunatics.com/
https://www.facebook.com/ravenbandofficial
Source of Information: Steamhammer / SPV
Ramchat – song from upcoming LP
11. December 2018
Slovak paganist Ramchat published song from their upcoming vinyl EP Nepočaria!
Links:
https://www.facebook.com/ramchatband/
Source of Information: Hirax / RAMCHAT