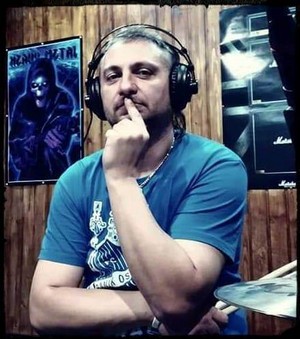 Tí starší z vás si možno pamätajú kapelu Scapegoat z Hraníc. Ta fungovala v rokoch 1994 – 1998. Nikdy však nevydali of. album. Koncom roku 2018 jej dvaja členovia Patrik "Daffy" Nejedly a Petr Staněk sa rozhodli vydať spoločné CD Timehookers Scumjob pod značkou Robotized. Prvý spomínaný člen sa rozhodol povedať o tom viac. Taktiež sa dozviete aj to, či sa Robotized zmenia na plnohodnotnú kapelu, či môžete očakávať aj nejaké koncerty a ďalšie zaujímavé info.
Ahoj Patrik, ako sa darí?
Patrik "Daffy" Nejedly: Ahoj Luboši. Také zdravím. No u mě dobrý 🙂
Co se týká hudby, po třech letech jsem si ve studiu sedl za bicí a s Petrem jsme si jako vzpomínku na staré časy natočili CD, takže jsem spokojen, že jsem se trošku zase mohl v čase vrátit do svých aktivních muzikantských let a to vždycky potěší 🙂
V soukromí je to taky fajn. Věnuju se aktivně svému druhému největšímu koníčku a tím je fotbal, takže spokojenost je veliká 🙂
Dá sa povedať, že kapela Robotized vznikla na základoch skupiny Scapegoat, ktorá zanikla v roku 1998. Čo sa vtedy vlastne stalo?
Patrik "Daffy" Nejedly: Přesně tak.
Robotized jsou připomenutím kapely Scapegoat, která v letech 1994 až 1998 aktivně fungovala. Důvod je jediný.
V roce 1998 dostal Petr Staněk nabídku hrát a zpívat v kapele S.S.G.E. a jelikož jsem nechtěl ve Scapegoat pokračovat bez něj, domluvili jsme se, že Scapegoat odložíme na vedlejší kolej a někdy v budoucnu se k němu vrátíme. Já jsem si založil kapelu Grace a jelikož Grace i S.S.G.E. fungovali dost dlouho, ke Scapegoat se vracíme opožděně až nyní 🙂
Kedy a odkiaľ prišiel prvý impulz na vznik novej kapely?
Patrik "Daffy" Nejedly: On to vlastně ani nebyl impulz založit novou kapelu, jen si připomenout ty staré dobré časy. A jak jinak nejlépe tyto časy oživit než skvělou novou nahrávkou. Proto tedy to studio, proto tedy po dvaceti letech to CD. To, že jsme Scapegoat nakonec přejmenovali na Robotized, vyplynulo tak nějak přirozeně. Když o nás dvacet let nebylo slyšet, proč to neoživit i změnou názvu kapely 🙂
Nový albumu
Prejdime hneď k novému albumu pomenovanom Timehooker´s Scumjob. Aký bol proces jeho vzniku?
Patrik "Daffy" Nejedly: Jelikož Petr Staněk už nějaký rok bydlí v Norsku, proces nahrávání probíhal následovně: Petr ve svém studiu začal v roce 2017 tvořit a skládat nápady, ty následně přes emaily zasílal mě, já je naposlouchal, vytvořil k nim bicí partie, ty následně zase zpět odeslal jemu a tak jsme materiál tvořili asi půl roku.
Hotové skladby jsme pak průběžně během roku natáčeli ve studiu Abbadon u Olomouce a u Petra doma ve zmíněném studiu až dostala nahrávka konečnou podobu a CD bylo připravené k vydání.
Na albume sa nachádzajú iba nové piesne, alebo aj nejaké zo staršej éry?
Patrik "Daffy" Nejedly: Album obsahuje 8 úplně zbrusu nových songů + jako bonus jsme předělali skladby "Acute" a "Coming", které jsme si v roce 2008 natočili jen tak pro radost sami sobě za jeden den v jednom studiu tady u nás kousek od Hranic.
Skladby jsme tehdy uveřejnili jen na našem profilu na Bandzone a jelikož se nám líbili i po deseti letech, rozhodli jsme se je dát i na naše aktuální CD. Bylo potřeba je ale trochu poupravit a dodat do nich energii současného soundu a proto jsme je z větší části předělali.
Čo vlastne predstavuje názov albumu?
Patrik "Daffy" Nejedly: Název albumu je vlastně taková slovní hříčka a jelikož je v podstatě dosti vulgární, nebudu tady anglický název překládat do češtiny ať se někdo nelekne 🙂 Ale pokud přesto někdo bude chtít znát přesný překlad, nechť si ho vygoogluje a nebo mi napíše. Já mu rád odpovím 🙂 🙂 🙂
A obal? Aká je jeho hlavná myšlienka?
Patrik "Daffy" Nejedly: Myšlenka je naprosto jednoduchá. Spojení člověka a robota. Proto půl našich obličejů a těl jsme my dva s Petrem a zbytek jsou poloroboti. No a jelikož je naše hudba načichlá i death metalem, objevují se na obalu i ty morbidní vražedné nástroje, useklé hlavy a stříkající krev 🙂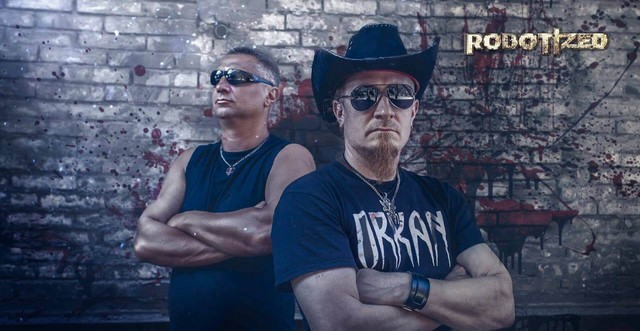 Budúcnosť kapely
Kapela zatiaľ funguje o dvoch členoch. Je v pláne pribrať aj ďalších? Sú v pláne aj dáke koncerty? A ak áno, je v pláne navštíviť aj Slovensko?
Patrik "Daffy" Nejedly: Kapela aktivně nefunguje.
Jen jsme si já Daffy (bicí) a Petr (kytara, basa, zpěvy a samply) natočili vzpomínkové CD a to nabízíme fanouškům k  domácímu poslechu. Koncerty neplánujeme tudíž neplánujeme ani přibrat do našeho projektu žádného dalšího člena. Takže jsem jednou větou vlastně odpověděl na obě tvé otázky 🙂 PS.
Důvod proč nebudeme koncertovat není ten, že by jsme nechtěli, ale s časových a technických důvodu to nejde zrealizovat, proto jsme se už při natáčení CD domluvili, že tento natočený materiál bude čistě poslechová záležitost.
Minulosť-prítomnosť
 V čom vidíš najväčšie rozdiely oproti metalovej scéne za tie roky?
Patrik "Daffy" Nejedly: Rozdíl vidím např. v možnostech natočit CD. Za našich "mladých" let se točilo na analog, dnes je k dispozici počítač a moderní technologie.
Takže dříve se natáčelo v rámci možnosti danné doby, dnes jsou možnosti neomezené a tudíž i nahrávky mohou znít více profesionálně. Můžou, ale také nemusí. Záleží jak si s tím daní muzikanti poradí. 🙂 Někdo dokáže této doby využít, jiný nenatočí pořádný materiál ani kdyby měl kolem sebe nejmodernější technologie 🙂
Industrial metal v Čechách a na Slovensku
Osobne sa s industrial metalom pri recenziách stretávam minimálne. Akú má podľa teba tento žáner pozíciu v našich česko-slovenských končinách?
Patrik "Daffy" Nejedly: My nejsme vyloženě industriální kapela. Naše základy tvoří tvrdé obnože metalu a ten industrial do něj jen vkládámé. Např. jednoduchostí rytmiky, dvou nebo třech nápadů na kytaru opakujících se dokola, strojovost samplových zvuků, čitelnosti a jednoduchosti.
Něco jako kdyby si skloubil dohromady MINISTRY, FEAR FACTORY a třeba CANNIBAL CORPSE a SEPULTURU. 🙂 Tak nějak to vidíme a cítíme my. Tudíž na tvou otázku nedokážu odpovědět, poněvadž podobné kapely, které by hráli jako my, neznáme 🙂
Tak to bola posledná otázka. Ďakujem veľmi pekne za odpovede, a zároveň by som ťa rád poprosil o odkaz pre našich čitateľov.
Patrik "Daffy" Nejedly: Já díky tobě, že jsme si dobře pokecali, fanouškům posílám poděkování, že to vydrželi přečíst až do konce a kdo bude chtít zakoupit CD "Timehookers Scumjob", udělejte tak co nejdříve. Edice je omezená vydáním pouze 200 ks. Objednávejte u našeho vyhradního distributora EPIDEMIE Records.
Youtube ukážka:

Linky:
www.bandzone.cz/robotized
www.facebook.com/robotizedband