Cyhra – zmluva s Nuclear Blastom
27.8.2019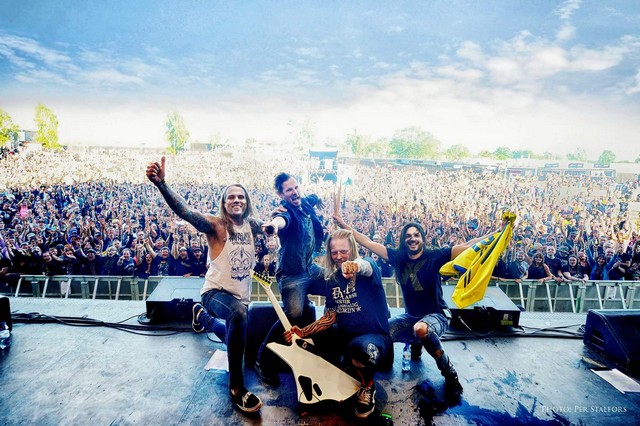 Moderní metalisti Cyhra zo Švédska podpísali zmluvu s gigantom Nuclear Blast. Kapelu tvoria ľudia ako spevák Jake E. (ex-AMARANTHE); gitaristi: Jesper Strömblad (ex-IN FLAMES) a Euge Valovirta (ex-SHINING); a známy bubeníka Alexa Landenburga (RHAPSODY, KAMELOT).
Momentálne dokončili nahrávanie nového albumu. Ďalšie detaily budú čoskoro oznámené.
Linky:
https://www.cyhra.com/
https://www.facebook.com/cyhraofficial/
https://www.nuclearblast.de/cyhra/
Zdroj: NUCLEAR BLAST Anne Swallow
Zemetrasenie v zostave Dreamtale
26.8.2019
V zostave fínskych melodikov Dreamtale nastálo veľké personálne zemetrasenie. Spevák Erkki Seppänen a gistarista Seppo Kolehmainen sa rozhodli opustiť kapelu. K ním sa nakoniec pridal aj basák Heikki Ahonen.
"Dvanásť rokov je dlhý čas – štvrtina môjho života, viac ako polovica mojej dospelosti. Toto nie je možné zhrnúť v krátkom vyjadrení. Takéto rozhodnutia sa nerobia zbŕklo, to moje ma niekoľko dôvodov. S Dreamtale sme nahrali štyri skvelé albumy, odohrali skvelé predstavenia po celom starom svete. Medzi moje najkrajšie spomienky patrí vypredaný koncert v Pekingu. Takéto dobrodružstvá sú privilégiom, ktoré zažila iba hŕstka ľudí. Taktiež budem spomínať aj na jeden z najlepších koncepčných albumov v žánri – The Island of My Heart.
Ale všetky príbehy majú svoj koniec. Ten môj u Dreamtale dosiahol naplnenie…" – uviedol Erkki Seppänen. Okrem iného poďakoval fanúšikom a gitaristovi Ramimu Keränenovi za šancu hrať v jednej z najlepších metalových kapiel vo Fínsku.
"Posledných 12 rokov pôsobenia ako sólový gitarista pre Dreamtale zahŕňalo niektoré z najkrajších období môjho života. Nahrali sme štyri albumy, odohrali množstvo úžasných koncertov a spoznali mnoho skvelých ľudí. Napriek tomu nadišiel čas, aby som sa sústredil na iné aspekty môjho života a možno aj nasledoval ďalšie z mojich hudobných ambícií. Chcem poďakovať všetkým chlapcom, s ktorými som mal možnosť robiť hudbu a pozdravujem všetkých skvelých fanúšikov Dreamtale. Ďakujem, bolo to skutočne úžasné!"– stanovisko gitaristu Seppa Kolehmainena
Kapela vyhlásila konkurz na nových členov. Prípadní záujemcovia môžu písať na: contact@dreamtale.org
Linky:
https://www.dreamtale.org/
https://www.facebook.com/OfficialDreamtale/
Zdroj: https://www.facebook.com/OfficialDreamtale/
Lethal Injury – nový videoklip
26.8.2019
Belgickí thrasheri Lethal Injury zverejnili videoklip k skladbe Suicidal Call, kotrá pochádza z ich debutu Melancholia.
Linky:
https://www.facebook.com/Lethalinjury
Zdroj: Wormholedeath Records
Cutting Edge – ukážka z debutového albumu
29.8.2019
Bratislavskí metalisti Cutting Edge čoskoro vydajú debutový album Of Mind Decay. O jeho kvalitách sa môžete presvedčiť z videoklipu k skladbe Into the Bleak:
Linky:
https://www.facebook.com/cuttingedgetheband/
https://www.youtube.com/channel/UCHv4-pluYFtH6OIT_w9SJ9Q
Zdroj: Martin Javorek