Brutal Assault zítra spustí online stream/chat s fanoušky – novinky festivalu, budoucnost letošního ročníku a současná situace vůbec
Na všech kanálech Brutal Assaultu se nám logicky množí dotazy ohledně současné situace spojené s celosvětovou pandemií Covid-19 a jaký vliv to bude mít na letošní festival. Nejsme vědmy, a tak momentálně jako celá společnost nemůžeme věci predikovat s jistotou, ale určitě se všemi chceme sdílet naše současné postřehy, úvahy a směry možných scénářů.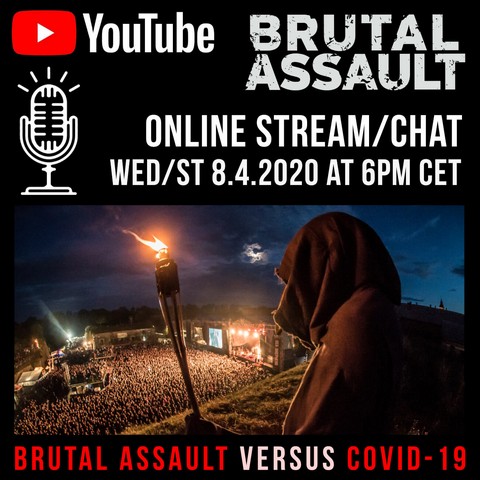 A jelikož chceme být maximálně otevření, každý proto, v souvislosti s festivalem a nastalou situací, dostane možnost se zeptat sám.
Zítra – ve středu 8. dubna 2020 – v 18:00 spustíme historicky první online stream/chat s fanoušky a médii na našem Youtube kanálu Brutal Assaultu (www.youtube.com/channel/UCVe5DrZzi1XVZqTAPGFhrmw) a nezazní pouze odpovědi na nejpalčivější otázky, dozvíte se i několik plánovaných novinek.
Pokud někdo nemůže v 18:00 sledovat online, stream/chat samozřejmě následně bude na našem YouTube kanálu k dispozici. Pro všechny dotazy je již nyní možné využít prostor komentářů na FB události streamu www.facebook.com/events/207203403914334
–-
Seznam dosud zveřejněných kapel:
1914, ABBATH, THE AGONIST, ALCEST, ARCTURUS, AS I LAY DYING, ASPHYX, ATARI TEENAGE RIOT, AUTHOR & PUNISHER, BAEST, BELL WITCH & AERIAL RUIN collaboration set, BENIGHTED, BEYOND CREATION, BIRDS IN ROW, BLOOD INCANTATION, BLOODBATH, BRUTUS, BUTCHER BABIES, CATTLE DECAPITATION, CRADLE OF FILTH, DARK FUNERAL, DARKEST HOUR, DENIAL OF GOD, DESPISED ICON, DEVIN TOWNSEND, DRACONIS INFERNUM, EVOKEN, EXCREMENTORY GRINDFUCKERS, EXHORDER, EXHUMED, FEVER 333, FLESHGOD APOCALYPSE, FRONT LINE ASSEMBLY, FRONTIERER, FUELED BY FIRE, GATECREEPER, GOD MOTHER, HAVOK, HENTAI CORPORATION, IMPERIAL TRIUMPHANT, KATATONIA, KVELERTAK, LEPROUS, LIFE OF AGONY, LOST SOCIETY, MANES, MASS INFECTION, MAYHEM, ME AND THAT MAN, MELT-BANANA, MERCYFUL FATE, M.O.D., MUNICIPAL WASTE, MYRKUR, MYSTICUM, NAILED TO OBSCURITY, NECROPHOBIC, NECROT,NOCTURNUS AD, OBITUARY, OTTONE PESANTE, PARADISE LOST, PENSÉES NOCTURNES, PENTAGRAM, PHILIP H. ANSELMO & THE ILLEGALS Performing A Vulgar Display Of PANTERA, PSYCROPTIC, PSYKUP, RAZOR, RED FANG, RING OF SATURN, SACRED REICH, SHADOW OF INTENT, SIGH, SLAGMAUR, SOEN, SOREPTION, STATIC–X, STRIGOI, SUFFOCATION, TERROR, TOXIC HOLOCAUST, UADA, VADER, VALKYRJA, VENOM, VITRIOL, VOICES, VOLA, WHILE SHE SLEEPS, WOLVES IN THE THRONE ROOM, WORMROT
Tlačová správa
Páčil sa ti tento článok?