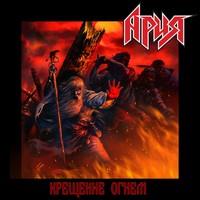 Ruská top heavy metalová kapela sa rozhodla tento rok pretočiť dva zo svojich albumov a Chrzest ognia je druhý z nich. Môžete si o Rusoch myslieť čo chcete, ale muzika im teda ide. Tento album bol už v originálnej verzii jeden z ich naj a táto edícia to len potvrdzuje.
Užijeme si na ňom viac ako 57 minút muziky. Vplyv Iron Maiden je síce pri tejto platni zreteľnejší ako obyčajne, ale stále je to Aria v najlepšej forme. Hutný a melodický metal, čo sa neženie zbesilo rýchlo, ale nesie sa na úžasnom speve. Neviem prečo má tento album horší zvuk ako v tomto roku pretočený Armageddon, ale je to tak. V každom prípade oplatí sa vypočuť.
Zmysel pretáčania mi stále uniká, ale aspoň je dôvod priblížiť túto kapelu aj u nás. Vrelo odporúčam aj ich klasické diela.
Lineup:
Mikhail Zhitnyakov – spev
Sergey Popov – gitary
Vladimir Kholstinin – gitary
Vitaly Dubinin – basa
Maxim Udalov – bicie
Tracklist:
Патриот
Крещение огнём
Колизей
Палач
Твой новый мир
Там высоко
Белый флаг
Битва
Бал у князя тьмы
Поле битвы
Rok vydania: 2020
Vydavateľstvo: M2BA
Youtube ukážka:
Linky:
https://aria.ru/
https://www.facebook.com/AriaRussiaOfficial
https://www.youtube.com/user/AriaRussia
Hodnotenie: 5/6