Kapela Bad Shot predstavuje novú krv slovenskej hardcore-metal scény. Tento rok sa stal pre nich prelomovým, keďže uzrelo svetlo sveta ich debutové CD Promised Land. Spevák Lukáš Kvety Opeta:
Zdravím, tak po necelých troch rokoch od vzniku Bad Shot je na svete vaše prvé oficiálne CD. Skús ho trochu predstaviť.
Lukáš Kvety Opeta: Áno, sú to necelé tri roky a v podstate to celé stojí na našom gitaristovi Paťovi. Boli tam problémy, zmeny v zostave, zmeny miesta skúšobne a tak no celé toto naše cd Promised land je výplod Patrikovej plodnej fantázie
Patrik hrával death metal a potom hc.
Čo vyjadruje jeho samotný názov Promised Land a jeho texty?
Lukáš Kvety Opeta: Názov vyjadruje zem zasľúbenú, čo je vlastne naša planéta a text samotnej pesničky je o tom, že my si tu z toho robíme prekliate miesto.
Aj ostatné texty sú v tom zmysle?
Lukáš Kvety Opeta: Áno z väčšej miery v podobnom zmysle. Stále sa to toči celé okolo života a jeho krásnych každodenných zvratov.
Aké zatiaľ zaznamenalo ohlasy od recenzentov a bežných fans?
Lukáš Kvety Opeta: Zatiaľ nám nikto neurobil recenziu, ja som aj písal na par stránok, ale nikto nič, ale inak ľudia vravia, že sa im to páči a že je z toho cítiť tlak.
Osobne mi udrela do pozornosti hlavne posledná New Generation, ktorá sa od ostatných piesni dosť odlišuje. Ak sa nemýlim, tak v nej počuť aj violončelo a má taký netypický rytmus. Čo by si k nej mohol povedať?
Lukáš Kvety Opeta: K New Generation poviem iba toľko, že je to vlastne outro. Je tam hlavne využitý perzský potenciál a sila perzského umenia.
Perzské motívy bol tiež nápad vášho gitaristu?
Lukáš Kvety Opeta: Áno, ja som ho vtom od začiatku podporil páči sa mi to, Paťo je veľmi šikovný chlapec.
Zatiaľ je CD kompletne anglicky. Neuvažujete niekedy do budúcnosti spraviť aj niečo v Slovenčine?
Lukáš Kvety Opeta: V slovenčine chceme spraviť jednu skladbu na budúci rok, ale čisto iba ako v rámci jedného projektu, ktorý riešime a nemôžem prezradiť o ňom viac. Inak ostávame pri angličtine. Je to podľa nás najlepší jazyk pre hudbu ako takú.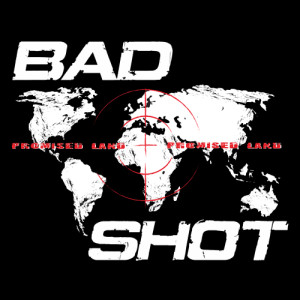 Ako to vyzerá s veľkým turné, ktoré spomínate na vašom bandzone profile?
Lukáš Kvety Opeta: No, turné nie je nejak veľké a už momentálne prebieha, ale zatiaľ sme spokojní, ľudia sa bavia a to je podstatné.
Mohol by si trochu predstaviť kapely Fish art collection a Domination project, ktoré sa ho taktiež zúčastňujú?
Lukáš Kvety Opeta: Samozrejme a rád 🙂 Chalanov z FAC poznám z minulosti a tak po neúspešných pokusoch spojiť sa s niekým z BA som sa obrátil k nim. Sú to fajn chalani a hlavne vidia svet taký, aký je. Dali sme spolu koncert a tam som ich oslovil, že na jeseň ideme lisovať CD a chceme isť také menšie tour no a oni, že ok. Potom som si povedal na základe skúsenosti speváka z H2D, že nejaká cover kapela, by nám mohla pomôcť ako hedliner, lebo tie covery momentálne fičia. Tak som oslovil chlapcov z Domination project, ktorí ma prijali s otvorenou vrúcnou a teplo sálajúcou náručou. No a môžem povedať, že to zatiaľ klape a láska prekvitá medzi nami 🙂
Super.  Kde najbližšie plánujete vystupovať?
Lukáš Kvety Opeta: Brno Brooklin je najbližšia destinácia a potom Šaľa Peklo.
Neplánujete aj niečo mimo Slovensko a ČR?
Lukáš Kvety Opeta: Chceli sme ísť do Rakúska, ale potom sa to nejak zavrhlo, čo je možno aj dobre. Musíme vybudovať najprv niečo doma, aby sme mohli ísť do zahraničia a najlepšie je najprv z toho zahraničia zopár kapiel vymeniť.
Ako vyzerá civilný život členov Bad Shot? (povolania, záľuby, záujmy)
Lukáš Kvety Opeta: Taká klasika si myslím. Povolania by som povedal asi tak, že aj keď si manažér aj tak si iba mukel a záľuby sú hra na hudobné nástroje, facebook a onania 🙂
A ostatní?
Lukáš Kvety Opeta: Toto máme všetci spoločné a nás to aj spája.
Čo ťa v tvojom živote priviedlo k muzike, akú hrávate?
Lukáš Kvety Opeta: SEPULTURA
Ako je to u vás v Bratislave s podporou kapiel podobného žánru?
Chodia ľudia na koncerty a podobne?
Lukáš Kvety Opeta: Podpora je minimálna väčšinou sú tu kapely už pospájané v rôznych spoločenských spolkoch, ktoré sú založené na dlhoročnom kamarátstve a nikto s tebou nepôjde len tak do niečoho, ak si s ním nevypil aspoň zopár pív. No a my moc piva sme v Bratislave nevypili, ja napríklad nepijem vôbec, len kofolu. A ľudia tak pomaličky prichádzajú čomu som veľmi rád. No a celé je to otázka marketingu, v ktorom z našej strany bol vyvinutý ešte stále slabý tlak a to hlavne kvôli eurokorunám, ktorých je stále nedostatok 🙂
Čo považuješ za najväčší problém slovenskej metal scény?
Lukáš Kvety Opeta: Problém sú ako som spomínal peniaze a potom telka a rádia, na to s prepáčením serú ako vrana na placatý kameň, česť výnimkám. No a potom aj kapely sú často samy sebe na vine, lebo neinvestujú peniaze do klipov štúdií a reklamy a tak.
Ok, tak to je všetko  ďakujem, za rozhovor – prajem všetko dobré a poprosím ako tradične o nejaký ten odkaz pre čitateľov
Lukáš Kvety Opeta: Ja ďakujem tebe som naozaj rád a poctený.
Ďakujem.
No a odkaz pre čitateľov: Ľudia!!! Práca šľachtí človeka, ale od roboty aj kone kapú!!!
Odkazy:
Bandzone: http://bandzone.cz/badshot
Facebook: https://www.facebook.com/badshotba
Soundcloud (možnosť si vypočuť ich celé debutové CD): https://soundcloud.com/badshotba/sets/bad-shot-promised-land?utm_source=soundcloud&utm_campaign=share&utm_medium=facebook