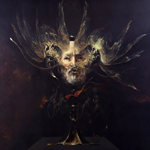 Od poslednej fošne Evangelion prešlo už 5 rokov. Po dlhej dobe sa zavreli do nahrávacieho štúdia a vytvorili album z názvom The Satanist.  Nergal na platňu všetko čerpal zo svojej choroby a zo svojho pobytu v nemocnici. Do nových songov zhmotnil aj svoje emócie.
Koncom roku 2013 predhodil verejnosti titulnú skladbu z názvom Blow Your Trumpets Gabriel, k tomu natočili aj provokatívny videoklip, kde nechýba ani mystéria. Samotná pieseň si pomocou bzučiacich gitár vykračuje v strednom tempe. Zo začiatku pôsobí nenápadne a zdá sa, že je bez nápadov, ale s každým jedným vypočutím vás už nepustí a vtiahne vás do deja a to sa netýka len tejto skladby, ale celého albumu a práve toto je najväčšie plus. Čo sa týka jej textovej náplne, tak odkazuje na nový zákon, presnejšie na pasáž z 1 listu Solúnčanom 4:16, v ktorom sa píše: "Sám Pán zostúpi z neba, vydá mocný povel, ozve sa hlas archanjela a Božia trúba. Nato vstanú všetci kresťania, čo už pomreli…" V podstate je to lyrická sieť v Nergalovej "mysli", ktorá zachytáva Janove zjavenie a predpokladá, že všetci ktorí odmietajú Boha sú služobníci Satana.
Druhá Firor Divinus je vysokorýchlostné inferno čo rozcupuje každého a vypľuje vaše "čreva" po kúskoch. Opäť sa tu dá nájsť odkaz zo starého a nového zákona. Jednou zo zaujímavosťou je, že Nergal doslova uvádza slovo Getsemane (to je miesto/záhrada kde zatkli Krista podľa kresťanskej viery) a uvádza taktiež príbeh Abraháma a Izáka. V linke "Fuck and reset the world" je špicaté vyhlásenie o veľmi špecifickej sade 3 náboženstiev, ktoré sú v súvislosti so skladbou, ktorá dáva vinu za bezduchý svet.
Beštiálna trojka Messe Noire spaľuje duše na popol, plazí sa ako láva a mohutná černota, ktorá všetko pohlcuje. Významom piesne je lyrickosť priamy druh a celé je to založené práve k Satanovi. Je tu zmienka o antikristoch a hovorí sa tu aj o "Veľkej suke Bablyon" so slovami ako: narodený zo ženy smilnice, mníšky.
Ora Pro Nobis Lucifer má najväčšie predpoklady sa stať koncertnou hitovkou. Je priamočiara a nenávistné riffy sa tu skvele hodia. Všetko je plné luciferských metafor, je to rovnaké ako o mýtoch o židovskom a kresťanskom náboženstve.
Nasledujúci kúsok Amen sa dostáva na level metalového extrému. Ide o najtvrdšiu položku albumu, ktorá je najbližšie k staršej tvorbe Behemoth. Kakofonické sólovanie a rôzne pletenie v jej polovici predchádza do uvoľnenejšej fázy, aby na záver urobil z Kráľovstva nebeského "fašírku".
Bojovná skladba Ben Sahar je ďalšou hitovkou, takže zhlboka sa nadýchnuť, pripraviť palice  a šup do zeme vládcu barbara Conana. Tak takto nejak si predstavujem pri počúvaní tejto skladby všetko :D. V piesni opäť platí to, že pokračuje v známom lyrickom trende pomstiť sa kresťanom, judaistom a islamistom.
Všetko prináša mytologické a okultné témata. Atmosféra anti-náboženská pokračuje v In The Absence Ov Light. Celkom vkusne sa tam umocní stredná akustická pasáž s poľským monológom, aby sa skladba vo svojej druhej polovici znovu zlomila do totálnej rezanice. Veľkolepý monument O Satan, O Father, O Sun ! prechádza v pozadí mnohohlasý chorus a klávesový tieň a myslím si, že presne tu vzniklo epické dielo, ktoré nemá konkurenciu. Lyrický viac ponorený než obvykle do démonológie. Sú tam zmienky o Faustovi, rieka Styx, Agathos a podobne. Je to jediná skladba na albume bez typického  útoku proti kresťanstvu.

Behemoth sú tohto roku vo vynikajúcej forme. Napriek zdravotným stavom Nergala nám jeho družina priniesla výborné dielo. Teším na nich na tohtoročnom festivale MASTERS OF ROCK.
Lineup:
Negral – spev, gitary
Orion – basgitara, doprovodné vokály
Inferno – bicie, perkusie
Tracklist:
Blow Your Trumpets Gabriel
Furor Divinus
Messe Noire
Ora Pro Nobis Lucifer
Amen
The Satanist
Ben Sahar
In The Absence Ov Light
O Father O Satan O Sun
Rok vydania: 2014
Vydavateľstvo: Nuclear Blast
Youtube ukážka:

Oficiálny web: http://behemoth.pl/
Hodnotenie: 6