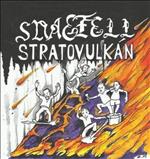 Dnes zavítame do ,, českých luhů a hájů" a rozoberieme si debut kapely s nečeským názvom Snaefell (pre zaujímavosť Snaefell je aj hora na britskom ostrove Man). Tí čo pamätajú na starú dobrú Rockparádu s Peťom Kertvelom a Danom Jordánom (vysielanú na košickom rádiu Hornet, neskôr premenovanom na Rádio Šport), možno poznajú od nich skladby ako napr.  Norimberk. Odvtedy sa udialo v ich radoch niekoľko zmien. Poďme pekne poporiadku:
Pochádzajú z obce Nový Malín a sformovali sa v roku 2008. Koncom nasledujúceho roku sa zrodilo prvé demo Síla Hudby v zostave Václav Dobiáš – spev, Ondřej Hýbl – gitara, Lukáš Oulehla – gitara, Josef Špička – basa, Jan Hlavinka – bicie. V 2013-tom však došlo k rošádam a chlapci začali pracovať na nových veciach. Výsledkom ich snaženia je tohtoročný štvorskladbový albáč Stratovulkán.
Na úvod si dovolím pochváliť celkový zvuk. David Spilka vo svojom štúdiu odviedol dobrú prácu. Jednotlivé piesne podobne ako v prípade staršej tvorby sú postavené síce na jednoduchých, ale nápaditých gitarových motívoch vychádzajúcich z tradičného heavy metlau. Nový frontman Pepa Mádr nie je zlý, no mam pocit že v úvodných kúskoch – Ztracená a Prešlap (s dobrým textom) je trochu nevyužitý jeho potenciál. Lepšie to bude počas druhej polovice v trojke Měsíc, ztrážce noci,  ukáže zaujímavé polohy svojho hlasu a poslednej Temní Jazdci (čo bola aj na spomínanom demáči) ide na doraz.
Ako ukážku nového zloženia Snaefellov, hodnotím Stratovulkán celkom pozitívne. No mám pocit, že to najlepšie nám táto kapela ešte len ukáže (napríklad na nejakom väčšom albume).
P.S: Album v plnej kvalite je k dispozícii na ich bandzone profile. A k názvu Snaefell treba povedať, že Snaefell je aj sopka v romáte Julesa Verna – Cesta do Stredu Zeme a podľa toho dostala kapela názov.
Lineup:
Pepa Mádr – spev
Ondřej Hýbl – gitary
Lukáš Oulehla – gitary
Pavel Stryk – basgitara
Tomáš Jansa – bicie
Tracklist:
Ztracená
Přešlap
Měsíc, strážce noci
Temní jezdci
Rok vydania: 2015
Vydavateľstvo: Samovydanie
Youtube ukážka:

Linky:
Facebook: https://www.facebook.com/SnaefellBand
Bandzone: http://bandzone.cz/snaefell
Hodnotenie: 4