Grave Digger – lyric video k skladbe z chystaného albumu Healed By Metal
12.12.2016
Nemci Grave Digger, ktorí už 36 rokov patria medzi najvplyvnejšie metalové kapely, prichádzajú s novým albumom! Jeho názov je Healed By Metal. Vyjde 13. januára 2017 a vaše metalové duše bude liečiť chytľavými hymnami a monumentálnymi riffmi.
Ďalšiu ukážku z neho, lyric video k Call For War, si môžete vypočuť na tomto linku:
www.youtube.com/watch?v=zFP2f_PEE6c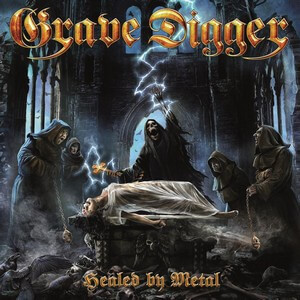 Tracklist:
HEALED BY METAL
WHEN NIGHT FALLS
LAWBREAKER
FREE FOREVER
CALL FOR WAR
TEN COMMANDMENTS OF METAL
THE HANGMAN'S EYE
KILL RITUAL
HALLELUJAH
LAUGHING WITH THE DEAD
Videoklip k titulnej skladbe: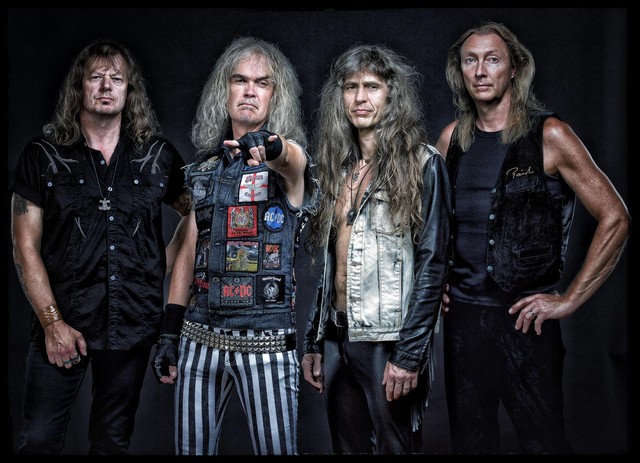 Linky:
www.facebook.com/gravediggerofficial
www.grave-digger-clan.com/
www.napalmrecords.com
www.facebook.com/napalmrecords
Zdroj: Napalm Records Promotion Team
Warbringer – detaily chystaného albumu
12.12.2016
Americkí thrasheri Warbringer ohlásili dokončenie nahrávania už 5. albumu. Volať sa bude Woe to the Vanquished a vyjde 31. marca budúceho roku. Jeho príbeh je zaradený do obdobia rannej Rímskej ríše, keď v roku 390 p.n.l. Galovia pod vedením Brennusa napadli Rím.
Produkciu a mixáž mal na starosti Mike Plottnikoff (Fear Factory, In Flames), na mastering dohliadal Howie Weinberg (Slayer, Pantera) a cover vytvoril Andreas Marschall (Sodom, Blind Guardian, Obituary).
Ďalšie informácie sa dozviete čoskoro.
Linky:
www.warbringermusic.com
www.facebook.com/Warbringermusic
Zdroj: Napalm Records Promotion Team
Anna Murphy (ex-Eluveitie) nahrala skladbu pre tribute album – Goodbye to Gravity
12.12.2016
Through It All, nahraná bývalou speváčkou Eluveitie – Annou Murphy je novým singlom z albumu Back to Life – A Tribute to Goodbye to Gravity.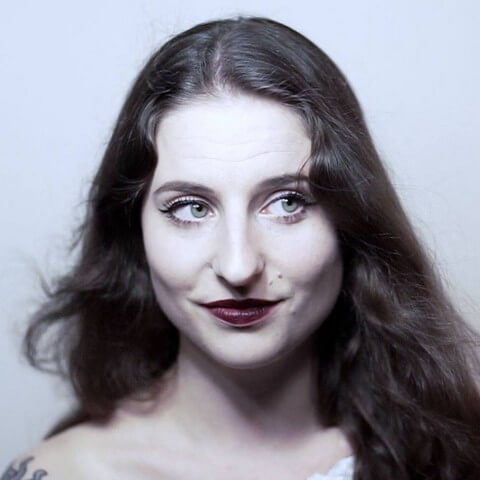 Ten pozostáva so skladieb Goodbye to Gravity nahraných rôznymi kapelami z celého sveta. Je to charitatívny projekt, ktorého výťažok bude použitý na podporu členov GTG a ich rodín a obetí tragédie, ktorá sa odohrala v Colectiv Clube v Bukurešti 30. októbra 2015 počas koncertu k albumu GHT Mantras of War…
Neočakávaný požiar od pyrotechniky si vtedy vyžiadal 64 obetí (medzi nimi aj 4 z piatich členov GTG) a stovky zranených.
Skladba bola nahraná a zmixovaná Annou Murphy v Soundfarm Studios a mastrovaná Luculescu Alin Gabriel. Vypočuť si ju môžete tu:
www.youtube.com/watch?v=fAFoH3_R8cY&index=1&list=PL_L9cRWp4DVOx_OG6wZdkLszjskfES5pg
Album si môžete vypočuť alebo stiahnuť tu: https://UMR.lnk.to/BackToLifePR
CD si môžete objednať tu: http://smarturl.it/TributeGTG-PHD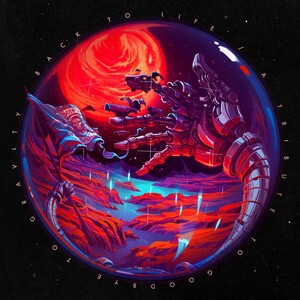 Linky Anna Murphy:
www.facebook.com/annamurphyofficial
www.annamurphy.ch
https://soundcloud.com/annamurphy
Linky a kontakt U Rock / Universal Music Romania:
urock@umusic.ro
www.facebook.com/uRockmusicpage
www.facebook.com/umusicro
www.umusic.ro
Goodbye to Gravity:
Youtube: www.youtube.com/goodbyetogravity, www.youtube.com/GoodbyeToGravityVEVO
Facebook: www.facebook.com/goodbyetogravity
Web: www.umusic.ro/goodbyetogravity
Zdroj: U Rock
DISCONSOLATE – "Behind the Doors of Perception" CD-DIGIPACK (16.12.2016)
12.12.2016
Reedice debutového alba košických věrozvěstů smrti, které v době svého původního vydání bohužel poněkud zapadlo a nedostalo se mu zasloužené pozornosti. Zcela omračující bicí artilerie, vysoce kreativními sólové party a časté střídání temp nabízejí ideální mix esencí, které nemohou fanoušky orientované na extrémní metal nechat chladnými První death metalová nahrávka ve stáji Support Underground!!!
Into the Mind
The Dark Forest in My Thoughts
Blind Man, Empty Soul
Confused
The Deepest Secrets
Putrefy
Entrance to Decay
Destruct
Behind the Doors of Perception
Wanderer
Recorded and mastered by Martin Barla, MF Studio, Poprad 211
All songs produced by Disconsolate
Intro (Into the Mind) composed by Zoltan Tóth
Lyrics written by Beata Brozmannová, Psylocide and Katarína Timková
Cover artwork by Deather
Band logo by Jozef "Magda" Pobočík
Photos by Matej Polák
Booklet designed by Psylocide
DISCONSOLATE:
Marko Petruš – Bass
Jozef Kešely – Drums
Martin Pribula – Guitar
Boris Palko – Guitar
Štefan Timko – Vocals
http://bandzone.cz/disconsolate
Objednávejte na:
http://www.supug.cz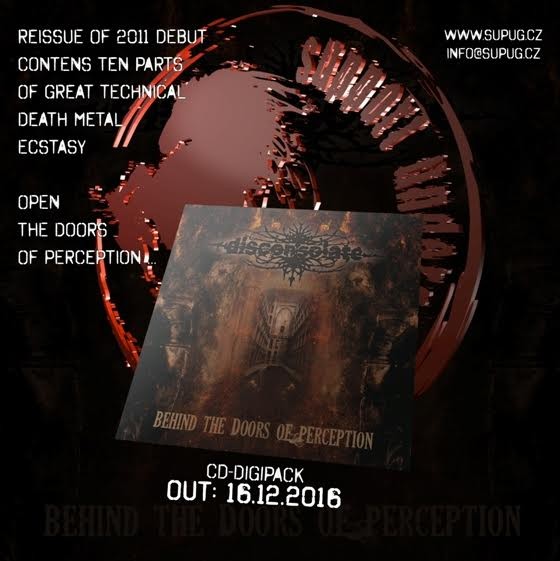 Zdroj: Support Underground
Carpatia Castle
info@carpatiacastle.cz
http://www.carpatiacastle.cz/
TISKOVÁ ZPRÁVA (2. 12. 2016)
Carpatia Castle vydali novou desku Černé století v české i anglické verzi
Nekonečné čekání je u konce. Jedna z předních tuzemských gothic-rockových kapel Carpatia Castle vydala své druhé album. Jak bylo avizováno, deska dostala název Černé století a k překvapení některých fanoušků byla nazpívána taktéž v angličtině.
"Máme celou řadu příznivců i v zahraničí, doufáme tedy, že tento krok ocení. Texty jsou pro nás velmi důležité a byla by škoda, kdyby o ně byli fanoušci, kteří češtině nerozumí, ochuzeni," říká zpěvačka Veronika Seidlová. Upozorňuje zároveň, že je pro kapelu stále prioritou čeština. "Bude tomu tak i nadále. Naši textaři Angel Beads, Tomáš a Milan umí s mateřským jazykem krásně pracovat, jejich texty mají hloubku, fanoušci je mají rádi."
Na Černém století Carpatia Castle pracovali takřka tři roky, de facto od vydání dlouhohrajícího debutu Laudanum.
"Slibovali jsme, že deska bude hotová dříve, ale nechtěli jsme nic uspěchat. Nejsme pod žádným tlakem, tak by byla škoda vydat dílo, které bychom považovali za nedotažené. Černé století je to nejlepší, co jsme dokázali v uplynulé době vyprodukovat. Je to deska, na kterou jsem pyšná," zdůrazňuje Veronika Seidlová.
Album je samozřejmě k dostání na koncertech kapely, ale zájemci si ho mohou objednat i na webových stránkách www.carpatiacastle.cz. Křest desky se uskutečnil 12. listopadu na Magické noci trubadúrů III v Kralupech nad Vltavou.
"Bylo to naprosto úžasné. Krásná atmosféra, mnoho pozitivní energie… Moc děkuji všem fanouškům za podporu, jste prostě nejlepší!" vzkazuje Veronika Seidlová.
KONTAKTY A ODKAZY:
Web: http://www.carpatiacastle.cz/
Facebook: https://www.facebook.com/carpatiacastle.cz
Bandzone: http://bandzone.cz/carpatiacastle
E-mail: info@carpatiacastle.cz
Václav Votruba