Skindred – videoklip k prvému singlu z chystaného albumu
17.1.2018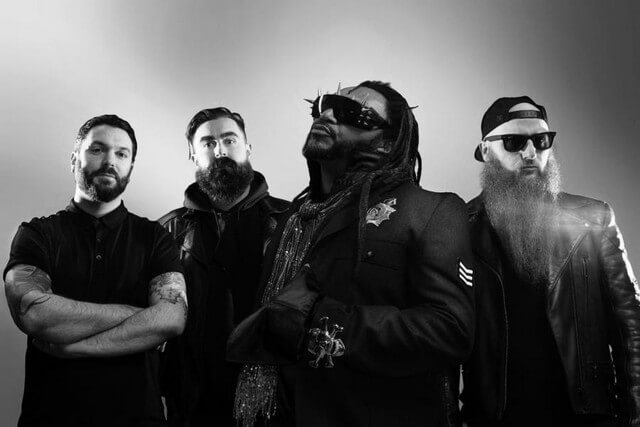 Foto: Dan Sturgess
Machine je prvý singel z chystaného albumu Big Things reggae metalistov Skindred. Ten bude vydaný 27. apríla.
Linky:
https://www.skindred.net
https://www.facebook.com/skindredofficial
https://www.napalmrecords.com
Zdroj: Napalm Records Promotion Team
CoreLeoni – prvá skladba
17.1.2018
Gitarista švajčiarskych hard rockerov Gotthard – Leo Leoni spojil svoje sily so spevákom Ronniem Romerom (známym hlavne zo súčasnej zostavy Rainbow, ale aj Lord of the Black) pod hlavičkou projektu CoreLeoni. Výsledkom tohto spojenia je zatiaľ táto skladba:
Linky:
https://www.facebook.com/coreleoni/
https://www.youtube.com/channel/UCnoTDQjpEiq71PkYnTEGKJA
Zdroj: https://www.facebook.com/frontiersmusicsrl/
Into The Zoid – prekvapenie z Veľkého Krtíša
18.2.2018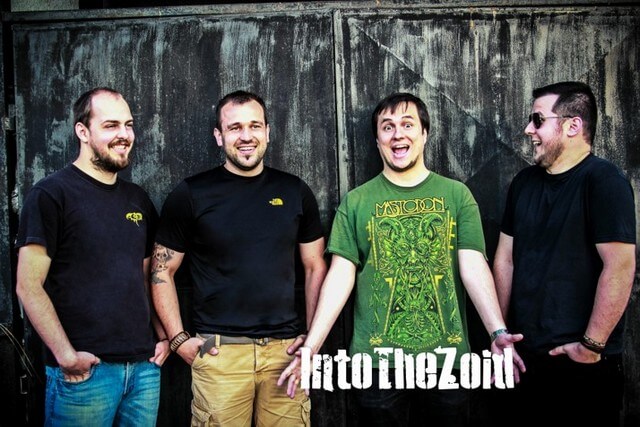 Kapela nahrala razantný debut Soundclown
 Kapelu Into The Zoid založila štvorica muzikantov z Veľkého Krtíša. Po troch rokoch svojej existencie vyšiel skupine debutový album Soundclown. So svojou prvotinou tvorenou ôsmymi energeticky výdatne nabitými skladbami s nekomplikovanými gitarovými riffmi v ktorých sa poslucháč "neutopí" a skvelými vokálmi sú jej "otcovia" veľmi spokojní. "Snažili sme sa zo všetkých síl spraviť niečo super a podarilo sa. Album má medzi našimi fanúšikmi veľmi pozitívny ohlas", teší sa gitarista kapely Roman Messerschmidt. Into The Zoid okrem neho tvoria skúsení muzikanti pôsobiaci aj v iných kapelách – spevák Jaroslav Šajgalík (Midnight Scream), basák Martin Kliment (ex – Law to Decide) a bubeník Dano Strenátka (ex – Humana, ex – SHED, ex – SO-DA).
Album vznikal vo Veľkom Krtíši aj Banskej Bystrici
Muzikantom inšpirovaným veľkými menami ako Deep Purple, Alice In Chains, Extreme, alebo Slash pomáhal v štúdiu s nahrávaním Renáto Sanda, bubeník ich spriatelenej kapely Midnight Scream. "Renato nám v štúdiu nazvučoval bicie a všetko obsluhoval, kým ich náš bubeník nahrával. Ďalším človekom, ktorý nám veľmi pomohol bol Ďury Basák Vysoký z Banskej Bystrice, ktorý nám po nahratí albumu všetko mastroval vo svojom štúdiu DVB Production. Ďury pesničky aj produkoval a dal nám pár cenných rád," vraví Roman.
Pripravuje sa klip aj album číslo 2
Po albume bude nasledovať aj klip. "Klip je už v štádiu príprav, premiéru bude mať v lete. Natočíme ho s našim kamarátom, šikovným režisérom a kameramanom Jozefom Filkusom," hovorí Roman.
Keďže minulý rok boli chalani z Into The Zoid vyťažení prácou na albume, koncertov bolo menej. Pár ich odohrali pre "skejťákov" na celoslovenskom skejtovom pohári vo Zvolene a Žiline. Roman prezrádza aj plány na rok 2018. "Tento rok už bude na koncerty určite bohatší. ale samozrejme popri nich už teraz pripravujeme materiál na nový album. Hotové máme prvé tri skladby, bude sa na čo tešiť."
Album Soundclown sa dá stiahnuť z iTunes, Spotify, Google Play Music, Deezer, bandzone.cz a celý je tiež nahodený na youtube.com. ak by ho chcel niekto mať fyzicky na CD, tak si ho môže objednať cez https://www.facebook.com/intothezoidband/
album:

video:

Zdroj: Natália Novotná
April Weeps – cover chystaného albumu
17.2.2018
Ako iste viete, práce na nasledovníkovi debutu Outer Calm, Pain Within dunajskostredských atmosferic/gothicov April Weeps – Coma sú v plnom prúde. Dnes si môžte pozrieť, ako bude vyzerať jeho cover. Autorom je: Sachtikus Photography & Digital Art
Citát z fb stránky: ,,COMMA. Ako čiarka vo vete, ktorá vytvára priestor k nadýchnutiu sa. Ten moment, kedy sa nachádzame medzi dvomi myšlienkami – jedna doznieva, kým tá druhá sa ešte nezrodila. Gesto imaginárneho nádychu, zastavenia sa v zhone každodennej rutiny. Stav skutočného kontaktu s vlastným prežívaním. Pri pridlhom zotrvaní avšak hrozí uviaznutie vo vlastnom vnútornom svete, nedosiahnuteľnom z hľadiska vonkajšieho pozorovateľa, v stave stiahnutom z reálneho sveta, autistickom až komatickom… Vitajte na tomto mieste, zastavte sa, nadýchnite sa a straťte sa s nami vo svojom vnútornom svete, aby sme tam spoločne objavili niečo nové."
Linky:
http://aprilweeps.com/sk/
https://www.facebook.com/AprilWeeps/
Zdroj: https://www.facebook.com/AprilWeeps/