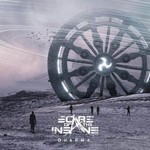 Zaujímavé príbehy sa neodohrávajú len na filmovom plátne, ale aj vo svete hudby. Konkrétne mám na mysli formáciu Scars of the Insane, ktorá povstala ako fénix zo základov zaniknutej kapely Insane, nahrala jeden album so spevákom. Toho následne vymenila za speváčku a nahrala druhý album D.H.A.R.M.A. No a práve tento najnovší počin sa ku mne dostal na recenziu. A aký je? Toť je otázka….
V prvom rade by som sa rád vyjadril k žánrovému zaradeniu skupiny. Samo označenie kapelou slovkom alternatív je do istej miery síce šalamúnske, ale zároveň aj najpresnejšie, nakoľko búrajú mantinely viacerých žánrov, a dostávame tak poctivú dávku metalovej hudby s viacerými vplyvmi.
Najvýraznejšie je to potom počuteľne v jedinej inštrumentálnej skladbe Salome, v ktorej zároveň odznie popri metale aj najviac elektroniky.
Zvyšných 7 piesní to potom hrá už na ešte "metalovejšiu" stránku ľudskej duše. Práve v týchto kúskoch sa prejaví ďalšia typická charakteristika pre daný album- striedanie tvrdých a ponurých riffov (osobne sa mi viaceré priblížili k štýlu Slipknot) s mnohými melodickými časťami. Ruka v ruke s vyššie uvedeným ide aj celková nálada sálajúca zo songov.
Kým sú niektoré kúsky plné skvelej, ťaživej atmosféry na štýl majstrovského doom metalu, ďalšie sú zase z druhého súdka -teda pozitívnejšie naladené. Reč je hlavne o jedinom covere na CD od Garbage- The World Is Not Enough, samozrejme v o podstatne tvrdšom šate.
Avšak zrejme najdôležitejším prvkom albumu je jeho vyrovnanosť. Čiže máme možnosť počuť iba 8 kvalitných piesní a žiadnu vatu, pričom viaceré z nich majú veľký hitový potenciál.
Z toho vyplýva aj fakt, že si všetci zúčastnení odviedli svoju prácu na výbornú, pričom by som hlavne vypichol nováčika, a teda speváčku Ivanu, ktorá sa so svojou rolou popasovala viac než dobre. Dokonca až tak, že po vypočutí albumu si neviem predstaviť zvuk kapely bez ženského resp. jej vokálu.
V konečnom dôsledku tak nie je o čom váhať. Kvalitné CD plne skvelej metalovej hudby, ktoré má potenciál zaujať naprieč širokým spektrom.
Lineup: 
Ivana Svítková – vokály
Marek Olšovský – gitary
Ján Válek – gitary
Venca Pustějovský – basa
Pavel Jureček – bicie
Tracklist:
1.D.H.A.R.M.A.
Hauntend
Salome
Surrender
Monsters
The World Is Not Enough (Garbage cover)
Save Yourself
Cycle of Force
Rok vydania: 2018
Vydavateľstvo:  Pařát Magazine & Productions
Youtube ukážka:

Linky:
https://www.facebook.com/SCARS-of-the-Insane-311608375804/
https://www.bandzone.cz/insane
https://www.instagram.com/scarsoftheinsane/
https://www.paratmagazine.com
Hodnotenie: 5,5/6