Serenity – detaily chystaného albumu, singel s Herbiem Langhansom
28.11.2019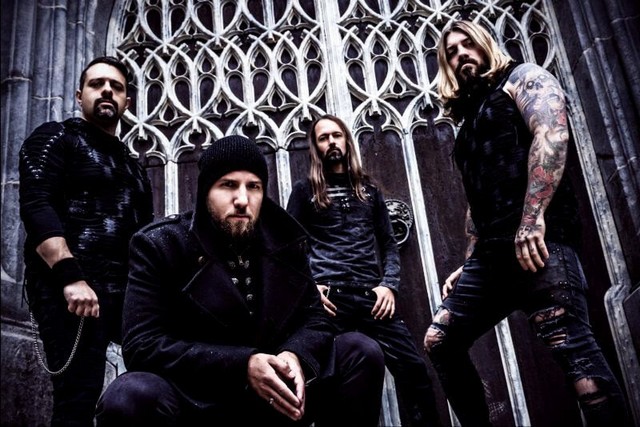 Rakúski melodici Serenity 31. januára 2020 vydajú nový album The Last Knight, ktorým nadviažu na ich posledný počin Lionheart z roku 2017.
Tracklist:
The Last Knight
Invictus
Set the World on Fire
Keeper of the Knights
Souls and Sins
My Kingdom Comes
Queen of Avalon
My Farewell
Down to Hell
Wings of Pridex
Call to Arms
Oceans – nový singel
Prvým singlom je skladba Set The World On Fire. Okrem kapely v ňom účinkuje aj špeciálny hosť Herbie Langhans:

Linky:
http://www.serenity-band.com/
https://www.facebook.com/serenityaustria
https://www.youtube.com/user/SERENITYAUSTRIA
Zdroj: Naplam Records, Foto: Thomas Buchberger
Pink Cream 69 bez Dennisa Warda
26.11.2019

Basák Dennis Ward, ktorý s Pink Cream 69 hral viac než 30 rokov, opustil kapelu. Zdôvodnil to tým, že sa na pódiu už necítil dobre. Ostatným poprial všetko dobre do budúcnosti. Kapela ale bude pokračovať ďalej.
Linky:
http://www.pinkcream69.de/
https://www.facebook.com/PinkCream69Official/
Zdroj: Blabbermouth, Foto: Tobias Vogel
ROSA NOCTURNA vydala velkolepý výpravný klip
28. 11.2019
Sladkobolný příběh o lásce, nerozhodnosti, zradě a válce si pro vás připravila brněnská symphonic metalová kapela ROSA NOCTURNA v novém klipu O láce, o válce a o krvi.
V této písničce kapela vybočila z klasického metalu a zkombinovala ho s folklorními nástroji, zejména s cimbálem. Nicméně už po prvních záběrech pochopíte, že tato volba nebyla náhodná, ale perfektně naplánovaná. Příběh je zasazen do českého venkova napoleonské doby a spolu s hudbou tvoří na české poměry ojedinělý zážitek.
V hlavních rolích se představí kytarista Petr Vosynek, zpěvačka Viktorie Surmová a jako speciální host Heri Joensen, frontman kapely TÝR. Heriho a Viktoriina kapela SURMA byla před pár dny přijata pod křídla Metal Blade Records. Kapelník, kytarista a zejména režisér tohoto klipu Tonda Buček se v něm mihne ve vedlejších rolích hned několikrát.
Klip se natáčel na hradě Veveří, ve strážnickém Skanzenu, v rosické Tvrzi a kapli Nejsvětější Trojice. Už tato zajímavá místa slibují nevšední podívanou. K tomu přidejte dělostřelectvo a pěchotu z napoleonské doby a máte tam i napětí. Jak to všechno dopadne se můžete podívat právě teď.
Aby toho nebylo málo, již v prosinci si pro vás ROSA NOCTURNA nachystala první singl z nové desky, naplánované na rok 2020. Singl vydají v české a anglické verzi. Na facebooku kapela již zveřejnila první teaser ke grafice singlu, kterou jim opět kreslili ve věhlasném finském Darkgrove studiu. Tamtéž se brzy dozvíte, kdy a kde singl uslyšíte.
https://www.tondabucek.cz/
https://www.rosanocturna.cz/
Zdroj: Antonín Buček
TISKOVÁ ZPRÁVA
Vychází nový thriller z prostředí českého metalového undergroundu – Krev černých vran
25. 11. 2019
Vychází nový thriller z prostředí českého metalového undergroundu – Krev černých vran Rok od vydání knihy Šumavský Děs II přichází jihočeský spisovatel Václav Votruba s novým beletristickým dílem. Novinka se jmenuje Krev černých vran a odehrává se ve dvou časových rovinách, přičemž ta první (konce 90. let) je zasazena do tuzemského metalového undergroundu.
"Příběh se točí kolem českobudějovické blackmetalové kapely Barbarians, jejíž ambice přerostly některým členům přes hlavu. Je to kniha plná výčitek, manipulace, strachu a bolesti. Svým způsobem se jedná o komorní dílo, ostatně vždycky jsem měl raději knihy postavené jen na hrstce postav, kterým může člověk buď fandit, nebo je nenávidět. Přesně o tom Vrány
jsou," říká autor Václav Votruba.
Krev černých vran je jeho již jedenáctá kniha. Kromě ní letos vydal i dvě ryze hudební publikace – Monumenty: Pětapadesát esenciálních alb s ženským zpěvem a Dark Angels:
Patnáct let v temnotách. Vrány se dají zakoupit buď přímo u autora, nebo ve vybraných obchodech.