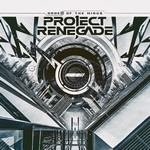 Alternatívny metal  má v súčasnosti množstvo priaznivcov.  Je ako stvorený pre mladých a moderných ľudí , ktorí dávajú prednosť ucelenému a jemnejšiemu spevu no stále potrebujú uspokojiť túžbu po poriadnom doprovode gitár a bicích. Zoskupenia hrajúce tento žáner existujú aj v Grécku . Dnes si predstavíme jedno také. Konkrétne Project Renegade a ich nahrávku Order of the Minus.  
Pochádzajú z  Atén. O ich založenie sa zaslúžili Marianna (spev) a Ody (bicie). Neskoršie sa pridali Nick K. (gitara) a Jay (basa).  Základ tvorby je už spomínaný alternatívny metal s prvkami heavy a groove na pozadí s elektronickými elementami. V roku 2017 vydali debutové EP "Cerebra", vysoko ocenené , nielen na domácej scéne , ale aj na tej medzinárodnej. O dva roky na to, tridsiateho prvého augusta , nám predstavili už spomínaný prvý full album "Order of the Minus".
Jeho základ albumu tvoria prvky z rôznych metalových žánrov, ako keby vždy jedna pesnička bola výnimočná pre danú chvíľu. Každú songu dokresľujú špecifické zvukové pozadia od sirén (Libert8) po imitáciu zvuku piana (The Strain). Taktiež sa dočkáte nadupaných gitár, ako aj fenomenálneho bubeníka Odyho. Spev Marianny, zas ulahodí poslucháčovi popu, charakteristický dlhými a ťahavými tónmi dodá výnimočnosť skladbám. Úžasné texty vás donútia zamyslieť sa nad podstatou ľudstva a zmenou , dúfam že k lepšiemu.
Order of the Minus som si obľúbil najme kvôli textom piesni. Osobne nie som priaznivcom tohto žánru, i keď by ste v mojom mobile našli pesničky skupiny Amaranthe. Vďaka Projectu Regenad dám tomuto štýlu ešte šancu. Treba taktiež spomenúť aj mínusy , chýbajú mi prepracované metalové sóla.
P.S.:  Až doteraz som nepočul žiadne kapely z gréckej scény. Určite rád spoznám ďalšie. 😉
Lineup:
Marianna – spev
Nick K. – gitary
Jay – basa
Ody – bicie
Tracklist:
The Big Boss
Liber8
Products of War
The New Joker
In Another Life
The Strain
Respirator
Sylar
A Demon Has Escaped the Triangle
Black Mountain
Rok vydania: 2019
Vydavateľstvo: Samovydanie
Youtube ukážka:

Linky:
https://www.facebook.com/prenband
https://projectrenegade.bandcamp.com
https://www.youtube.com/channel/UCX5zHAKWh35oPsbHANEbI3w
Hodnotenie: 4/6