Nemecké kapely pravdepodobne milujú našu krajinu. Freedom Call, Helloween, Rage sa na Slovensko pravidelne vracajú. Poslední menovaní sa približne po dvoch rokoch vrátili do známeho košického Collosseum Clubu. Spolu s nimi si vystúpenie zopakovali aj Rakúšania Serenity.
Kým v roku 2015 koncertovali ako support na turné Rage + HammerFall, tentokrát boli v pozícii hlavných hviezd. Supportom bola nemecká power metalová kapela Vansih. Tá síce funguje od roku 2000, no zatiaľ vydala len tri albumy.
Pre problémy súvisiace s tragédiou v Michalovciach som veľkú časť ich vystúpenia som zmeškal – stihol som tri záverečné skladby. Koncert však mal niečo do seba. Kvalitný power metal s progresívnou príchuťou. A aj keď išlo o prvú kapelu, tak sa im podarilo pod pódium pritiahnuť relatívne slušný dav.
Serenity sa pomaly, ale isto prebojovávajú do prvej metalovej ligy vo svete. Dôkazom je aj aktuálny počin The Last Knight. Bolo počuť a vidieť, že svoju formu vedia pretaviť aj do živého vystúpenia. Epicko-progresívnym power metalom si získali prítomných.
Pri Serenity aj pri Rage nechýbal ani výborný zvuk, čo pri takých akciách nie je pravidlom (hlavný spev, vokály, nástroje). Mňa osobne prekvapilo, že do spevu sa zapájala celá kapela aj bubeník. Spevák Georg nezanedbával ani komunikáciu s publikom a dokonca sa naučil, ako sa povie ,,thank you" po slovensky. 🙂
Rage svoj set odpálili novou skladbou z aktuálneho albumu Wings of Rage – True. Postupne sa rozbehla divoká zábava pod pódiom, sem-tam až príliš divoká. Dobrá nálada a atmosféra (napriek ,,temne vyzerajúcemu pódiu") sa preniesla aj na ,,Peavyho", a jeho družinu.
Mnohých potešilo aj to, že okrem nových piesní siahli, aj po staručkých kúskoch ako napr. Invisilbe Horizons. Gitarista Marcos Rodríguez (ktorý sa taktiež prihováral ľuďom) sa vyjadril, že bolo dosť ťažké sa ju naučiť hrať po Mannim Schmidtovi. V setliste sa dokonca objavila aj Don't Fear the Winter.
Po nej sa chlapci na chvíľu vzdialili, no vypočuli žiadosti o prídavok. V rámci toho nám ešte ponúkli Straight to Hell a megahitovku, pri ktorej sme sa do sme sa do sýtosti vyspievali – Higher than the Sky. Tak ako na minulých koncertoch ani tu nechýbala menšia hudobná vložka spievaná Marcosom (Heaven and Hell, Holy Diver).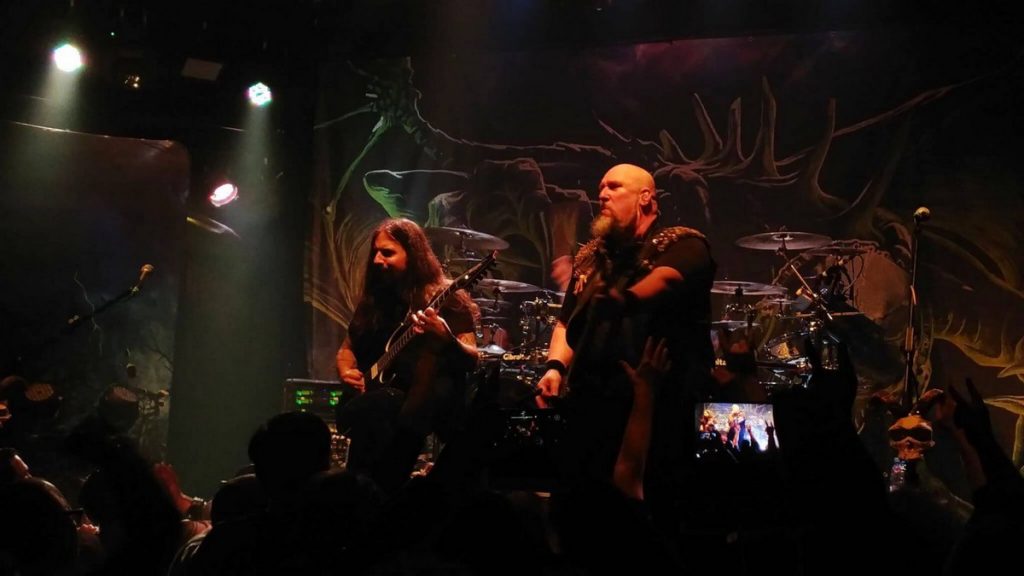 Záver: Zažili sme priam ukážkový power metalový koncert – skvelý zvuk, skvelá muzika, skvelá atmosféra. Navyše aj celkom slušná účasť. Kiežby boli všetky také. Usporiadateľom a všetkým trom kapelám patrí obrovská vďaka. A to nie iba za úžasnú muziku, ale aj preto, že ich členovia vyšli po koncerte medzi ľudí (fotenie a podpisy).
P.S.: Za foto Serenity a Rage patrí poďakovanie autorovi Jaroslavovi Halasovi 🙂