FIREWIND Premieres New "Maniac" Video Off Upcoming Live Album / Blu-Ray "Still Raging"!
21. July 2023
September 1, 2023 sees hard rock power metal titans FIREWIND release their epic anniversary live album, titled "Still Raging", through AFM Records. Recorded in 2022 at a frenetically-acclaimed hometown show in Thessaloniki, Greece, "Still Raging" will be available on Blu-Ray and as a 2CD edition.
Tracklist:
Disc 1 (Blu-ray)
Welcome to the Empire
I am the Anger
Head Up High
Devour
Destination Forever
Orbitual Sunrise (05:24)
World on Fire
Drum solo
The Fire & the Fury
Ode to Leonidas
Overdrive
Mercenary Man
Lady of 1000 Sorrows
Break Away
Between Heaven and Hell
Rising Fire
Maniac (Michael Sembello cover)
Hands of Time
Few Against Many
Falling to Pieces
Disc 2 (CD)
Welcome to the Empire
I am the Anger
Head Up High
Devour
Destination Forever
Orbitual Sunrise (05:24)
World on Fire
Drum solo
The Fire & the Fury
Ode to Leonidas
Disc 3 (CD)
Overdrive
Mercenary Man
Lady of 1000 Sorrows
Break Away
Between Heaven and Hell
Rising Fire
Maniac (Michael Sembello cover)
Hands of Time
Few Against Many
Falling to Pieces
Following a previously-released single, a new live version of "Orbitual Sunrise", this day, the band is premiering a new video clip for their classic "Maniac"!
As Gus G comments: 
"Maniac" is Firewind's biggest hit and we didn't even write it! Our Metal version of the "Flashdance" anthem goes back to 2008 straight out of  "The Premonition" album of ours and it was originally recorded for fun during the album sessions. Whenever we play it live, it instantly gets the crowd on party mode and you can see that on this video from our anniversary hometown show. Enjoy!"
Since more than twenty years, the iconic band founded by exceptional guitarist Gus G (Ozzy Osbourne, Arch Enemy, Dream Evil) enthralls heavy music fans with their exciting blend of hard rock and power metal. Razor-sharp riffs, big hooks and solos meet the incredible vocal skills of charismatic singer Herbie Langhans (Avantasia, Radiant, Seventh Avenue, amongst others), who joined the band in 2019.
"It's hard to believe that a band like Firewind has been around for 2 decades," Gus G said. "In 2022 we had only planned a re-issue of our debut album, but with the pandemic slowly winding down, we were fortunate enough to start doing shows in America and Europe again. Come Fall of 2022 we played 2 headline shows in our homeland, Greece to celebrate our 20th anniversary."
"Prior to the Greek shows, my friends from OTSE film crew asked me about filming our hometown gig in Thessaloniki", the guitar legend reveals. "In a way, the stars aligned, as we returned to the same venue (Principal Club Theater), with the exact same crew that filmed our DVD back in 2008 (Live Premonition anyone?). With this opportunity in front of us, I started thinking about a cool way to put this onto our beloved fans homes as a special thank you for the support you've shown us over the years. Together with AFM Records, we bring you a special BluRay + 2CD package. So yeah… Firewind Still Raging, 20 years later and it's all thanks to YOU! 
While we're currently hard at work on some new music, we hope this commemorative Live release will keep you good company, till our new Metal anthems arrive!"
Previsious teaser:
Orbitual Sunrise: https://youtu.be/DvkPBRfgiBs
Links:
http://firewind.gr/
https://www.facebook.com/firewindofficial
Source of Information: Mona Miluski – ALL NOIR
DEATH DEALER UNION, Featuring Frontwoman Elena Cataraga (a.k.a. Lena Scissorhands of INFECTED RAIN), Announces Debut Album, Initiation, out September 22, 2023
20. July 2023
Emerging US west coast-based metal unit DEATH DEALER UNION – featuring Elena Cataraga (a.k.a. Lena Scissorhands of modern metal leaders INFECTED RAIN) – are thrilled to finally announce the upcoming release of their debut album, entitled Initiation, out September 22, 2023 via Napalm Records!
The album is available to pre-order beginning today, alongside the premiere of their brand new single, charging metal banger "The Vow of Silence". The track follows the band's searing debut standalone collaboration tracks/videos, "Borderlines" and "Beneath The Surface", which have since garnered nearly a million views on YouTube alone!
Featuring aggressive verses and a catchy chorus, "The Vow of Silence" is accompanied by a stunning music video full of energetic performance footage and breathtaking visuals.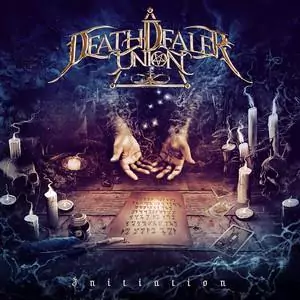 Tracklist:
Initiation
The Vow of Silence
ILL FATED
Ekphrasis
The Integument
Mythos
The Big Blue
Back To Me
The Downfall
Love Me When I'm Ugly
Anew
Beyond Heaven
Watch the music video for "The Vow of Silence"
DEATH DEALER UNION says:
"'The Vow of Silence' is an upbeat song, blending heavy/melodic harmonies with both aggressive and clean vocals. The video was shot in a historic castle in Los Angeles, CA dating back to the 1800s, and perfectly fits the image of the band and the vibration of the song.
Join us in this mystical moment, now immortalized in a music video!
We present to you: 'The Vow of Silence'.
We hope you enjoy!
More to come very soon!"
In 2019, metal musicians CC McKenna (drums) and Doug Weiand (lead guitars) set forth on a dark musical path – aligning diverse metal influences with otherworldly channelings of alchemy, the occult and all things esoteric. Little did they know, the final ingredient of their impending amalgamation was on the horizon, set to emerge as DEATH DEALER UNION.
After meeting acclaimed frontwoman Elena Cataraga, a musical pact was instantly formed – propelling the band into the studio with producer Valentin Voluta (also recognized for his work with Infected Rain). Now, with two new members – Hunter Havok (rhythm and lead guitars) and Jonny Heinz (bass) – in tow, the band is set to unleash their very first sacrificial offering to the masses, Initiation. The album brings forth the huge sound and exciting visuals fans experienced with the band's debut offerings, plus an entire new trove of musical and lyrical elements. While no track is the replicant of another, they all weave a common thread of compelling essence that will have listeners clamoring to heed the word of DEATH DEALER UNION.
Initiation kicks off with its instrumental title track, droning deeply into electronic flourishes and spine-tingling organs. The track flows into first album single "The Vow of Silence" – a fast-paced burner featuring aggressive verses and a catchy chorus that fully showcases the album's immense production, once again helmed by Valentin Voluta.
"ILL FATED" juxtaposes 80s-influenced clean guitars and sinister metallic riffs as Elena Cataraga displays her dynamic trademark vocal delivery and introspective wordplay, while later, "The Integument" – which features a sizzling music video accented by heavy metal dance troupe Cherry Bombs – turns the pace all the way up with traditional power metal flavor before transforming into a ghostly, hypnotizing soundscape.
Tracks such as "Ekphrasis" and "Mythos" – the latter boasting one of the album's most heart-stopping guitar solos – are rife with chunky 90s heavy metal and even nu-metal-inspired riffage. "The Big Blue", "Back To Me", "The Downfall" and "Anew" dance with metal styles ranging from symphonic power to progressive, showcasing the band's diverse macrocosm of musical skill, before potent, heavy ballad "Love Me When I'm Ugly" provides heartfelt lyrics and melodies. Initiation ends with "Beyond Heaven", an opus of expansive harmonies and eerie embellishments, closing the album with its most theatrical cut.
Not only does Initiation offer fans the chance to witness Elena Cataraga's alter ego on raw display, it introduces the band as an intriguing force to be reckoned with. Find your own power within DEATH DEALER UNION – your Initiation is only the beginning!
Previsious singles:
Borderlines: https://youtu.be/kB1VE9Zw6co
Beneath the Surface: https://youtu.be/AokWAHQfK_g
Links:
https://www.deathdealerunion.com/
https://www.facebook.com/deathdealerunion/
https://www.instagram.com/deathdealerunion/
Source of Information: Napalm Records, Photo: Jeremy Saffer
PRIMAL FEAR – unleash music video for new track 'Deep In The Night' from upcoming studio album »Code Red«
20. July 2023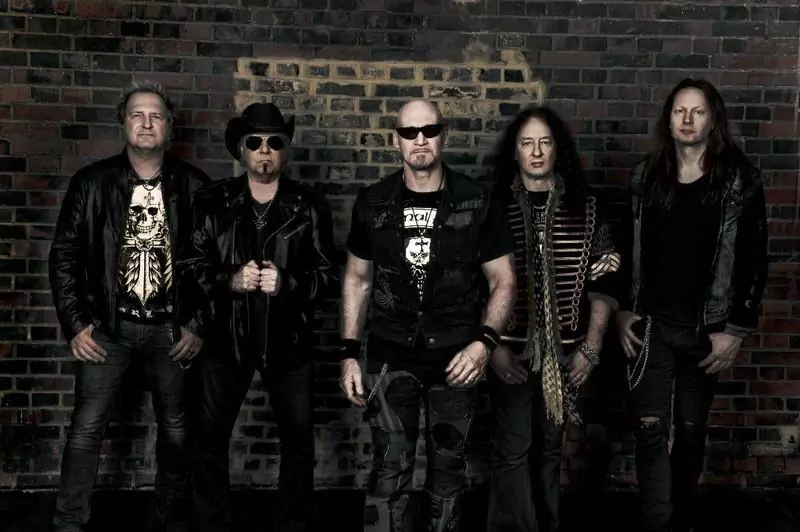 Can you hear the sirens howling? »Code Red,« the highly anticipated new offering by German metal commandos PRIMAL FEAR, will finally be unleashed upon the world in 6 weeks!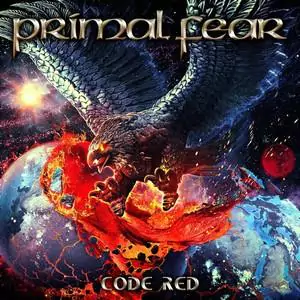 Tracklist:
Another Hero
Bring That Noise
Deep In The Night
Cancel Culture
Play A Song
The World Is On Fire
Their Gods Have Failed
Steelmelter
Raged By Pain
Forever
Fearless
Following the release of celebrated first track 'Another Hero,' the group have shared a second new track entitled 'Deep In The Night' today. The raging yet stomping song is nothing but a massive statement for all human beings that have lost faith in mankind or other people while underlining that there's still better times awaiting.
Ubik Media (https://ubikmedia.de/), who also produced the music video for aforementioned hit song 'Another Hero,' have once again greatly caught the atmosphere of the song; shot at Stuttgart, Germany's Im Wizemann venue, where PRIMAL FEAR will kick off their release tour with support from special guests THE UNITY (all dates can be found below!), the result can be viewed over on YouTube.
Watch it!
Singer Ralf Scheepers adds:
"Finding out to being cheated is one of the worst experiences for a young man or woman. Unfortunately, it happens to almost everyone of us in life and if not, I hope it never will! But one thing is for sure: If it happens to you, it will definitely help to make the cornea around your heart grow even more. It affects your trust and if you take it too personally, you will probably never be able to trust anyone again. Nevertheless, there are fortunately always people who penetrate this cornea and reach your heart with their beautiful souls."
Previsious single:
Another Hero: https://youtu.be/JUISvCi3hyA
Links:
https://www.primalfear.de/
https://www.facebook.com/PrimalFearOfficial/
www.instagram.com/primalfearofficial
https://label.atomicfire-records.com/project/primal-fear/
Source of Information: Barbara Francone – Atomic Fire Records, Photo: Alex Kuehr
ILLUMISHADE (feat. Eluveitie Members Fabienne Erni and Jonas Wolf) Inks Worldwide Record Deal with Napalm Records!
18. July 2023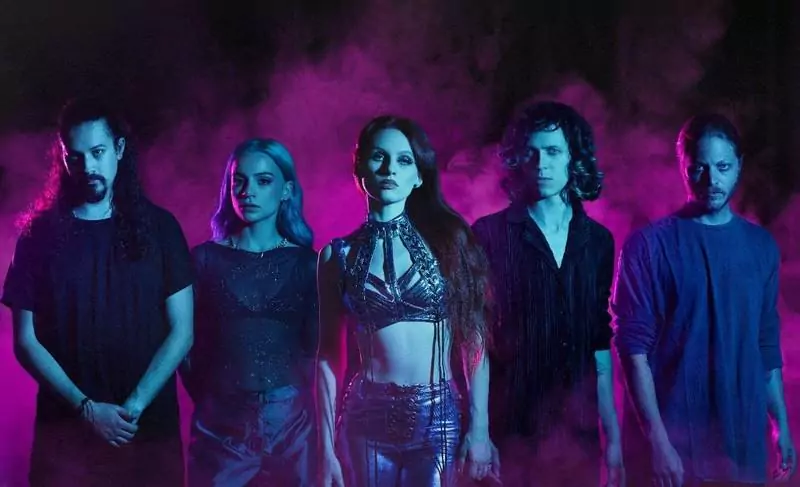 Swiss modern metal upstarts ILLUMISHADE have signed a worldwide contract with Napalm Records! The premier Austrian rock and metal label is more than proud to welcome the five-piece to its ever growing roster.
Along with the signing, the band, fronted by vocalist Fabienne Erni and guitarist Jonas Wolf (both of Eluveitie), unveils their brand-new standalone single, entitled "ENEMY".  With the enchanting new track, ILLUMISHADE delivers pure magic with a fresh dose of prog influences, transporting the listener into the band's mystical world.
The track goes in line with a visually palpable music video and marks the beginning of a new chapter for ILLUMISHADE.
In 2020, ILLUMISHADE released their debut album, ECLYPTIC: Wake of Shadows, receiving top acclaim by critics and fans alike. Their music videos have gathered hundreds of thousands of views so far and fans were blown away by their matchless stage appearance as a special guest for Delain and Xandria on their recent tour.
Stay tuned for more exciting news coming soon!
ILLUMISHADE comments:    
"We are absolutely thrilled to announce that ILLUMISHADE has signed with Napalm Records! This marks an exciting new chapter in our musical journey that we believe will open numerous doors and unlock new paths.
We want to take this moment to express our gratitude to each and every one of our fans for your support over the years. Your belief in us has been the driving force behind our growth. As we embark on this new journey with Napalm Records, we promise to channel our energies and dedication into delivering nothing but the best!
We are immensely excited to start this new phase alongside Napalm Records, and we cannot wait to see where this road takes us.
Thank you again for being a part of this journey with us. Here's to a future filled with music, creativity, and a shared love for the arts.
With immense gratitude and excitement,
ILLUMISHADE"
Napalm Records adds:
"We are extremely happy to welcome onboard one of the most promising bands in the melodic metal scene of today! ILLUMISHADE amaze with their strong live performances, their personality and their unique sound – capable of blending together elements of djent, symphonic, progressive and more. They are definitely one of a kind, and we couldn't be happier to start this journey together."
Links:
https://www.illumishade.ch/
https://www.facebook.com/illumishade/
https://www.instagram.com/illumishade_official/
Source of Information: Napalm Records, Photo: Victoria Wonka