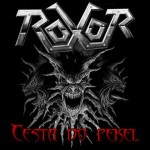 Český Roxor sú v ich domovine známe a populárne meno. U nás to až také ružové nie je a mne starej metalistke rezonuje iba názov v podvedomí zo začiatku 90-tych rokov a mládeži sa pletú so slovenským noise crust zoskupením.
Roxor začali svoju kariéru v roku 1986 a nahrali niekoľko dém, véháesku a odohrali nespočet koncertov kým v roku 1991 pod dozorom Petra Jandu v štúdiu Propast nahrali svoj vynikajúci debut, Out of periphery. Od úvodnej "kabátovskej" Alkohol vás uchvacuje skvelý zvuk, dobré texty a príjemný spev. Kapela hrá dobre. Občas zasiahnu do speed metalu, potom do hard rocku, pivného rocku a aj do tradičného českého tancovačkového bigbítu. Debut hodnotím veľmi kladne, pretože v tej dobe to bola vyprofilovaná a vyhratá kapela. Za vrchol albumu by som dala určite Causa 17 a Zlatá Arizona.
Kapela prešla niekoľkými rozpadmi a nahrala počas albumovej odmlky aj niekoľko dém, ku ktorým som sa nedostala, ale v roku 2009 sa vrátili druhým albumom Zastavte čas. Čo sa týka albumov nový spevák, ale ten už z kapelou spieval v roku 1996 a musím ho označiť ako jeden z výrazných plusov nahrávky. Súčasný frontman Ondra Marek je veľmi dobrý rockový spevák čo sa neťahá do nedosiahnuteľných výšok, ale hrá na emócie a občas vie aj poriadne priostriť. Mínusom albumu je produkcia. Tá proste oproti debutu nie je skoro žiadna, ale to nebráni v tom aby som považovala druhý album za vrchol Roxoru. Vynikajúce pesničky. Hostovanie niekoľkých speváčok určite osviežilo a aj napriek tomu, že CD obsahuje dvadsať piesní, ani na chvíľu nenudí, čím sa môže pochváliť málo kto. Za vrchol albumu považujem určite Příšera Baskervilská, Zastavte čas, Rejdy SM lady, Křížová výprava.
Tretia platňa Cesta do pekel je posun v produkcii, ale rovnako ako druhá nedosahuje zvukové a aranžérske kvality debutu. Ale to určite nevadí, pretože je to ako hovoria bratia česi, "nářez". Našťastie v rovnakej zostave ako predošlý album a od úvodnej Metal heart ktorá je pre mňa vrchol to ide skvelo. Musím opäť pochváliť spev a hlavne gitarovú prácu. Okrem Metal heart ma najviac oslovili Správnej směr, Cesta do pekel, Démon speed.
Hudba ktorú hrajú Roxor je čisto českou záležitosťou. Marne by ste na svete hľadali kapelu ktorá by mala tento český "smrad". Je určite dobré že sa tento český bigbít metal hrá a že má úspech. Pretože táto hudba robí ľuďom radosť a má pozitívny dopad na myslenie. Pretože predstavuje svet taký aký by mal byť. Držím kapele palce a verím, že ďalších dvadsať rokov nebude poznamenaných žiadnymi rozpadmi.
Lineup 1991:
Dan Reissaus – gitara
Radek Vaníček – bicie
Michal Žáža – gitara
Roman Veselý – basa
Jan Severa – spev
Lineup 2009 a 2011:
Dan Reissaus – gitara
Jula Botoš – bicie
Michal Žáža – gitara
Roman Veselý – basa
Ondra Marek – spev
Tracklist Out of periphery:
Alkohol
První hřích
Pojď si dát
Každej den ji čekáš
Návrat do Evropy
Causa 17
Noc plná děsu
Zlatá Arizona
Out of perophery
Bye, bye
Tracklist Zastavte čas:
Zámek snú
První hřích
Alkohol
Bláznivej svět
Černá dáma
Born to ride
Příšera Baskervillská
Zastavte čas
Tak už to prasklo
Rock n´Roll z předměstí
Řeka stínú
S nožem v zádech
Rejdy SM lady
Motlitba za život
Lepší časy jdou
Křížová výprava
Causa 17
Fright night
Návrat do Evropy
Bye, bye
Tracklist Cesta do pekel:
Metal heart
Správej směr
Cesta do pekel
Poslední flám
Mistr Houdini
S puškou v řade stát
Neotvírej
Démon Speed
Pochod k nebesúm
Království samoty
Hodnotenie: 4