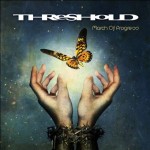 Deviaty album tejto prog rock metalovej kapely je na svete. Po smrti predošlého speváka Andrew McDermotta sa vrátil na stálo môj favorit Damian Wilson a kapela vytvorila skutočne rozmanitú kolekciu, ale všetky skladby majú napriek komplikovanosti obrovský hitový potenciál. Hlavne skladba Ashes.
Album nemá slabších momentov a doslova preteká nápadmi a určite prekonáva album Dead reckoning a Clone, čo boli do teraz moje najobľúbenejšie platne Threshold.
Doslova zbožňujem songy Colofon a Hours. Damian spieva fantasticky a jeho čistý nosový vokál sa hodí k hudbe tejto kapely najlepšie. Som rada, že je opäť v kapele i keď nie za takýchto okolností.
Dúfam, že sa mi ich už konečne podarí vidieť na živo. Do vtedy mi nezostáva nič iné ako sa ukájať touto peckou.Odporúčam každému kto má rád hudbu a to nie len rockovú. Tu si nájde to svoje každý milovník harmónie.
Lineup:
Karl Groom – gitara
Richard West – kláves
Damian Wilson – spev
Johanne James – bicie
Steve Anderson – basa
Pete Morten – gitara
Tracklist:
Ashes
Return of the Thought Police
Staring at the Sun
Liberty, Complacency, Dependency
Colophon
The Hours
That's Why We Came
Don't Look Down
Coda
The Rubicon
Rok vydania: 2012
Vydavateľstvo: Nuclear Blast
Youtube ukážka:
Linky:
http://www.thresh.net/
https://www.facebook.com/threshold/
http://www.youtube.com/user/ThresholdOfficial
Hodnotenie: 5/6
Páčil sa ti tento článok?