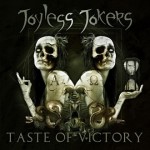 Taste of Victory je prvým dlhohrajúcim albumom talianskej kapely Joyless Jokers.
Ide o pomerne mladú kapelu, ktorej začiatky siahajú do roku 2006 a tak ako mnohé kapely aj v našich končinách, doteraz sa potulovala najmä po talianskych krčmách, baroch, kluboch a minifestivaloch, vydávala demá a nejaké EP.
Podľa ich vlastných slov je ich hudba zmesou vplyvov švédskeho melodického death metalu a zúrivosti americkej podoby metalu. Musím povedať, že toto "samohodnotenie" je vcelku výstižné, ale u mňa spôsobilo trochu zvláštne pocity ešte pred pustením prvej skladby z albumu a po niekoľkých skladbách sa ukázalo, že tieto pocity boli správne.
Už prvá skladba Rain povie prakticky všetko o tom, čo od albumu môžeme čakať. Začne sa zostra, žiadne intro, rovno do plných otáčok. Jasné, ak má byť intro iba akési bezduché šumenie vetra a neartikulované mrmlanie, ako býva v mnohých prípadoch, tak je lepšie nedať tam nič, ale dobré intro by vedelo navodiť tú správnu atmosféru.
V druhej skladbe v poradí Murder in me nám kapela na konci skladby ponúkne síce jednoduché, ale celkom príjemné sólo. Ostatné piesne sú v podstate hudobnou variáciou prvých dvoch, takže ani nemá veľký význam ich rozoberať každú zvlášť. Myslím, že rovnako nemá význam niektoré skladby vyzdvihovať alebo iné zase kritizovať, pretože naozaj sú si všetky podobné.
Po prvom vypočutí som zistil, že niekde v polovici som sa stratil a tak som to musel hneď otočiť znova. Všetky skladby mali rovnakú schému – ten istý zvuk, veľmi podobné tempo a rytmus, po klasickom odvrieskaní – odvrčaní textu nasleduje krátke jednoduché sólo a šup rovno na ďalšiu pesničku. Proste šlapací stroj od začiatku do konca.
Zvuk nahrávky sa mi najprv nepáčil, ale postupne som na moje prekvapenie zistil, že mi v podstate aj celkom vyhovuje. Pestrosť skladieb nulová, takže ten, komu sa zapáči prvá, bude spokojný s celým albumom a ten, kto by čakal zmenu, tak môže čakať až do konca dní. Nedočká sa.
Aj po niekoľkých vypočutiach a po prečítaní textov sa moje zmiešané pocity ešte viac prehĺbili. Na jednej strane je dobré, že chalani sa pokúsili o akýsi "experiment" pri prelínaní niekoľkých interpretácií pojmu death metal, na druhej strane… priznávam, že mne práve tento mix nesedí.
V každom prípade je tento album dobrým odrazovým mostíkom k ďalším a verím, že aj kvalitnejším albumom. Držím Joyless Jokers palce, nech im temné sily dodajú dostatok inšpirácie. Tomuto albumu dávam 3 body v rámci našej šesťbodovej škály. Je to priemerný album, ktorý si bez problémov nájde svojich fanúšikov, ale pre mňa osobne nepredstavuje nič prelomové.
Na záver ešte jedna vec, ktorú hodnotím veľmi pozitívne. Joyless Jokers majú na svojom kanáli na youtube zavesené nielen videá zo živých koncertov, ale aj štúdiové nahrávky všetkých skladieb z albumu Taste of Victory.
Lineup:
Thomas Girardello – spev, basa
Michele Brunetti – gitary
Rudy Girardello – gitary
Jader Girardello – klávesy
Matteo Ioverno – bicie
Tracklist:
Rain
Murder in me
Scream
Point of no return
Whispers to shadows
Hopeless
I'll watch you die
Taste of victory
Rok vydania: 2012
Vydavateľstvo: Vlastné vydanie
Video ukážka:
Linky:
https://www.youtube.com/channel/UCLaDrUni384UJhmX93ZeYRA
Hodnotenie: 3/6