Dnešný rozhovor bude s bubeníkom kapely Ex Pulse z Námestova Ľubom Franekom. Tá pred časom vydala debutové CD, kde ukázala ako krásne sa do tradičného hard and heavy štýlu dajú nenásilne zakomponovať progresívne prvky.
Zdravím Ľubo, vaše skvelé CD je nejaký ten piatok vonku. Ako sa mu zatiaľ darí?
Ľubo Franek: Darí sa mu dobre. Podľa očakávaní. Myslím že k väčšine skalných fanúšikov sa už dostalo, a je pripravené sprevádzať nás na koncertoch.
Mohol by si porozprávať niečo o jeho zrode?
Ľubo Franek: CD sme si v podstate nahrali sami, za pomoci Vlada Povalu, ktorému sme vďační. Kvôli pracovnej vyťaženosti a menším problémom s priestormi pri nahrávaní sa nám to neplánovane natiahlo. Ale nakoniec sa podarilo.
Mne osobne sa na ňom páči, že nechýbajú progresívne prvky, ale zároveň je to aj dostatočne hard rockové (resp. heavy metalové). Mohol by si porozprávať o jeho songoch?
Ľubo Franek: Myslím, že je to odraz toho, čo všetci počúvame, a čo sa nám páči. Väčšina skladieb vznikla po založení kapely. No skladbu Amandi A Vivendi hrala už kapela SGP-Projekt. Takže je to staršia vec v takom novom šate. Podobne skladba Blackstorm. Jej zrod siaha do doby účinkovania Jura v kapele Black Storm.
Ďalej by som chcel spýtať ohľadom nich na spev Juraja Gašinca. Musím povedať, že svoju úlohu zvláda dobre, ale mám pocit, že spev je často len akýmsi doplnkom. Všade dominuje jeho gitara. Môžeme niekedy očakávať aj klasické spievané piesne?
Ľubo Franek: Ťažká otázka. Neviem čo prinesie budúcnosť, no menej je niekedy viac.  Čo sa týka pomeru gitary a spevu, to by bola otázka skôr pre Jura.
Plánuje sa dať do kopy aj nejaký klip?
Ľubo Franek: Momentálne nie. Som rád že už je na svete CD. Ale už sme nad tým premýšľali, no nejdem predbiehať.
Ako to vyzerá zatiaľ s koncertmi? Chystá sa niečo?
Ľubo Franek: Samozrejme. Priebežne stále koncertujeme, aj keď tesne pred dokončením CD sme to pribrzdili. Už je hotové, tak hor sa na koncerty. Presné termíny a miesta koncertov sa snažím aktualizovať na stránkach bandzone či facebook.
Ak sa nemýlim, vy ste zvykli často na koncertoch hrávať aj covery známych rockových skladieb. Budete v tom pokračovať? Alebo sa budú pomaly vytrácať?
Ľubo Franek: Budeme v tom pokračovať. V podstate záleží na tom, kde hráme. Napríklad na festivaloch hráme len vlastnú hudbu. V kluboch s viacerými kapelami hráme prevažne svoje skladby a ak hráme sami, tak podľa chuti a reakcií ľudí. Ale nie je to pravidlo.
Je šanca, žeby ste vyrazili aj niekde mimo našej krajiny?
Ľubo Franek: Šanca je vždy. Niečo sme už v zahraničí odohrali, ale momentálne v diári  taký koncert poznačený nemám.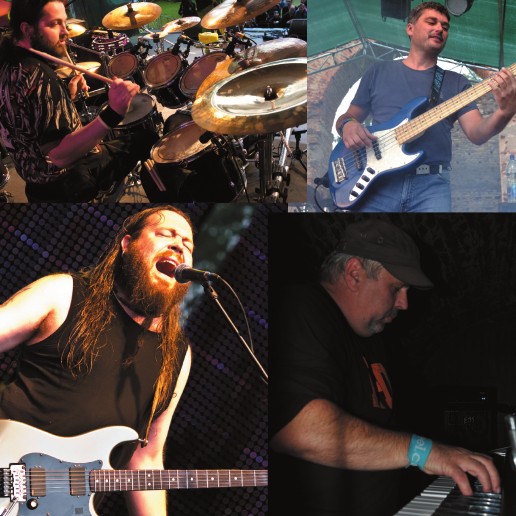 Čo robia najčastejšie členovia Ex-Pulse vo svojom voľnom čase (keď si chcú trebárs od muziky odýchnuť)?
Ľubo Franek: Chodia do roboty, kde oddychujú od hudby. Spia, aby si oddýchli od roboty a tak ďalej. Nemám pocit, že by sme toľko hrali, aby sme potrebovali oddychovať od hudby. Skôr naopak, oddychujeme pri hudbe. Ale často počujem na skúške slovo bicykel, sem-tam motorka.
V poslednom čase sledujem u nás a aj v Čechách trend vracať sa k svojmu rodnému jazyku… Je šanca, aby sme od vás v budúcnosti počuli aj nejaké skladby v slovenčine?
Ľubo Franek: Nevylučujem to, ale podľa toho, na čom teraz pracujeme, to nebudú ani klasické spievané piesne a asi ani po slovensky.
Mohol by si trochu povedať o tvojom muzikantskom príbehu? Jak si sa dostal k muzike a jak nakoniec vznikli Ex-Pulse.
Ľubo Franek: Niekedy okolo 14-15 rokov som prišiel s kamarátom pozrieť na skúšku, skúsil som a skúšam dodnes. Hral som vo viacerých kapelách, no spomenul by som DIERON, SGP Projekt, a kapelu Ariel. Všetkým ďakujem.
No a k vzniku Ex-Pulse? Navzájom sme sa poznali z rôznych kapiel. Raz prišiel taký nápad, (určite pri pive) tak sme to vyskúšali a zatiaľ s takýmto výsledkom.
Je niečo na našej rock/metal scéne čo ťa tento rok najviac prekvapilo? Alebo naopak z čoho si mal kvalitné nervy?
Ľubo Franek: Úplne nič.
Čo je z tvojho pohľadu najväčším problémom pre kapely ako vy?
Ľubo Franek: Ja si myslím, že nedostatok času. Všetci chodíme do práce, to ovplyvňuje počet skúšok a následne výsledok. Ale taktiež je veľkým problémom ťažký aparát a schody pred skúšobňou. Hlavne 4:45 ráno 🙂
No ok, tak ďakujem za rozhovor a ako tradične ťa poprosím o zanechanie nejakého odkazu pre čitateľov webu Metalmania-Magazín?
Ľubo Franek: Aj ja ďakujem. Všetkých čitateľov, rockerov či metalistov pozdravujem. A vidíme sa na koncertoch 🙂
Youtube ukážka:

Odkazy:
Facebook: https://www.facebook.com/pages/EX-PULSE/116956024996001
Bandzone: http://bandzone.cz/expulse