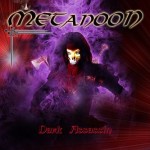 Na svojich potulkách metal/rockovou scénou často objavím rôzne kapely. Aj kvalitné, aj menej kvalitné a občas aj také, ktoré napriek vysokej úrovni svojej muziky nie sú moc známe. Dnes sa pozrieme na dielo Dark Asassin, českej bandy Metanoon, ktorá bohužiaľ patrí do tejto kategórie.
Na scéne fungujú už nejaký ten rok a metalovému spoločenstvu priniesli už 5, resp. 6 albumov (debut z 1992 bol tak trochu odlišný od ich tvorby). Jedným z najväčších problémov, čo ich často sprevádza je nestabilita zostáv. V roku 2008 im vyšiel album, ktorý budeme rozoberať.
Na ňom pekne vidno, o čom ich muzika je… Zameriavajú sa hlavne na epické fantasy texty. Hudobná zložka je tvorená tzv. melodickým heavy/power metalom (nie nepodobným kapelám ako Running Wild, Helloween a podobne). Hlavný spev ma na starosti barytónový spevák a gitarista (a taktiež aj klávesista), ktorý si hovorí sir Roy Robert Dragonhead.   V období nahrávania Assasina prijali k sebe aj dievčinu – lady Thairu Den Asheron (ak mám správne informácie, v radoch Metanononu pôsobí do teraz), ktorá pekne dopĺňa sira Dragonheada.
Do CD nás uvedie titulná Dark Asasin. Pozostáva hlavne z  intra, tradičného speed metalu a chytľavého refrénu, ktorý spievajú obidvaja vokalisti (Temná jak bouře, peklo a dým. Démonů síla Dark Assassin. Přichází smrt a smrt jméno má  Tahíra Den Asheron.).
Medzi podobné skvosty patria aj päťka Šibenice, alebo aj osmička Brána snů. Zaujala ma aj stredoveká baladická vec s česko-latinským textom, Detrimentum patior.
K vrcholom diela sa dostanete až na konci (dáma a páni sa zrejme držali hesla, to najlepšie na koniec 🙂 ). Mám na mysli dve piesne – dlhá Rustdor a krásna prekrásna, Síň slávy. V poslednej zmieňovanej dominuje nádherný spev Thaire, takisto chytľavý text  a hlavne prekrásne melodické gitarové sóla.
Keďže toto dielo vzniklo pred pomerne dlhou dobou, potešil by som sa keby čoskoro vznikol jeho nasledovník. Metanonom odporúčam hlavne o niečo viac využiť spev ich šarmantnej vokalistky. Taktiež dúfam, že touto recenziou im pomôžem rozšíriť povedomie o nich aj v našej krajine. Určite si to zaslúžia.
Lineup:
sir Roy Robert DRAGONHEAD – spev, elektrická gitara, klávesy
lady Tahira Den ASHERON – spev, akustická gitara, perkusie
sir Arwynd Skeld RUSTADOR – elektrická gitara
sir Stanley Thor POWERAXE – spev, basová gitara
Hostia:
vážený host pan Leo Pavel Švančara – šéf kapely CWBC (spev Nebeští jazdci)
sir Roghar Kay Goberiss – bicie
Tracklist:
Dark Assassin
Čas
Princezny z Igllandu
Křídla větru
Šibenice
Růže a meč
Království osamělých
Brána snů
Detrimentum Patior
Nebeští jezdci
Rustador
Síně slávy
Rok vydania: 2008
Vydavateľstvo: Prokyon
Youtube ukážka:

Linky:
http://www.metanoon.cz/
https://www.facebook.com/Metanoon/
https://bandzone.cz/_85473
Hodnotenie: 5,5