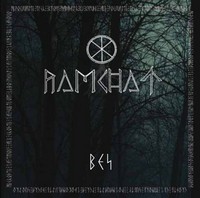 Hirax po odchodu z LUNATIC GODS založil kapelu RAMCHAT. " Krátko na to sa Ramchat sa stali tretím objavom na portále BZ. Pochádzajú z  Martina a hrajú black – pagan metal.
  EP BES je ich debutom a hneď je látka vyzdvihnutá veľmi vysoko. Oproti Lunatic Gods je všetko  temnejšie a tvrdšie. Každu skladbu otvára krátky predhovor, ktorý zaujme poslucháča a posúva ho v  dejstve. Príbeh sa tvorí s čias pohanských Slovanov a príchodu kresťanov na ich územie.  Na danej nahrávke Hiraxov rukopis a všetko je dotiahnuté do poslednej bodky.
Tam, kde to ma znieť tvrdo, tak to ku*va tvrdo znie. Taktiež melódia tam hraje dôležitu rolu a všetko je spolu "premakané". Do vokálov perfektne skombinovali viaceré druhy extrémneho spevu. Proste to nemá chybu !!
Chválim RAMCHAT za ich skladby a chválim aj zvuk na EP. Klobuk dole, take niečo na Slovensku sme už dávno potrebovali.
Lineup:
Richard Pokorný – Basgitara
Pavel "Hirax" Baričák – Aranžmány , Gitara, Vokál
Mišo "Golbiško" Goldberger – Bicie
Viťo Kotrík – Gitara
Tomáš "Lečo" Jakubec – Spev
Tracklist:
Mor ho
Mogdanec
Udolie sialenstva
Bes
Posledny pohan
Rok vydania: 2013
Vydavateľstvo: Samovydanie
Youtube ukážka: