Thomas Kai (admin):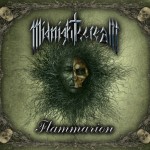 Pred pár týždňami nás svojou novinkou potešila aj stálica našej metalovej scény, Midnight Scream. Album Flammarion navyše realizovali zaujímavým spôsobom – formou digipacku s  multimediálnou stopou, čo bolo podľa mňa pekným bonusom pre fanúšikov.
Priznám sa, že čo sa týka ich tvorby poznal som ich len zbežne, preto som k novinke pristupoval so značnou mierou zvedavosti. Dané CD obsahuje 10 piesní, ktoré viac menej napĺňajú definíciu daného žánru. Okrem celej kapely by som chcel oceniť aj kvalitný zvuk, čo ako vieme, pri slovenských CD nie je vždy pravidlom. Vďaka tomu pri skladbách ako Front that  doesen´t burn, Flammarion alebo slovenskej Sám (s výborným textom, čo vlastne vznikol za trochu zvláštnych okolností) zažijete ten pravý power/thrash orgazmus. Čo ma osobne prekvapilo, je song číslo 6, Pirate´s Dream. Pri prvých minútach som mal pocit, že počúvam nejakú severskú kapelu. Radím ju vďaka jej chytľavosti medzi top albumu.
No podľa mňa by nahrávke ako celku svedčalo viac zbesilejšieho tempa a agresivity (aspoň také ako v titulnej 9) a napríklad v Sleep Paralysis a Portrait of Tyranny by nezaškodilo aj viac pestrosti v gitarových motívoch . V úvodnej 1741 Damage Over Time, s tématikou inkvizície, sa zas mohli viac pohrať s temnou atmosférou.
Flammarion je podľa mňa celkom pekným kúskom, ktoré tento rok u nás vyšli a do budúcnosti by som rád spoznal aj nejaký ďalší materiál od MS. Do budúcnosti však očakávam o niečo viac energie.
Lineup:
Jaro Šajgalík – solový spev
Pavel Ďuriš – rytmické a sólo gitary
Mišo Černák – rytmické a sólo gitary
Marek Jamber – basgitara, vokály
Renato Sanda – bicie
Tracklist:
1741 / D.O.T.
Honey Badger
Fire that doesn´t burn
Sám
This is war
Pirates dream´s
Sleep paralysis
Portrait of tyranny
Flammarion
The otherside
Rok vydania: 2014
Vydavateľstvo: Samovydanie
Ukážky skladieb: http://bandzone.cz/midnightscream
Hodnotenie: 4
Buco:
Takže nový počin od Midnight Scream je tu a som poctený, že ho môžem zrecenzovať. Dané zoskupenie patrí medzi top špičku u nás. Ešte ako tínedžer som počúval o tejto kapele chválospevy.
Je veľmi ťažké vyrukovať za každým s materiálom, ktorý by bol rovnako dobrý ako ten predošlý. Títo páni majú za sebou 14 rokov existencie. To, čo vytvorili na tomto albume si však drží vysoký štandard a je to kvalitná a premyslená muzika, to uzná každý metalový fanúšik.
Poďme teda postupne k skladbám:
Damage Over Time: Intro pripomína stredoveké gregoriánske chorály a dostane vás tým ako epicky znie. Myslím, že chalani nahrávali zbory sami namiesto toho aby použili klávesy alebo si zaplatili zbor ako to robia maďarský  Wisdom. To je jednoznačne veľké plus z mojej strany na adresu tejto kapely. Pieseň je slušne našľapaná, ale ako keby sa z nej vytráca ta epická atmosféra, ktorou sa tak krásne uvedie. Ale keďže sú Midnight aj thrasheri je to pochopiteľné.
Honey-Badger: Veľa drsných vokálov, váľavé gitary a napiskavané struny. Ingrediencie na metalový ako hovoria Česi ,,nářez,, J Refrén je veľmi spevavý so zaujímavými druhými hlasmi v pozadí. Pri tejto skladbe som sa pristihol, ako si hneď po druhom posluchu hmkám refrén, čo je neklamným znakom dobrej skladby aspoň v mojich očiach.
Fire that doesnt burn: Pri tejto skladbe musím vyzdvihnúť najmä riffy, ktoré sú vážne dobré. S melodickou linkou je to horšie, nejako nejde do ucha, ale veľmi ma oslovili opäť druhé hlasy spevák vytvára zaujímavé harmónie, ktoré lahodia uchu. Ďalší znak, že Midnight patrí medzi slovenskú špičku.
Sám: Jediná slovensky naspievaná vec na celom albume. Hudobne na veľmi dobrej úrovni, ale neviem možno je to len môj pocit, ale angličtina sedí tejto kapele oveľa viac. Frázovanie by sa viac hodilo anglickému textu. Príjemne sa však počúva a vyzdvihujem prácu gitaristov na sólach 🙂 Všetky majú nápad a pekné melodické a harmonické postupy.
This is the war: ,, Really it  is,, Totálna nakladačka. Drsný vokál sa sem neskutočne hodí, pretože vojna nie je prechádzka ružovou záhradou, ale peklo. Song preplnený agresivitou a zmenami tempa, ktoré mu pridávajú na atmosfére o to viac. Na toto si raz jedného dňa na ich koncerte veľmi rád  zaheadbangujem.
Pirat Dreams: Midnight a pirátska tematika? Musím uznať, že som bol prekvapený, ale tento song mi neskutočne sadol. Je to taký thrashový Alestorm. Zároveň je príjemným oživením albumu a po niekoľkých prehratiach jeden z mojich najobľúbenejších. Veľmi sa mi páči oh pasáž a heroickosť, ktorá z tejto piesne priam srší. Veľmi dobré. Chlapci u mňa trefa do čierneho.
Sleep Paralysis: Intro mi príde, až pomaly blackmetalového rázu. Mám pocit, že na tomto albume chalani dosť experimentovali, čo sa týka zvuku aj štýlov. Po hudobnej stránke slušná nakladačka s dvojkopákovou paľbou a opäť prechod od čistého vokálu do agresívnejších škrekov, miestami až death metalových screamov.
Portrait of Tyranny: Nesie sa v podobnom duchu ako predchádzajúca. Musím si túto kapelu dôkladnejšie napočúvať, aby som vedel posúdiť či mali podobne odklony od poweru aj v minulosti. Myslím, že chceli trochu experimentovať a spraviť album zvukovo aj štýlovo malebnejší. Preto sa tu čistý vokál prelína až miestami s growlom.
Flammarion: Veľmi podarený kúsok, oceňujem najmä heavy riffy a spevovú linku. Miestami až blacková klepačka s dvojkopakovým guľometom v niektorých pasážach. Môj kandidát na najlepší song daného diela 🙂 Má veľmi peknú dynamiku, kde sa jemné pasáže striedajú s rýchlejšími. Harmonicky taktiež veľmi  dobre premyslené.
Otherside: Posledný kúsok na albume.  Ocenil by som nápaditejšie gitarové motívy. No treba povedať, že táto pieseň ničím neurazí a jej pekne melodicky a napiskávané struny  na začiatku mi prídu ako dobrý úvod.  Pôsobí  však malo energicky a príde mi ako by ňou chceli len zaplátať posledné miesto.
Takže suma sumarum: Z Flammarionu som mal dobrý pocit a určite je to kvalitný počin. Nie je to ale žiadny trhák nabitý hitovicami. Je to skratka radový album, ktorým páni potešili svojich priaznivcov a splnila si svoju ,,povinnosť,, . No podobné skladby ako Pirate Dreams, by som na ich ďalších albumoch uvítal a myslím, že nielen ja. Skrátka dobre odvedená práca chlapci. Držíte si svoj štandard a ten je aj tak dosť vysoký.
Hodnotenie: 4/6