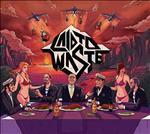 Vlna kapiel hrajúcich kovovú muziku v old school prevedení (Enforcer, Skull Fist a pod.) postupne začína prenikať aj k našim západným susedom. Dôkazom je aj pomerne unikátne zoskupenie z Plzne Laid to Waste, ktoré minulý rok stihlo pod vydavateľstvom Support Undeground vydať svoj debut.
Počiatky LTW siahajú k zoskupeniu KILL! KILL! KILL!. V jej radoch koncom roku 2013 začali problémy a tie vyvrcholili odchodom  časti členov.  Nakoniec kapela zmenila názov na Laid to Waste a zostava sa ustálila v podobe Zdenda Smrťáka (spev a basa), Vojtu Blackwilda (sólo gitara, vokál) a pribudli aj dvaja Američania žijúci v ČR – doprovodný gitarista a vokalista Sky Kobylak a Ryan Mowbray obsluhujúci bicie, a taktiež aj doprovodný vokál.
Counterattack bol pôvodne vydaný vo vlastnej réžii, ale neskôr ich prichýlilo spomínané vydavateľstvo Support Undeground a pod nimi vyšiel 11. decembra minulého roku ako digipack. V súčasnosti sa pripravuje aj jeho vinylová podoba.
Čo sa jeho obsahu týka priznám, že na prvé počutie ma veľmi neoslovil. Časom sa mi však zaryl pod kožu. Oproti očakávaniu je tento materiál viac thrashový, čo samozrejme nie je na škodu… Hlas ,,Smrťáka" však sem tam znie  trochu heavy metalovo. Našťastie sa nenaplnili ani moje obavy ohľadom originality materiálu. Možno niektoré použité hudobné motívy – nie sú úplne neznáme, vyslovené kopírovanie svojich vzorov sa tam nenachádza. Štvrtá skladba – Laid to Waste ma síce jemnú príchuť Metallici, ale je to v norme.
CD odštartuje inštrumentálka nazvaná jednoducho Instru-mental a prvý spievaný song má taktiež zaujímavý názov Old School Nostalgia. Tu jasne počuť, že kapela sa nám snaží priniesť nápadité gitarové riffy, podporené kvalitnou rytmikou – hlavne ultrarýchlou bubeníckou paľbou Ryana. To sa im celkom darí, snáď s výnimkou poslednej Ripped to Sherds. Tá jemne zaostáva kvalitou a nápaditosťou oproti ostatným.
Celkové hodnotenie:  Counterstrike je skvelým štartom tejto formácie. Ak ešte trochu popracujú na nápaditosti a originalite, budú patriť medzi popredné mená českej scény a majú potenciál zaujať aj za hranicami.
Lineup:
Zdenda Smrťák – spev, basa
Vojta "Blackwild" Černý – sólo gitara, vokál
Sky Kobylak – rytmická gitara, vokál
Ryan Mowbray – bicie
Tracklist:
Instru-mental
Oldschool Nostalgia
Lawless Vindication
Laid to Waste
Counterattack
Evil Imperialist
Moshed to Death
Ripped to Shreds
Rok vydania: 2015
Vydavateľstvo: Support Undeground
Youtube ukážka

Linky:
https://www.facebook.com/laidtowastethrash
http://bandzone.cz/laidtowaste
Hodnotenie: 4,5/6