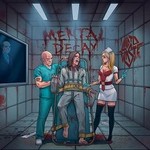 Veľmi dobre si pamätám čas spred dvoch rokov, kedy mi v schránke pristála debutová nahrávka Counterattack českých Laid To Waste. CD sa vtedy často točilo v prehrávači, páčila sa mi divokosť a nespútanosť tejto kapely, nad ktorou vyčnieval trochu divoký vokál. Nuž a dnes držím v rukách ďalší zásek, o vydanie ktorého sa postaral, hádajte kto 🙂
Neskutočne pracovitý Koník a jeho Support Underground doslova naplňuje názov svojho labelu. Ten chlap je nazastaviteľný 🙂 OK, čo nás čaká a neminie na "Mental Decay " ? Osem skladieb, 32 minút šialenej jazdy. Po minútovom intre hranom na akustickej gitare sa na nás vyvalí riffovačka v duchu speed/thrash metalu. Ľahko zapamätateľné, nekomplikované ale maximálne účelné riffy držia výborne pokope, tempá sú predovšetkým svižné, skočné. Proste mosh ako sa patrí.
Basgitara je menej výrazná, ale dobre ju na spodku "cítiť", svoju úlohu plní výborne. A ako som už vyššie spomenul, nad muzikou kraľuje dosť divoký vokál, v našich končinách ojedinelý, v refrénoch miestami podporený zborovými vokálmi. Z divokosti trochu vybočuje trojka "The Breaking Wheel", pri piatej skladbe "Bells of Return" mám pocit, že počúvam Iron Maiden, skladba má podobný feeling. Je to zároveň jediná inštrumentálka na albume.
Nesmiem zabudnúť na výborne hrajúcu sólovú gitaru, ktorá všetky skladby účelne a zaujímavo spestruje. Tieto moje slová svedčia o rôznorodosti materiálu. Album je prepracovaný, vyšperkovaný, poslucháč dostane porciu výborného metalového remesla. Moja najobľúbenejšia skladba ? Sedmička "Violence be the Cure", divoká, melodická, s parádnym rýchlym sólom a zborovými vokálmi. Proste Laid To Waste v celej svoje paráde. Zvukovo CD nevytýkam nič, mne sa páči bez pripomienok. Obal albumu tvorí do modra ladený digipack, graficky pekne spracovaný, takisto bez výhrad.
Slová na záver – netreba viac kecať, ale podporiť kapelu a label kúpou CD. Za málo peňazí veľmi veľa dobrej muziky.
Lineup:
Zdenda Smrťák – spev, basa
Vojta "Blackwild" Černý – sólo gitara, vokál
Sky Kobylak – rytmická gitara, vokál
Ryan Mowbray – bicie
Tracklist:
Reborn
Mental Decay
The Breaking Wheel
Blood of the Innocent
Bells of Return (instrumental)
The Strangler
Violence Be the Cure
Collateral Damage
Rok vydania: 2017
Vydavateľstvo: Support Undeground
Youtube ukážka

Linky:
https://www.facebook.com/laidtowastethrash
http://bandzone.cz/laidtowaste
https://www.youtube.com/channel/UCxL0ARqwQoACmHwbDYil4Vg
Hodnotenie: 5/6