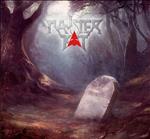 V dnešnej recenzii budeme tak trochu spomínať. Vrátime sa o dva roky späť. Čo sa stalo v roku 2014? Napr. na Slovensku sme mali supervolebný rok, na Ukrajine eskaloval konflikt. Nás bude však zaujímať dianie u bratislavských thrash metalistov Majster Kat. Práve vtedy sa rozhodli nadviazať na svoj 7 rokov starý debut Sväta zvrhlosť, dielom s názvom Memento…
,,Kati" sú na našej scéne aktívni od r. 2001 a od vtedy nepochybne nabrali mnoho skúseností. Dovolím tvrdiť, že ich naplno zúročili na tomto albume. Prejavujú sa hlavne originálnosťou piesní (už od prvej Spoveď kňaza), čo v prípade thrash metalového žánru na slovenskej a aj českej scéne nie je vždy pravidlom. Dvojica gitaristov Los a Lukáš prináša vo všetkých skladbách zaujímavé gitarové motívy (na thrash metal pomerne netypické) a aj basák Tapyr a bicman Peter odvádzajú dobrú prácu (rytmická sekcia naplno ukáže svoje schopnosti v trojke – Kto si bez viny a v nasledujúcej Sudca a Kat).
A čo by sa dalo povedať k pánu spevákovi – Slymákovi? Na prvé počutie vám možno bude trhať ušné bubienky, no neskôr si ho určite zamilujete. Nie je to síce nejaká extratrieda, ale je poznávacím hlasom kapely a nikto iný by tam nepasoval.
Zo skladieb sa ešte treba zmieniť o Na Smetisku Civilizácie, duet medzi Slymákom a slovenskou rockovou stálicou Mariánom Grexom. Ide v podstate o dialóg s Bohom ohľadom žalostného stavu našej civilizácie. Spolu s Podlé Slová je to jednoznačne albumová topka. Vynechať však mohli  poslednú – Disko Oksid. Hudobne je dobre spravená, ale textovo sa k ostatným skladbám nehodí.
Možno preženiem, ale CD Menento si určite zaslúži zaradiť medzi to naj, čo vyšlo na Slovenskom metalovom nebi. Svojou originalitou, energiou má potenciál zaujať aj ľudí, ktorí thrash metalový žáner nevyhľadávajú. Odo mňa to bude tentokrát za 5 bodov.
P.S: Okrem normálnej verzie vyšla aj limitovaná edícia s dreveným obalom. Ak ste milovníkmi kuriozít, môžete po nej siahnuť.
Lineup:
Slymák – Spev
Lukáš – Gitary
Los – Gitary
Tapyr – Basgitara
Peter – Bicie
Hostia:
Marián Greksa – spev
Boris Bauer – spev
Radovan Harach – spev
Tracklist:
Úsvit (intro)
Spoveď kňaza
Kto si bez viny
Sudca a kat
Hodnoty (instrumental)
Podlé slová
Zlo v nás
Zvony
Na smetisku civilizácie
Rok vydania: 2014
Vydavateľstvo: Support Undeground
Youtube ukážka:

Linky:
http://www.majsterkat.sk/
https://www.facebook.com/majsterkat
http://bandzone.cz/majsterkat
Hodnotenie: 5