Volbeat – nová skladba
20.5.2016
Dánska hard rock/heavy metalová kapela Volbeat zverejnila lyric video k skladbe Seal The Deal z chystaného albumu Seal The Deal & Let's Boogie. Ten vyjde 3. júna vo vydavateľstve Universal Music GmbH.
www.youtube.com/watch?v=5T60KuDDyJ8&feature=youtu.be
Linky:
http://www.volbeat.dk/en/
https://www.facebook.com/volbeat/?fref=ts
Zdroj: www.youtube.com
Koniec dlhoročnej zostavy Kreyson
20.5.2016
Podľa vyhlásení členov kapely, ktoré sa objavili na internete zostava kapely Kreyson ktorá nahrala comebackový album Návrat Krále z roku 2013 (Ladislav Křížek – spev, Radek Kroc – gitary, Peter Boška – gitary, Luděk Adámek – basgitara, Michal Daněk – bicie) končí:
Vyhlásenie Radka Reddyho Kroca (citát: osobný facebook profil):
"Kamarádi,přátelé a fanoušci ..Dnešním dnem (po deseti letech) jsem definitivně a navždy ukončil spolupráci s Ladislavem Křížkem na všech projektech v kterých jsem s ním fungoval a to z osobních důvodů !!! Chtěl bych Vám všem poděkovat za krásné okamžiky které jsem s Vámi mohl strávit ať už na koncertech nebo mimo podium .S muzikou nekončím dostal jsem nabídku od mých dlouholetých kamarádů Radek Sladký,Ota Hereš,Bart Bartoš na účinkování ve skupině Törr ……. Natáčíme s Törrem novou desku a moc se na to těším …bude to nášup to Vás můžu ujistit předem !!!!
Tak doufám a věřím že mi zachováte přízeň a že se někde brzo potkáme na koncertě !!!! Mám Vás ze srdce rád !!!! Radek Reddy Kroc :o)"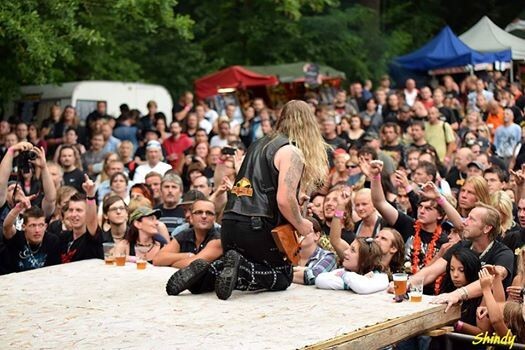 Vyhlásenie Luděka Adámka (citát: https://www.facebook.com/groups/kreyson/?fref=ts):
"Přátelé a kamarádi. V pondělí 16.5.2016 v 18 hod jsem Jožkovi Kořenkovi (agentura Petarda) oznámil, že kapela končí spolupráci s Láďou Křížkem v Kreysonu i ve Vitacitu. O důvodech se nebudu rozepisovat. Vzhledem k informacím které se ke kapele dostaly a které byly prezentovány i v médiích (Láďa Křížek již staví nový lepší Kreyson a dle jeho vlastních slov prý nechá tuto sestavu "vyhnít") a vzhledem ke zrušení koncertu v Kuřimi nám došlo, že zbylé tři koncerty budou mít asi stejný osud a tím pádem byla Kuřim naše poslední šance jak se rozloučit s našimi kamarády a fanoušky. Toto je ten důvod, proč jsme jako "dobrovolné sdružení" do Kuřimi jeli i bez protagonisty a nic jiného za tím NIKDO nehledejte!!!"
Zdroje foto: Radek Reddy Kroc – facebook (autor: Shindy), Luděk Adámek – www.csmusic.sk
The NOW – "Čo nás zachráni?"
16.5.2016
Mladá rocková formácia The NOW z východného Slovenska vydáva ďalší singel s názvom "Čo nás zachráni?"
ZDROJ: Pavol Dráb (Randal Group Production)/FOTO ZDROJ: Peter Filakovský
Kapela The NOW funguje od roku 2008, má vydaný jeden album, absolvované turné a množstvo ďalších koncertov. V novembri minulého roka sa kapela rozhodla posunúť vpred a začala pracovať na novom albume. Už len skutočnosť, že na albume sa kapela rozhodla spolupracovať s gitaristom a producentom Jimim Cimbalom naznačila, že kapela pripravuje niečo veľké. Krátko po začatí nahrávania kapela zverejnila singel s názvom "Nepoznám", ku ktorému natočila videoklip a rozhodne dala všetkým najavo, že tento album bude na vysokej úrovni. Videoklip a zároveň aj singel "Nepoznám" sa rýchlo uchytil a kapela sa dostala viac do povedomia. Kapela naďalej usilovne pracovala a zhruba po dvoch mesiacoch zverejnila ďalší singel "Naivný", ktorým tak ako v prípade "Nepoznám" všetkým ukázala, že na pripravovaný album je dôvod sa tešiť.
The NOW feat. Jimi Cimbala – Čo nás zachráni?
https://youtu.be/cITH7zgsnPs
Kapela nedávno zverejnila ďalší singel v podobe videoklipu s názvom "Čo nás zachráni?". Singel je titulnou skladbou pripravovaného, rovnomenného albumu. Poukazuje na jednu z typických vlastností ľudí, túžbu po moci, ktorá je v ľuďoch zakorenená odjakživa a ktorá sa v konečnom dôsledku obracia proti nim samým. Zaujímavosťou tejto skladby je nepochybne featuring samotného producenta Jimiho Cimbalu. O vizuálnu stránku sa podobne ako v prípade singla "Nepoznám" postaral Laco Rychtarik.