CIVIL WAR – Music Video Premiere For Track "Tombstone"!
3. November 2016
"Tombstone" is the brand new music video by Sweden's generals in good old Heavy Metal!
CIVIL WAR states:
"With "Tombstone" we prove that we're not afraid to try new things. It's a really crazy song but we have loved it since day one and it was very easy to pick it out to be the official video of our new album!"
The album will be released this Friday, so get in the right mood with the video HERE.
Civil War are back and shoot martial anthems into the darkened sky. In four years the proud Heavy Metal-hitmakers are releasing their third epos "The Last Full Measure". The quintet with former Sabaton-members presents twin guitars, keyboard-fanfares and doublebass-marches. Full of honor they are flying the flag as high as possible. Astral Doors-singer Nils Patrik Johansson proves that his powerful voice was marked by destiny!
Links:
www.facebook.com/Civilwarsweden
www.civilwar.se
Source of Information: Napalm Records Promotion Team
DIABULUS IN MUSICA – Release New Music Video For Track "Crimson Gale"!
3. November 2016
Just in time for their upcoming album release of "Dirge For The Archons" – out on November 18th – DIABULUS IN MUSICA has released a video for the track "Crimson Gale".
Read what the band has to say about their music video premiere:
"'Crimson Gale' is to me like a kind of hymn to empower women, a chant to enhance women's voices. Specially dedicated to all those who in the past, step by step, paved the way for us (even if there is still a lot to change in a system created by men but specially hold by women). Also, motherhood made me being aware of our natural power as women and made me understand too how much there's still to improve for example with conciliation, among many other political and social aspects.
Musically wise, 'Crimson Gale' perfectly reflects the strength I'm talking about. It's a heavy and fast song with a catchy chorus that matches with the character of a hymn. The choirs and grunts reinforce the fact that we are not alone in this fight."
www.youtube.com/watch?v=WtvBErXZ1Hc
If unbridled passion for classical music meets raw modern metal, the result is most certainly going to be Diabulus In Musica. The Spanish band is the biggest symphonic metal act their homeland has to offer, and the fivepiece has been storming Europe since 2010!
Links:
www.facebook.com/diabulusinmusicaofficial
www.diabulusinmusica.com
Source of Information: Napalm Records Promotion Team
Lost in Grey – first trailer released
3. November 2016
The finnish theatrical metal newcomers LOST IN GREY shied the public so far. Founded back in 2013, the Finnish sextet around front man Harri Koskela entrenched themselves over the course of the last years to give their debut album "The Grey Realms" the final polishing.
But who are the people entering the stage? It is time to introduce the cast. No need to fear, have a peek:

LOST IN GREY states:
"Greetings all thee!
Now listen carefully, and you will see.
Let us introduce ourselves: we're Lost in Grey.
Our entourage is here portrayed.
This time on stage undisguised,
hoping that you feel surprised.
However, gentles, do not reprehend.
If you pardon, we will mend.
As this may seem quite distorted
eventually you'll be rewarded.
Just stay out of quarrel and of fray,
Yours sincerely, LOST IN GREY"
The debut album will be released March 03rd, 2017 via NoiseArt.
"LOST IN GREY gain a victory in a genre where most bands fail. Theatrical, capturing and with outstanding vocals, the Finns take you on a journey without ever risking a cheesy moment."
LEGACY MAGAZINE (D), Anne Swallow
Stay tuned for more information!
Links:
www.lostingrey.fi
www.facebook.com/Lostingrey
www.noiseart.eu
Source of Information: NoiseArt Records
Freedom Call – videoclip for song from upcoming album
2. November 2016
New album of German ,,happy metalists" Freedom Call – Masters of the Light will be release on 11. November via SPV GmbH.
They published new videoclip today – for song Metal is For Everyone:
Links:
http://www.freedom-call.net/
https://www.facebook.com/FreedomCallOfficial/?fref=ts
Source of Information: https://www.facebook.com/FreedomCallOfficial/?fref=ts
A Hero for the World – New Single/EP
28.10.2016
This day was released new EP/Single of A Hero For The World .
"The Other Side" is released this week and includes the single with the same name and B-side "Unforgiven In Rio Bravo" plus several different bonus versions of both songs, in acoustic and instrumental versions.
A Hero For The World is a "Heroic Rock & Metal" band from Sweden and the Philippines.
Full Stream available here:
https://aherofortheworld.bandcamp.com/album/the-other-side-single-ep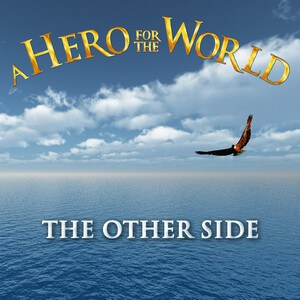 More info:
www.aherofortheworld.com
www.youtube.com/aherofortheworld
www.reverbnation.com/aherofortheworld
www.facebook.com/aherofortheworld
Source of Information: Maria Sanchez