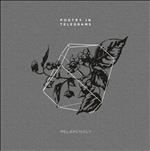 Minimalizácia nezasiahla len logické funkcie, ale taktiež aj hudobníkov. Veď ako inak by sa dalo vysvetliť využitie iba troch nástrojov na nahranie celého albumu? Poviete si, tri nástroje nie sú nič výnimočné. Stačí sa pozrieť na viacero napr. punkových skupín, ktoré hrávajú v trojici. Ak sú však tými nástrojmi sedemstrunová gitara, bicie a saxofón (využitý len v jednej pesničke), celá minimalizácia sa stáva omnoho viac zaujímavou. A presne toto je prípad projektu Johnyho Štefečeka – Poetry In Telegrams na albume Melancholy. S bicími mu pomohol hosť z Anglicka- Paul Ortiz a so saxofónom Jørgen Munkeby z Nórska. A ako dopadla táto spolupráca dvoch hudobníkov z kráľovstiev a jedného z banánovej republiky?
Melancholy obsahuje dovedna 4 piesne a jedno bonusové video, a s vašim cteným dovolením by som sa vyjadril ku každému songu zvlášť. Hneď v úvode prvého predvedie svoje jazzové umenie Jørgen, ktorého saxofónové sólo postupne prerastie do rockovej pecky – Breathing. Tá je najpomalšou vecou na celom Cd, a tak sa jedná o pohodovú vec, ktorá navodí tú správnu atmosféru – a tou je bezpochyby melanchólia. Ale tí čo by čakali nejaký doom navodzujúci depresívne stavy budú sklamaní. Ako som povedal vyššie, treba očakávať pohodovú rockovú pieseň s príjemne romanticko-melancholickou náladou obohatenú o saxofón. Skvelý úvod. Svet je v pohybe a tým pádom aj vzťahy. Relationship dynamics alebo v poradí druhá záležitosť.  Tentokrát sa jedná o čiste inštrumentálnu pieseň. Tak ako predchadzajúce – je postavená na sedemstrunovke a bicích. Vôbec to nevadí, skôr naopak, nechá vyniknúť vyššie spomínaný nástroj so 7 strunami, ktorý som si skutočne zamiloval. Pokračujeme s If. Úprimne musím priznať, že sa jednalo o lásku na prvý pohľad, pardon posluch, ktorá ako predpokladám ma prevedie cez nejedno smutné upršané odpoludnie. Náladový rock so singlovými parametrami. Paradoxne by som však povedal, že sa jedná zároveň o najtvrdšiu pieseň na albume. Velikán svetovej literatúry Bulgakov sa dočkal ďalšej pocty vo forme rovnomerného songu, ktorý plní funkciu akéhosi spomalenia na záver. Pre mňa druhá singlovka. A ešte video, k tomu poviem len toľko, že Stargazing je súčasťou (zatiaľ) trilógie, ktorú sa oplatí vidieť.
A teraz k Melancholy ako k celku. Bez videá máme možnosť počuť 4 kúsky, ktoré si trúfam označiť za nad žánrové. Jedná sa o kombináciu rocku, hardrocku, heavy metalu, progresívneho, čo to z doomu…. Pre takéto prípady vymysleli kritici označenie ako alternatív. Hudobná minimalizácia, keď boli prakticky využité len dva nástroje+ čo to so saxofónom by mohla niekomu prísť ako chodenie po tenkom ľade, v tomto prípade je ale ten ľad tak hrubý, že by udržal rodinku polárnych medveďov. Inštrumentálnej stránke nie je skutočne čo vytknúť. Rovnomerne vyváženie rýchlejších a pomalších piesní, tvrdšie pasáže skombinované s tými jemnejšími, singlový potenciál bez skĺznutia do lacných komerčných záležitostí. A ak sa k tomu pridá milá melancholická nálada, dostávame jasného spoločníka na nie len zimné a nie len večery. Poetry In Telegrams nám jednoducho naservírovali porciu riadne kvalitnej muziky. Taktiež treba pochváliť vokálnu stránku, o ktorú sa postaral Johny.
Suma sumárum. Sám za seba si trúfam povedať, že Melancholy je to najlepšie zo Slovenska, s čím som tento rok prišiel do kontaktu. Jednoducho nemám na výber, a vydá to za 6/6.
Lineup:
Johny Štefeček – spev, gitara
Hostia:
Paul Ortiz – bicie
Jørgen Munkeby – saxofón
Tracklist:
BREATHING
RELATIONSHIP DYNAMICS
IF
BULGAKOV
Bonus:
STARGAZING (OFFICIAL MUSIC VIDEO
Rok vydania: 2016
Vydavateľstvo: MY POINT RECORDS
Youtube ukážka:

Linky:
http://www.poetryintelegrams.com/
https://www.facebook.com/poetryintelegrams/?fref=ts
http://bandzone.cz/poetryintelegrams
Hodnotenie: 6/6