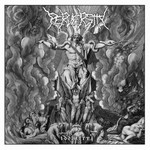 Po dlhšom čase sa mi do rúk dostali tituly zo stajne Metal Age Productions...Toto vydavateľstvo si pamätám ešte z 90. rokov minulého storočia ako veľmi aktívne, vydávajúce a distribujúce skvelé tituly, a keďže sú z Martina, tak som k nim chodil osobne míňať ťažko našetrené peniaze
Veľmi rád konštatujem, že label je aj po toľkých rokoch aktívny. A som ešte radšej, že pod nimi vydáva stálica domáceho death metalu, prešovský Perversity. Kapela okolo Dodiho Košča je na scéne úctihodných 22 rokov a má bohatú diskografiu. Novinka "Idolatry" pokračuje v temne death metalovom ťažení, na ktoré sme u kapely zvyknutí. Chalani podávajú tradične kvalitné muzikantské výkony, riffy sú dostatočne temné a brutálne, vyhrávky a sóla podporujú skvelú atmosféru. Hudba je rytmicky veľmi pestrá, dočkáme sa všetkého od pomalých pasáží až po rýchle klepačky. Skrátka, death metal plný pestrých nápadov a dobre vystavaných skladieb. Veľmi sa mi páči celková atmosféra tvorby tejto bandy, ide z nej naozaj "zlý" pocit, temnota, hniloba a smrť. Ak mám tvorbu kapely prirovnať, napadá mi jednoznačne Immolation, to zlo tam jednoducho je
. Okrem muzikantov musím pochváliť aj vokalistu Jura Handzuša, ktorý má staroškolské podanie spevu. Pekne hrubé, mierne zrozumiteľné, do muziky pasuje skvele. Miestami mu na vokáloch pomáha Dodi so svojím chraplákom. Ďalším plusom nahrávky je jej zvuk – Maťo Barla robí kvalitne znejúce albumy, na Perversity sa mu ale podarilo udržať zlobu a temnotu…Neviem si predstaviť, ako by nahrávka znela s modernou, naleštenou produkciou. Našťastie, všetko je tak, ako má byť. Poslednú pochvalu si zaslúži obal. Je komplet čierno- biely a obrázky, resp. výjavy na nich sa hodia do ich tvorby parádne.
Po všetkých stránkach premyslený album, ktorý je podľa mňa hodný svetového uznania. Nevravím, že Perversity prinášajú niečo nové. To v podstate nikto od nich ani nečaká. To, čo robia, robia na sto percent, ja im vzdávam za Idolatry poklonu a plný počet bodov. Toto je proste temný masaker na špičkovej úrovni.
Lineup:
Juraj "Kazateľ" Handzuš – spev
Jozef "Dodi" Košč – gitary, vokály
Martin "Fetus" Calko – gitary
Peter "Oči" Očipa – basa
Peter "Necrocyklo" Jakubík – bicie
Hostia:
Martin "ElNjino" Barla – hovorené slovo (4)
Ľubo Lokša – gitary (9)
Martin "Fetus" Calko – (vokály 4, 7, 8, 9, 10)
Tracklist:
Blackmoon Offerings
Inter-sectioned
Bloodletting Covenance
Discreated but Reborn
Altar of the Swine
Necrobeast
Sadistic Rites
Ibex Cult Orgy
Aphotic
Womb of Abhorrence
Rok vydania: 2017
Vydavateľstvo: Metal Age Productions
Youtube ukážka:

Linky:
http://www.perversityband.com/
https://www.facebook.com/perversityband/?fref=ts
http://bandzone.cz/perversity
Hodnotenie: 6/6
Páčil sa ti tento článok?