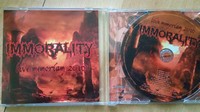 Slovenská hudobná scéna je plná prekvapení. Niektoré sú príjemné a milé, iné nás pre zmenu napĺňajú istou formou znechutenia. A jedno také prekvapenie (minimálne pre mňa) ma očakávalo toto leto. Kapela Immorality sa rozhodla vydať svoje debutové CD ako live záznam ich koncertu na sereďskom festivale In Memoriam III, ktorý prebehol v roku 2016.
Vo svojom krátkom profile priloženom k CD informujú, že sa jedná o thrash-death muzikantov s prvkami iných žánrov ako sú black, hardcore, heavy, grind, punk. A ako to teda celé dopadlo?
Celá nahrávka začne predstavením kapely samej sebou na začiatku koncertu (tak predsa slušnosť ešte nevymizla) a môžeme začať. Beštia ako prvý song ukazuje, že  to s tým svojím širokým záberom žánrov myslela vážne, ale predsa – thrash-death dominuje.
Rýchla, agresívna, úderná obohatená o nejaký ten growl. Rozjazd ako má byť. Nasleduje Vražda, ktorá napriek niekoľkým pomalším pasážam opäť atakuje naše sluchovody dostatočnou dávkou razantnosti. A znova, pesnička venovaná našim súdruhom, pardon demokraticky zvoleným zástupcom ľudu v parlamente.
Svine, opäť rýchla úderka. A takto by som mohol pokračovať ďalej.
Album si razí svoju vlastnú cestu, pričom každý song spĺňa hore uvedené parametre – rýchlosť, razanciu, spomalenie v niektorých pasážach, sem tam niečo melodickosti, growling. Neviem prečo, ale číslo 8 mám rád od detstva. Paradoxne na veľkom množstve albáčov sa pod týmto číslom ukrývajú tie piesne, ktoré sa mi z nich najviac páčia. A Live Memoriam 2013 nebolo výnimkou.
Služobníci pána sú pre mňa jednoznačne najlepšou skladbou tohto CD. A taktiež najlepšia melódia, ktorá sa mi zavŕtala do mozgu ako červík do jablka. Nasleduje ešte jedna vlastná vec – Na konci síl a potom pre radosť kapely a fans tri covery od troch legiend. Root a ich Hřbitov tu nazvaný Cinter (a ja že sa tak hovorí iba na Kysuciach), Piranha ako Piraňa od Exodusu, a pre mňa jednoznačne najlepší a dokonca aj druhý najlepší song Krv za Krv z originálu Eye of the Tiger od Survivor. A sme na konci.
Live nahrávky sú dvojsečná zbraň, niekedy sa môžu vydariť na jednotku, inokedy skôr ťahajú za opačný koniec pomyselného lana kvality. V prípade Immorality sa jedná o prvý prípad. Nahrávke nechýba autenticita – časté nabádanie na dodržiavanie pitného režimu (čo ako ,,zdravoťák" plne schvaľujem), predstavovanie piesní, výzva na vytvorenie kotla….
Rovnako je aj zvuk na dobrej úrovni, nástroje je počuť, sem tam síce trochu nebolo dobre rozumieť hlavnému vokalistovi, no to je pri growle bežným javom. Takže krok so živou nahrávkou hodnotím pozitívne. Čo sa týka hudby samotnej. Chlapci majú pravdu v tom, že je celkom ťažké zaradiť ich do nejakej žánrovej škatuľky, v podstate to ani nemá zmysel snažiť sa o niečo také.
V skratke: ak ste fanúšikmi thrash metalu s poriadnym vplyvom death metalu a sem tam spestrený dákym tým HC a punkom tak by ste mali byť spokojní. Ja som bol. Hudbe nechýba údernosť, razancia, je dostatočne agresívna, je tu niečo aj pre fanúšikov melodiky, a taktiež už spomínané tri covery nie sú na zahodenie.
Čo sa týka textov, tak už samotné názvy napovedia, že po inšpiráciu asi netrebalo kapele chodiť ďaleko.
Takže suma sumárum, nech to nezdržujem. Kapele Immorality sa ich debut podaril na výbornú.
Lineup:
Herr Bakula – vokály
Vilhrob – gitara
Victor Destructor – gitara
Hrdlohryz – bicie
Tracklist:
Beštia
Vražda
Svine
Anjel smrti
Obete
Hrdinovia doby
Demokracia
Služobníci pána
Na konci síl
Cinter (Root- Hřbitov cover)
Piraňa (Exodus- Piranha cover)
Krv za Krv (Survivor- Eye of the Tiger)
Rok vydania: 2017
Vydavateľstvo: Samovydanie
Youtube ukážka:

Linky:
https://www.facebook.com/Immorality-416310728420168/
http://bandzone.cz/immorality
Hodnotenie: 5/6