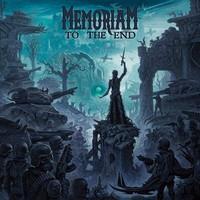 Death metalový spolok Memoriam z Birminghamu založili v roku 2016 bývalý spevák Bolt Thrower – Karl Willettse a basák Benediction – Frank Healy. Vydali už štyri štúdiové albumy. Krátko po sformovaní vyšlo najavo, že tento projekt vznikol na počesť Martina Kearnsa, zosnulého bubeníka Bolt Thrower.
Ten najnovší je ťažkotonážny, zároveň dynamický a dobre počúvateľný. Predchádzajúci ,Requiem for Mankind' bol naopak vo veľmi svižnom tempe. Prečo nie, netreba hrať za každú cenu vo frenetických otáčkach.
Na novinke hrá významnú úlohu mocná emocionálna atmosféra, ktorá je najvýraznejšia v skladbách Each Step (One Closer To The Grave) a As My Heart Grows Cold. Táto banda dokazuje, že má hlboké korene v histórii britského death metalu. Prvé tri albumy nám drsne sprostredkúvali silné témy smrti, straty a tragédie vojny, takže tvoria akúsi trilógiu.
Ten najnovší je ako prequel, čiže časť 0, ktorý je vlastne oslavou života ako takého, ešte než zasiahne smrť. Tá prichádza rovno z praveku, ale má niekoľko rozmanitých moderných tvárí. Od taviaceho sa doom metalu po rozhnevaný death.
Stiesňujúca atmosféra To The End je pravdepodobne začiatkom ich novej éry.
Lineup:
Karl Willetts – spev
Scott Fairfax – gitary
Frank Healy – basa
Spikey T. Smith – bicie
Tracklist:
Onwards into Battle
This War Is Won
No Effect
Failure to Comply
Each Step (One Closer to the Grave)
To the End
Vacant Stare
Mass Psychosis
As My Heart Grows Cold
Rok vydania: 2021
Vydavateľstvo: Reaper Entertainment
Youtube ukážka:
Linky:
http://www.memoriam.uk.com/
https://www.facebook.com/MemoriamOfficial/
https://www.instagram.com/memoriamuk/
https://willettsio.bandcamp.com/music/
https://www.youtube.com/channel/UCVyaVD-AefxVJps7DPTE1ow/
Hodnotenie: 4,5/6