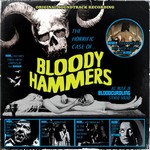 Horrors and hard music are common things for some years (decades), and also their connection. Indeed, there are some artists, who create their careers on this combination. And one of them is also Anders Manga from music group Bloody Hammers, which has released four LP albums. But these days, they came out with new EP The Horrific Case Of Bloody Hammers. And my task was to write review on this album.
At first, I have to admire cover of the album, which is in this case simply genial. And now, let′s talk about music. Totally, we can hear on The Horrific Case Of Bloody Hammers 6 songs, and immediately, first of them make big noise!
Or, if you want Gates Of Hell. Fresh hardrock/heavymetal complemented by keyboards/organ. Yes, organ. And right this instrument create dark and horror atmosphere, because there are no some other special arrangements (scream, ambient elements etc.).
We continue with song called Blood, and we can say the same things like about first tune. On the other hand, in Beyond we go more slowly and gentle, so we can hear atmospheric and intimate song.
Vultures are coming, so next pieces on the album are called Vultures Circle Overland and All The Colors Of The Dark, which are more heavy and faster again. And acording to custom, the last chapter Bloodsucker Leads The Dance is again slow song.
First, and last song, there are better for me. Album The Horrific Case Of Bloody Hammers is 5th album of Bloody Hammers, and their signature and brand is evident. In practice, hardrock/heavymetal with organ and keyboards, which are together with image and lyrics of Bloody Hammers guaranty of connection metal music with horror themes and atmosphere.
But again, there are no some brutal and terrifying elements. So if you are not fan of horrors, it does not matter, because you can still enjoy the music. As I have written before, there are some heavy and fast song together with slower one, so whole CD has great balance. Some songs are maybe less strong- Blood. Vultures Circle Overland, but they still have enough quality to impress us. But the biggest negative for me is fact, that this is only EP.
When someone say horror music, my first idea is scream (I know, it is not rule). Anders choose melodic chant, and he done his music in a very good way.
So, The Horrific Case Of Bloody Hammers is really good album. Great atmosphere in almost every song, strong instrumental side. Super connection of horrors and hard music.
Lineup:
Anders Manga – Vocals, Guitars, Drums
Engel Mayr – Organ, Keyboards
Tracklist:
Gates of Hell
Blood
The Beyond
Vultures Circle Overland
Volle Kraft Voraus
All the Colors of the Dark
The Bloodsucker Leads the Dance
Year of Release: 2017
Label: Napalm Records
Youtube teaser:

Links:
http://www.bloodyhammers.com/
https://www.facebook.com/BloodyHammers
https://bloodyhammers.bandcamp.com/
Score: 5/6