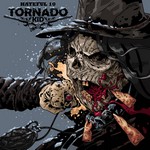 Niekto veľmi múdry (teda myslím) raz povedal, že hudba je medzinárodným jazykom a dokáže spájať ľudí z rôznych kútov sveta. Dôkazom tejto konektivity sveta je aj mladá ruská kapela Tornado Kid, ktorá si pre svoj žáner vybrala južanský rock/metal s miernym vplyvom hardcore. Prečo nie, veď výsledok môže byť veľmi zaujímavý, a tak som sa podujal na recenzovanie ich debutového LP albumu Hateful 10.
Hneď úvodný song s príznačným názvom Whiskey Beer Anthem, toho prezradí viac než dosť o tomto CD. Svižná muzika postavená na výborných blues gitarách vypudzujúcich nesmierne chytľavú melódiu, ktorá nás prenesie na nekonečné lány, polia niekde na juhu USA. Celkovo veľmi energická skladba, ktorá rozhýbe nejedno stuhnuté telo. Melodický spev je skutočne len občasne doplnený nejakým tým screamom, čím zložia sľub vplyvu HC.
Nasleduje pre mňa osobne jeden z najlepších flákov na albume Silver or Lead, o niečo rýchlejšia, chvíľami takmer až punková záležitosť. Taktiež máme možnosť vidieť zrejme najsilnejšiu zbraň tejto kapely a tou je schopnosť nahrať neskutočne chytľavé pasáže, ktoré sa nám zavŕtajú do mozgu a prehrávajú sa nám stále dookola.
V tomto prípade to bol refrén, rovnako ako aj v azda najviac HC piesni na Hateful 10, ktorým je Killer Song. V jej prípade znie spevák Dima ako skutočný psychopat, a tak len dúfame, že to o čom spieva nie je pravda. Veľký palec nahor za túto autentickú vypaľovačku. Ale úprimné, všetky piesne sú rýchle, svižné, energické. Prakticky jediným kúskom, kde sa aspoň trochu spomalí je song Old World Blues. Z ďalších piesní, čo by som určite zvlášť vypichol sú The Many Face of Psychopath, kde sa Dima opäť naplno realizoval a na poslednom mieste zlatý klinec večera Retired Cowboy (God Song). Jednoducho to najlepšie na koniec.
Tornado Kid nám priniesli zaujímavý mix muziky. Album je plný chytľavých melódii, ktoré si budete spievať aj dávno potom, čo vám dohrá hudba. Už riadne dlho som nepočul takto energické CD, kde sú všetky piesne neskutočné bomby, ktoré majú nesmierny potenciál rozhýbať davy na koncertoch, rozprúdiť každú párty alebo jednoducho spríjemniť všedný deň. Dokonca aj jediná pomalšia výnimka Old World Blues. Hlavne každý jeden kúsok je originál, ktorý nesplynie s ostatnými.
Celá hudba je postavená na dvoch gitarách, ktoré nám doprajú skvelé, mnohokrát sa na blues vlne nesúce riffy, doplnené melodickými pasážami. Ako som už napísal vyššie, najdominantnejší žáner mi príde práve rock, avšak v mnohých pasážach patrične pritvrdíme a prejdeme aj k metalu, aby sme niekde zabŕdli aj do HC. Práve posledný spomínaný žáner je skvelým spestrením či sa už jedná o scream, k inak melodickému spevu alebo aj niektoré riffy.
Takže suma sumárum. Hateful 10 je výborný album, ktorý poteší hlavne milovníkov rockovej hudby, nesúcej sa na blues nálade. Avšak rýchle vypaľovačky ochutené metalom a HC majú určite obrovský potenciál zaujať všade vo svete fanúšikov rozličných žánrov.
Lineup:
Dima the Dog – spev
Nick Kash – gitara
Ivan Magadan – gitara
Eugene Cheebo – basa
Ross Spazhevsky – bicie
Tracklist:
Whiskey Beer Anthem
Silver or Lead
Killer Song
Rough and Tumble
Whorehouse
Hunger
The Many Faces of Psychopath
Old World Blues
The Wolves
Retired Cowboy
Rok vydania: 2017
Vydavateľstvo: Samovydanie
Youtube ukážka:

Linky:
https://www.facebook.com/TornadoKidBand/?fref=ts
https://www.youtube.com/channel/UCrGYjD39mha7oeMAg5igwVg
Hodnotenie: 5,5/6