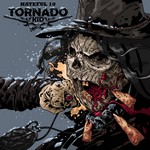 Someone really wise (I thought) once told, that the music is international language and can connect people all around the world. Evidence of this connection is young Russian band Tornado Kid, which plays southern rock/metal with some influence of hardcore. Why not, result can be really interesting, so I take their debut album Hateful 10 for reviewing.
Immediately the first song with indicative name Whiskey Beer Anthem tell a lot of about this CD. Fresh music built on great blues guitars riffs which make very catchy melody. This song (and then whole album) take us somewhere to the big fields in the south of the USA and make move every catatonic body. Melodic chant is supplemented with sporadic scream- some HC influence.
Then we continue with one of the best songs from album Silver or Lead, little bit faster, sometimes almost punk. And we can also hear the strongest weapon of  Tornado Kid. This band has unbelievable talent to create catchy passages, which bite into our brains and last there for a long time. In this case it was refrain, the same like in the more hardcore song on Hateful 10 Killer Song.
There singer Dima sound like real psychopath, and we can only hope that lyrics are fiction. Big like for this authenticity. All of songs are fast, fresh, energic. The only one exception where we gently decelerate is Old World Blues. Another tunes, which I will pick up are The Many Faces of Psychopath and the last Retired Cowboy (God Song). Simply, the best after all.
Tornado Kid brings to us interesting mixture of music, when they put together southern rock with blues, metal and hardcore. Album is full of catchy melodies, which will stay in your head. I haven′t heard such energic CD for a long time, because all song are great shots with enormous potential to bestir masses on concerts, start party or sweeten every day.
Include Old World Blues. And the best is, that every tune is original which will not fuse with another. Whole music is built on two guitars which playing great, often blues riffs complemented with some melodic passages. As I have write before, the dominant genre is rock, but many parts are full of metal music, and sometimes we can hear hardcore- scream or some guitar work.
So sum up. Hateful 10 is great album, which can mainly cheer lovers of rock-blues music. But anyway, fast fresh songs flavored with metal and hardcore have potential to assume fans of all genres.
Lineup:
Dima the Dog – vocals
Nick Kash – guitar
Ivan Magadan – guitar
Eugene Cheebo – bass
Ross Spazhevsky – drums
Tracklist:
Whiskey Beer Anthem
Silver or Lead
Killer Song
Rough and Tumble
Whorehouse
Hunger
The Many Faces of Psychopath
Old World Blues
The Wolves
Retired Cowboy
Year of Release: 2017
Label: Indipendent
Youtube teaser:

Links:
https://www.facebook.com/TornadoKidBand/?fref=ts
https://www.youtube.com/channel/UCrGYjD39mha7oeMAg5igwVg
Score: 5,5/6